Darrell Hester
Feb 9, 1925 - Dec 18, 2005
Former judge Hester dies, leaves 'hang 'em high' legacy {South Texas]
Valley Morning Star | Dec 20, 2005 | ALLEN ESSEX
Posted on 12/23/2005 9:25:20 AM PST by SwinneySwitch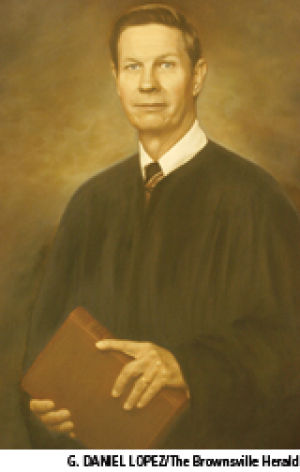 As a lawyer and a judge, Darrell Hester set high standards for himself and others, family members and colleagues said Monday.

Hester, 80, died Sunday at Valley Baptist Medical Center-Harlingen. He was judge of the 197th District Court from 1971 to 1999, and continued until his death as presiding judge of the 5th Judicial Region, which covers 11 South Texas counties.

Hester was born in Frost, near Corsicana, on Feb. 9, 1925, graduated from Corsicana High School in 1942 and served as a World War II Navy communications officer on destroyers in the Atlantic and Pacific.

He married Nell Sanders in 1948, graduated from University of Texas Law School in 1949 and practiced law in Harlingen with Abel Toscano Jr., until 1971.

"He loved the work he did as a judge," said Nell Hester, his wife of 57 years. "He loved the courtroom drama. He liked being in charge, and he was in charge everywhere he was."

For his family, Hester "was a very self-contained man. He was not very open with his family at times," she said. "They say the law is a jealous mistress and that's absolutely true."

As a state district court judge and later as presiding judge of the 5th Judicial Region, her husband was known for his integrity, said Nell Hester, who met him in an English class at the University of Texas at Austin in 1942.

"He was a pot-stirrer. If there was something going on he'd stir until he found out what was going on and he got to the bottom of it," she said. "He was a very bright man but he never depended on his brightness in the law. He always studied the law books and cases."

As a young assistant district attorney, Menton Murray Jr., now judge of the 103rd District Court, was the first prosecutor in Hester's court, he said. Murray recalls Hester as tough, but fair, imposing his high expectations on everyone.

"I had my ears figuratively boxed, a few times," Murray said. "He was a tough taskmaster."

Hester was well read on many subjects, but especially the law, Murray said.

"He was about the smartest guy you'll ever run into," Murray said. "He was brilliant. I think he had a photographic memory."

Cameron County District Clerk Aurora de la Garza sobbed on Monday as she recalled how supportive Hester was when she worked in the juvenile probation department in the early 1970s.

"A lot of people said he was a hanging judge, but he was the most caring person I knew," she said.

She could always count on Hester to give her guidance, De la Garza said.

"Every December, he would call me," said De la Garza, bursting into tears. "He wanted tamales to take home."

Cameron County Judge Gilberto Hinojosa eulogized Hester in a Monday meeting.

"He changed the whole complexion of the judiciary in Cameron County," Hinojosa said.

"Hang 'em high, Hester," Hinojosa quoted a nickname often applied to Hester. "He was always tough on crime, but there was not a more compassionate judge."

Hinojosa recalled stories about Hester's service in Duval County in the 1970s, trying cases of corrupt local officials. Even though shots were fired at the door of Hester's hotel room in San Diego, no one could scare him away, Hinojosa said.

Kary Richardson, court reporter of the 197th for 17 years, recalled Hester's efficient operation of his court, moving cases along at a brisk clip.

Some trials that stood out included the capital murder trial of Leonel Torres Herrera, who murdered Texas Department of Public Safety Trooper David Rucker in 1981 and the case of Paul and Sherry Wolfe, who murdered a couple over a child custody dispute.

Also, there was a 1982 trial in Galveston County of Eroy Brown, who killed a prison warden and prison farm manager, Richardson said.

"He was an excellent boss," Richardson said. "It was a great honor to work for him."

Raul Martinez, who was Hester's court administrator for 23 years, was on the job Monday, answering constant telephone calls in Hester's courthouse office, as he knew the judge would have expected, death or not.

"There were a lot of people intimidated by him," Martinez said. "I was probably one of them at first. … He was like my second dad. I spent more time with him than I did with my own dad."

-----------------
OBITUARY
Darrell Hester

Darrell Hester died December 18, 2005, in Harlingen, Texas. He was born in Frost, Texas on February 9, 1925, the only child of James L. and Lucille Tullos Hester.

He graduated from Corsicana High School in 1942, served in the U.S. Navy until 1946; graduated from UT Law School in 1949; practiced law in Harlingen, Texas until he was elected judge of the 197th District Court, a newly created district, in 1971 where he served until his retirement from the active bench in 1998. He was appointed to serve as Administrative Judge of the 5th Region in 1999, a post he held until his death.

In 1948 he married Nell Sanders, who survives him. He is also survived by his daughters and their families: Anne Flowers (Jeff), of Weslaco, Texas; daughter-in-law, Nancy Hester, of San Antonio; Judy Green (Kelton) of Austin, Texas; Ellen Cave of Houston, Texas; and Barbara Ponder (Dan) of Pasadena, Texas; eight grandchildren: Megan and Katie Flowers, Doug and Ben Hester, Sarah and Morris Green, Nicole Cave and Darrell Ponder; a sister-in-law, Camille Sanders of Fort Worth, Texas; one niece and five nephews; and Raul Martinez his Administrative Assistant.

He was predeceased by his parents and his son, John Lowry.

Judge Hester served his church as Chairman of the Official Board, First United Methodist Church of Harlingen; teacher of the Men's Bible Class; Chairman of the Conference Committee on Hospitals and Homes; He held the following positions at the Methodists Children's Home in Waco, Texas: Chairman of the Board of Directors and Chairman of the Investment Committee.

He served as Chairman of the Judicial Conduct Commission, the State of Texas.

A family gathering will be held from 6 p.m. to 8 p.m. on Tuesday, December 20, 2005 at the funeral home.

Memorial services will be held at 10 a.m. on Wednesday, December 21, 2005 at the First United Methodist Church of Harlingen with Rev. Steve Purdy officiating.

In lieu of flowers, donations may be made to the Darrell B. Hester Scholarship Endowment, UT Brownsville, Attn Ms. Yolanda Leal/Scholarship Coordinator, 80 Fort Brown, Brownsville, TX 78520, (956) 882-8819, the First United Methodist Church of Harlingen or a charity of your choice.

Funeral arrangements are under the direction of Buck Ashcraft Funeral Home, 710 Ed Carey Dr., Harlingen, TX. (956) 423-3636.
---
HARLINGEN, Texas (AP) -- Judge Darrell Hester, a tough-minded jurist who presided over trials that helped topple the dynasty of Duval County political boss George Parr, died Sunday. He was 80.

Hester died after an illness, Raul Martinez, Hester's longtime administrative assistant, said Monday.

During his more than 30 years on the bench Hester at one point was nicknamed "Hang Em High Hester" for his professed belief that punishment was the best deterrent to crime.

In his 19 months assigned to the Duval County courthouse in the 1970s, 19 county officials were tried and subsequently removed.

Parr, the infamous "Duke of Duval County," may have been best known for the so-called "Box 13" vote fraud in south Texas in 1948 that many believe stole a U.S. Senate election for Lyndon B. Johnson.

Parr committed suicide before county corruption trials got under way in 1975.

After retiring as a state district judge in 1998, Hester became presiding judge of 5th administrative judicial region of Texas.
---
SENATE RESOLUTION NO. 186
In Memory
of
Darrell Hester
WHEREAS, The Senate of the State of Texas honors and commemorates the life of the Honorable Darrell Hester, who died December 18, 2005, at the age of 80; and WHEREAS, A distinguished and well-respected jurist, Darrell Hester had been presiding judge of the 5th Judicial Region since 1999 and had previously served as judge of the 197th District Court for almost three decades; and WHEREAS, Darrell Hester was born in Frost, Texas, on February 9, 1925; a graduate of Corsicana High School, he served in the United States Navy during World War II; and WHEREAS, He married Nell Sanders in 1948, beginning a partnership that would last more than 57 years; after graduating from The University of Texas Law School in 1949, he practiced law in Harlingen for over two decades before being elected to the judiciary; and WHEREAS, Judge Hester was known as a brilliant and well-read man who set high standards for himself and those in his courtroom; he was considered tough on crime yet fair and compassionate as a jurist; and WHEREAS, Hardworking and dedicated to the law, Judge Hester was admired and respected by his colleagues, and his warmth, wisdom, and wise counsel will be long remembered by all who knew him; and WHEREAS, A kind and caring man, he leaves behind memories that will be treasured forever by his family and many friends; now, therefore, be it RESOLVED, That the Senate of the State of Texas, 79th Legislature, 3rd Called Session, hereby extend sincere condolences to the bereaved family of Darrell Hester; and, be it further RESOLVED, That a copy of this Resolution be prepared for his family as an expression of deepest sympathy from the Texas Senate, and that when the Senate adjourns this day, it do so in memory of Darrell Hester. Lucio