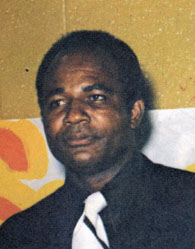 2/172002 BLACK HISTORY MONTH: Hicks was a trend setter at CHS

By Ken Hall/Special to th Daily Sun

History, because of its very nature, causes difficulty on occasion when attempting to chronicle a person's achievements into a condensed form. The essence of the person may be lost in the translation, yet it is a necessity that it is done so in a manner that recognizes their contributions to the community. In this way, Louis D. Hicks is remembered.

Born in Waco, Hicks graduated from A.J. Moore High School before attending Texas College in Tyler. There he found his future wife, Billye. After receiving a bachelor of arts degree in 1955, Hicks entered the Navy, serving one hitch. By that time children had entered the picture. They and Billye stayed with her mother in Dallas while he was away.

Over the years the Hicks family grew, adding to its ranks Louis Jr., Sidney, Byron, Elena and Delwyn. Two other children were lost at an early age.

Fresh from the service Hicks had to find a way to take care of his young family. He found employment as a teacher/coach in Atlanta, Texas, where he stayed for three years. Another opportunity closer to home came his way, and he accepted a similar position at (Waco) La Vega for three more years.

In 1963 he heard the roar of the Bear, becoming G.W. Jackson High School's 14th head coach and athletic director, holding that post until 1967.

The Jackson teams of that period were always competitive, and his final squad garnered a district crown by clawing its way through district play undefeated. The material he left behind helped his successor and childhood friend Alex Williams' 1968 Bears to their final state championship.

Following the 1967 season Hicks broke historical ground when he was assigned to Corsicana High School as a teacher and assistant coach.

This act was significant because the Corsicana Independent School District was not yet fully integrated.

Seeing an opportunity to rise in the administrative ranks Hicks obtained his master of science degree from Prairie View A&M University in 1970. Putting the newly won sheepskin to use Hicks was named principal of Lincoln Elementary (now Carroll) from 1970-1971, then went back to CHS as assistant principal in 1971.

In 1978 he assumed the mantle of associate principal, which he held until his untimely passing in 1980. The Louis D. Hicks Scholarship was established that year by his many friends and co-workers.

It is awarded to deserving college-bound students of CHS.

Among his many accomplishments, Hicks was asked to write an article for Texas Coaches Magazine in 1964, one of the first blacks at the time to do so. He was affiliated with Alpha Phi Alpha fraternity, Red Coat Ambassadors of the Chamber of Commerce, Cub Scout Den Master, Associate Principals Association and Who's Who in Texas Coaches.

His kindness and work with others has left a lasting impression for all time.


All rights to this story reserved. Copyright Corsicana Daily Sun and Community Newspaper Holdings, Inc,. Content may not be archived, retransmitted, saved in a database, or used for any commercial purpose without the express written permission of the Corsicana Daily Sun and CNHI.