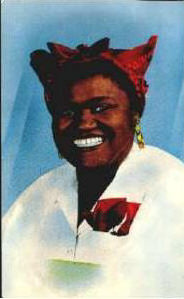 Parker's Cafe Post Card
From the collection of Edward L. Williams
Parker's Cafe
South HIGH-WAY 75
Corsicana, Texas
Member AAA WALLACE TOURIST GUIDE - Texas Restaurant Association
The picture is Willie Mae Hill, one of the best steak cooks in Texas. Willie Mae began asking for a place with us when she was a little girl pulling a small red wagon up alleys in search for food.
And she began work as soon as she was old enough to do anyting around a kitchen.
She has been with us for many years, her smile and loyalty is as much a part of the atmosphere at Parker's as any person's connected with it."