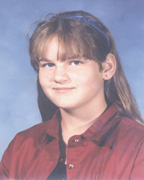 11/8/2002 RICE GIRL KILLED IN WRECK: Classmates, coaches remember Heather
By RAYMOND LINEX II/Daily Sun Staff
School was open in Rice Thursday, but it was far from a normal day as students and administrators alike mourned the death of student Heather Holland.
The 16-year-old sophomore was killed in an automobile accident Wednesday evening as she traveled southbound on the Interstate 45 service road, moments after leaving basketball practice. Holland, a first-team All-Golden Circle pitcher as a freshman, was heading to pitching practice in Corsicana, her coaches said.
Lady Bulldog softball coach Julie Beale said Tiffany Holland, now a freshman, intends to wear her sister's jersey this spring when Rice returns to the field.
"And she said, 'I'm going to wear it with pride,' " said Beale, who spent some time alone on the Rice softball field mound Thursday. "I said, 'I wouldn't accept anything less.' "
Teachers and coaches said Holland was very well-liked and just as solid in school and other extra curricular events as she was in athletics. Services are set for 2 p.m. Saturday at Griffin-Roughton Funeral Home Chapel. Visitation will be 6 to 9 p.m. Friday.
The Rice softball team will serve as pallbearers.
Holland is survived by parents Mike and Candace Holland and another sister, Kathleen, all of Rice, in addition to other relatives.
"She liked to compete," Rice volleyball coach Elizabeth Williams said. "She liked to be involved. It's a tragedy, and it will take a while to get over."
Rice superintendent Larry Baer said extra counselors were on hand Thursday, and high school principal Tom Herrin advised other administrators and teachers on how to cope with the loss, and help students cope.
"It's been a somber day," Baer said. "She was liked by all and she was in a lot of activities, softball of course her expertise.
"It's tough for the kids, but they've done well. ... Classes weren't necessarily normal. The kids were given the freedom to talk about this as long as they wanted to. And Tom did an excellent job of advising the staff on what to expect."
Beale said one player had already created a sign to hang near Holland's athletic locker, something she noticed as she planned to hang her jersey out. She said a rose and a note card were on the bench in front of the locker.
"It was from one of her friends that wasn't in athletics," Beale said. "She had that kind of effect on everybody."
Nevertheless, Beale said Holland loved softball. The two had just talked about the velocity on her fastball Wednesday morning. Holland went 10-5 with a 1.40 ERA as a freshman, and by the end of the season became a pillar for the Lady Bulldogs to lean on. She pitched a shutout in the team's bi-district win over Dawson.
Beale said she had no idea Holland would develop so quickly.
"It was kind of a surprise, but a pleasant surprise," she said. "She did nothing but get stronger."
Thursday, however, Beale said she hated softball after Holland's death, an emotion she knew would be fleeting.
According to Department of Public Safety reports, Holland was attempting to access Interstate 45 from the service road about 10 minutes after 6 p.m. when a 2001 Kia Sportage driven by Berdia Smith of Rice collided with Holland's 1988 Mercury Sable. Smith failed to yield right of way at the entrance ramp, the report stated, and Holland was not wearing her seatbelt.
Holland was transferred to Navarro Regional Hospital, where she was pronounced dead at 7:01 p.m. Her body was transferred to the Institute of Forensic Sciences in Dallas for an autopsy.
Smith, who has children that also attend Rice ISD, was treated and released from Navarro Regional, her daughter said Thursday.
Weekend athletic events were altered for Rice. The Bulldogs' football game with Hubbard Friday was canceled, and a playoff volleyball game scheduled for 5 p.m. Saturday was moved back to 7:30.
Softball, Holland's favorite sport, was also altered for Rice. The team will likely wear black bands in remembrance of Holland, the second recognized Golden Circle softball player to die in a car accident in the last three years. On Memorial Day in 2000, Blooming Grove's Krista Armstrong, fresh off a sophomore season in which she earned first-team honors at catcher, was killed along with a family friend in a one-vehicle rollover.
Armstrong would have been a senior last year. The area's top award -- player of the year -- was renamed the Krista Armstrong Player of the Year shortly after her death. Blooming Grove never forgot Armstrong, leaving an opening facing the Blooming Grove cemetery every time the team huddled.
Rice won't forget Holland, either, Beale said.
"She was tough and kind," she said, "and she was kind-hearted and very respectful. She definitely had leadership qualities.
"... She was a great kid, a great person. We thought we had a good chance to go to state, and she was going to a big part of it. The one thing you can say (about the accident), is she was going to do something she loved."
Raymond Linex II may be contacted via e-mail at [email protected]
---
11/15/2002 Memorial fund established for Holland
From Staff Reports
A memorial fund in honor of Heather Holland has been set up in Rice.
The Rice State Bank will be accepting donations in memory of Holland, a 16-year-old Rice High School sophomore who was killed in an automobile wreck Nov. 6.
Holland, a standout student at Rice who excelled in extra curricular activities, had just left basketball practice and was heading to Corsicana to practice pitching when her car collided with another.
She was a first-team All-Golden Circle softball selection at pitcher after a stellar freshman season. She went 10-5 with a 1.40 ERA and pitched a shutout in the team's bi-district win over Dawson.
Holland is survived by parents Mike and Candace Holland and two sisters, Kathleen and Tiffany.
---
OBITUARY
Heather Marie Holland
Heather Marie Holland, 16, passed away Wednesday, Nov. 6, 2002 at Navarro Regional Hospital.
Visitation will be held from 6 to 9 p.m. today at Griffin-Roughton Funeral Home.
Services will be 2 p.m. Saturday at Griffin-Roughton Chapel with the Rev. Dennis Webster officiating. Interment will follow at New Chatfield Cemetery.
Pallbearers will be members of the Rice Girls Softball Team.
Heather was born Sept. 15, 1986 in El Paso. She was a sophomore at Rice High School.
Survivors include her parents, Michael and Candace Holland of Rice; sisters, Kathleen and Tiffany, both of Rice; grandparents, Marvin and Virginia Dorton of Ennis, Marty and Sue Widner of Powell, Tenn., and Harold D. Walser Sr. of Johnson City, Tenn.; and great-grandmother, Hazel Wilson of Johnson City, Tenn.
Arrangements by Griffin-Roughton Funeral Home.
Notes: