---
---
6/29/2002 Houcks having success with patriotic-inspired CD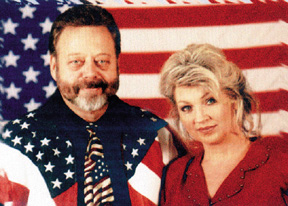 Russ and Brenda Houck have released "My Blood Runs Red White & Blue," a compilation of vintage country songs inspired by the events of Sept. 11. Courtesy photo
By BARBARA FORMAN/Daily Sun Staff
Songs written, performed and produced by local talents Brenda and Russ Houck are making an impact across various areas in the United States.
The new release "My Blood Runs Red White & Blue" is vintage country and has been playing at over 2,000 radio stations.
Russ said they had played with the music for about seven years.
"On Sept. 11 it became important and brought a greater meaning to releasing it," he said. "We had something to say and decided it was time to say it."
The CD was marked Vintage country for a reason. At first Russ and Brenda were told the music was too country but as various stations began playing it new opinions developed. Callers were requesting specific songs.
Russ credits Brenda for being the real songwriter in the family, but the title song on the CD was a joint effort.
"I wrote about 60 to 70 percent of the song, but Brenda jumped in and finished the rest of it," he said.
Brenda said some of her best musical strengths are in rearranging words and polishing up songs.
From the beginning of their marriage they have worked on theatrical works and theme music or songs that would help promote the work. Song writing is an area that Brenda excelled in.
Russ said on several occasions he asked her to compose a song that would blend with one of his theater projects. He said although she felt confident in the beginning, a short time later she would produce what he needed.
Brenda said the best inspiration for her songs comes from real life issues.
"A lot of times I have dreamed my songs," she said.
Dreams have assisted Brenda in making the songs flow easier in music detail and words. A help for both of them has been their faith in God and on many occasions has inspired their work.
"Sometimes, in the middle of the night you have to get up and just write down what you are feeling," Brenda said. "When I write a song I have the tune, the song, everything I need. It just comes together."
She said the hard part was waiting on the inspiration.
"Trying to make the words or music come is much more difficult," Brenda said.
Russ and Brenda grew up around music. Brenda's father was a minister and she was singing and writing music at an early age. Russ accepted Christ at the age of 9, but was never serious about his Christian life. Eventually, he walked away from it.
He left home at the age of 15 and became involved in the drug culture and a world of rock-n-roll. By the early 1970's he was working for Universal records as a road promoter until he reached a corporate level.
Once he realized his life was headed in the wrong direction he really dedicated himself to Christ, and walked away from the music industry.
For several years Russ worked in the ministry and helped others to launch their careers. He also wrote screenplays, plays, novels, and Messianic Jewish study guides. He has also written and directed feature films and television movies.
Currently he has a play, "The Judgment Seat," that is playing in Carrollton at the Covenant Church. The church, which seats 2,500 people, has been filled to a capacity crowd.
Even though the "The Judgment Seat" has had great success, Russ and Brenda feel the time is right for the "Red White & Blue." The songs have a powerful message for Americans to return back to Judeo-Christian heritage.
Russ said the CD is an expression of raw emotion from the Sept. 11 events. The songs are vintage country with a Texas style.
Other musicians who worked on the CD include some of the finest blends. The sounds and styles of Johnny Gimble, Maurice Anderson, Randy Wills, Buddy Whittington, Jeff Williams and Derek Spigener can be heard.
Charlie Alfred, who is the major backer of the project, said it is some of the best music and quality sound he has heard.
"I count it a blessing to be involved with the talent Russ and Brenda have," he said.
Alfred said their talent and ability was God given.
"The music Russ and Brenda have put together should be shared with others," he said.
The music and words from the CD are a strong portrayal of personal feelings.
On the net: www.russandbrenda.com.
Barbara Forman may be contacted via e-mail at [email protected]
All rights to this story reserved. Copyright Corsicana Daily Sun and Community Newspaper Holdings, Inc,. Content may not be archived, retransmitted, saved in a database, or used for any commercial purpose without the express written permission of the Corsicana Daily Sun and CNHI.
---