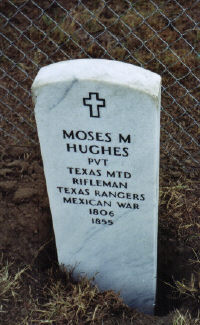 This is the headstone of my 4x Great Grandfather Moses "McAlister" Hughes whom served in the Mexican - American War of 1846 - 1848. Moses brought with him his family, a wife Martha and five children to Texas as part of the Mercer Colonist here in abt. 1845 and is register with the Sons of the Republic of Texas for doing so. Moses its believed "by me" served as a peace keeping Texas Ranger whom stayed in Texas protecting the settlers of the Navarro County Region rather fighting as a US Soldier in Mexico. Moses was a resident of Navarro County at the time of his death and Moses true place of Internment is unknown to me. But in 2003 the US Govt. awarded the shown headstone and I placed the marker in Spring Hill Cemetery of Navarro County Texas during labor day weekend 2003, after obtaining permission of the local cemetery association whom governs the site. Records found by me , Brent T Hughes reflect that Moses life was spent mostly in the Spring Hill / Purdon, Texas region and being that Spring Hill Cemetery was one of the oldest cemeteries to that region I believe it was a place befitting to Moses to erect his headstone there as a tribute to that life and others whom are interned there that settled this region, now a days called Texas.
Odessa, Texas
---
Was Moses M. Hughes (1806 – 1855)
Born in Georgia ?
Many Hughes Generations have past since the days of Moses M. Hughes and it's been assumed by all living today, that Moses M. Hughes was born in the United States of America. But none had ever documented Moses M. Hughes true origins. With my own research efforts that span over the past two years. Much evidence has been discovered in finding my Hughes progenitor. These research efforts at first only added confusion to resolving the genealogy question, where was Moses M. Hughes born?

In researching Moses M.1 Hughes life, the oldest known records begin in St. Clair County of Alabama in 21830 . Later Federal Census Record contend Moses children where born in 1Alabama, as late as 1846. But BLM records show Moses M1. Hughes signed over in 1843 his Patent on 160 acres3 to a James Cructher whom lived on the adjoining land to Moses M1. Hughes in Marshall County. A subsequent search of Marshall County and surrounding regions failed to find a likely father for Moses M.1 Hughes, nor was Moses located in the 1840 Federal Census Index records of Alabama. 4Land Deed Records of Navarro County placed Moses M.1 Hughes in Texas by 1847. 5More Interesting documents placing residency in Texas are the Mercer Colonist Records. 6 Plus Moses fought in the Mexican - American War of 1846-48. Then research efforts uncovered in the 1850 Texas U.S. Census that Moses M.1 Hughes birthplace was in the State of Georgia. 7A Local History Book for Navarro County reveals Moses had a brother named James Hughes, but failed to site any source documents proofing such a relationship, plus recorded Moses died prior to 1858. 8Navarro County Probate Records give us Moses Hughes death as being by October 1855 and that Moses M.1 Hughes was a resident of county at the time of his death. Noting that in two different U.S. Census record from the 20th century showed both grandchildren of Moses, James M.9 Hughes and William D.10 Hughes recording their own father Anguish M.11 Hughes birthplace as being from the State of Georgia, however earlier and later U.S. Census Records 12dispute this findings. But it does raise the possibility that family stories where handed down through the generations. Republic of Texas enlistment records show that the brother of Moses M.1 Hughes, James7 Hughes swore to the fact in July 1840 " that he James7 Hughes was born 181013 in Ireland ". This discovery during my investigation produced uncertainty as to where Moses M.1 Hughes was born.

____________________________________________

1. The State of Texas Federal Population Schedules Seventh Census of the United States 1850 Vol. III, By Capenter. Navarro County, Texas, Oct 5, Page 1463: # 3 Farmer Moses HUGHS 44m Ga, Martha = 44 f NC, Amelia 15 f Ala, Alzade 13 f Ala, Malina 7 f Ala, Anquish M. 4 m Ala. Moses Hughs household, 1850 U.S. Census, Navarro District of Texas, Enumerated 7th day of October 1850, Dwelling 3, Shown Moses Hughs, age 44, Farmer, Ga.; Martha Hughs, 44, F, N. Carolina; Amelia Hughs, 15, F, Ala; Alzade Hughs, 13, F, Ala; Avalina Hughs, 7, F; Anguish M. Hughs, 4, M. Reproduced from the microfilm collection of Ector County Library Odessa, TX., National Archives Microfilm Publications Microcopy No. M 432, Roll 913

2. Alabama, an index to the 1830 UNITED STATES CENSUS, compiled by Pauline Jones Gandrud, Published by Bobbie Jones McLane 1973, page 171 [Third Entry] Hughs, Moses St. Clair County Alabama.

3. Patent N0. 4543 for which I made my home 22 June, 1838 For Value Received Moses Hughes of Marshall County, Alabama purchased by me 20th January 1843 per Receivers receipt 6563, designated as North West Quarter of section Seven, in Township No. Nine, of Range Three, containing One Hundred and Sixty and 75/100 acres, at a rate of one dollar and Twenty cents per acre , request that a Patent be issued to James Crutcher 20th Day of January 1843, Presumption Act 1841. Reproduced from the Bureau of Land Management records held by the National Archives and Records Administration Washington D.C.,

4. Navarro County Deed Records 1846-1850, Grantor: Joseph T Bell, Grantee: Hughes Moses Type of Instrument: Deeds, Book A., page 66 on November 1847. Reproduced from the holdings of the University of Texas at Arlington reel # 1034635

5. Mercer Colonists, by Gifford White, State Abstract of Hill County to August 31, 1941, Line 407, Original Grantee Hughes, Moses M. Cert. # 98, Patentee Ethan Melton, 640 Acres, File # 544. File # 544, No 48, 640 acres, The State of Texas, County of Navarro, This Certificate entitles Moses M. Hughs to Six hundred and Forty acres of Land, to be located, on any vacant land, within the limits of the Colony of Charles Fenton Mercer and his Associates, not otherwise appropriated, he having taken the oath and made proof required by law, of his citizenship may locate, transfer or donate this Certificate and exercise all rights of ownership over it, set by my hand , at the town of Corsicana 16th day of April A.D. 1850, John M. Crockete Commissioner of Mercer Colony. Reproduced by the General Land Office of Texas in Austin, Texas

6. Military Bounty Land Warrant # 72532 for service in the Texas Volunteers during the Mexican - American War. Under the act of 1855 for 120. Reproduced from the records at the National Archives and Records Administration 700 Pennsylvania Avenue, NW, Washington, DC 20408-0001.

7. Old Northwest Texas, Historical-Statistical-Biographical Book, Complied by Nancy T. Samuels and Barbara R. Knox Volume I-B Navarro County 1846-1860 pages 465, 466.

8. Index to Probate Abstract Book 1, Case # [no entry] Hughes M.M. Vol. 1, Page 246. Probate Abstract Book 1, Estate of Hughes Moses M. decd. Administrator Martha C. Hughes Book H pages 610 -616, 636,726. Book L pages 51-53, 67,,78,528 Years 1855 to 1860

9. Letter written by James M. "Joe" Hughes while at his Mothers home Permelia A. Parson - Hughes- Tickle in Purdon, Texas to Son Robert Lee Hughes, Sweetwater Oklahoma, Post marked December 28,1925. Letter refers to his stay during Christmas Holidays. Second, a Letter Sent by Davis and Jester Attorneys and Counselors at Law, 116 West 5th Ave., Corsicana, Texas. To: Mr. Joe Hughes, Enid Oklahoma. Dated 16, 1929 Begging James "Joe" Hughes hand on documents to settle the estate of Permelia Tickle. Detailing child portions, which listed three Tickle children and three Hughes children, Letter included "Mr. WD Hughes understands and agreed to this division".

10. Tickle Pamaly household, 1900 U.S Census Record Navarro County, Blooming Grove Village, Enumerated 25th day of June 1900, William D Hughes, son, white, male, Birth: October 1879, age 21, single, place of birth: Texas, Farther place of birth: Georgia, Mother place of birth: Kentucky. Reproduced from the Microfilm Collection of the Ector County Library, Odessa, Texas, University Microfilms International, MF -6154/5 T623 Roll 1661/2. Hughes Joe M household, 1900 U.S Census Record Roger Mills County, Berlin Township Enumerated 12th day of June 1900, Dwelling 168, Hughes Joe M, white, male, Oct 1870, age 29, married, Place of birth: Texas, Fathers Place of Birth: Georgia, Mother place of Birth: Texas. Reproduced from the Microfilm Collection of the Ector County Library, Odessa, Texas. National Archives Microfilm Publications Call No. MF-6360m, Microcopy No. T 623

11. SS-5 Application for Social Security Card for William D. Hughes list father name as being Anguish M Hughes. Reproduced by Social Security Administration, Office of Earnings Operations, FOIA Workgroup, 300 N. Greene Street Baltimore, Maryland 21290. Oral History by the William D. Hughes extended Family. 1980 Recording holds sibling talking about their oldest brother Anguish M Hughes 1903-1905, being named after his Grandfather. Recorded by Ms. Patsy Walker-Vanderpool, Arlington, TX.

12. William D Hughes household, 1920 US Census record Navarro County, incorporated place Purdon Town, Enumerated 14 day of January 1920 place of birth: Texas Father place of Birth: Tennessee, Mothers place of birth: Alabama. MC Hughes household 1920 US Census Record Navarro County, Incorporated Place: Purdon Town Enumerated 14 day January 1920. Hughes MC age 72, Birthplace Tennessee, Father Birthplace: Tennessee, Mother Birthplace: Tennessee Permillia Hughes age 74, Born Kentucky, Fathers birthplace: Prussia, Mothers birthplace: Unknown. Reproduced from the Microfilm Collection of the Ector County Library , Odessa, Texas. American Genealogical Lending library MF 12773m, T625 Roll 1836.

13. Enlistment Records Republic of Texas: Sworn to by James Hughes at Post Galveston, on July 9th 1840. I, James Hughes was born in Ireland aged 30, 5 feet 3.5 inches high, of flnid complexion Grey eyes, Red hair, and by profefsion a Laborer do acknowledge to have this day Voluntarily Enlisted as a soldier in the Army of The Republic of Texas for the period of three years unless sooner discharged by proper authority. And I James Hughes do solemnly swear that I will bear true Faith and Allegiance to the Republic of Texas. [He placed his mark X]. Reproduced from the Holdings of the Texas State Archives in Austin, Texas

James7 Hughes known sibling of Moses M.1 Hughes relocated to the 14Republic of Texas in no later than 1837. Placing his westward travels much further and quicker than his older brother Moses earliest recorded events in Alabama. 15James Hughes died October 1846 in Navarro County Texas in testate. 16But before his death James served the Republic of Texas during its fight for Independence from Mexico. During which time James was shot and later declared disabled by the Republic. Considering all the previous information together might explain why James never took a wife. 17Then it appears that James Hughes soon after lives in Fort Bend County of Texas where its recorded James was narrowly defeated in a local race for Sheriff. James then sells his land in Fort Bend County to his sibling Darcas18 Powell. Thus relocating to Austin County of Texas, but quickly moved further North in Texas. 19Where it is recorded that James had ridden with a survey team in Bosque County of Texas.

Records then place James7 Hughes nearest the town of Purdon, Texas during his final years. 20James can be found paying taxes in Navarro County as early as 1846. 21A varied supply of documents concerning Navarro County and James7 Hughes show him as having been a party in numerous land dealings around the now State of Texas. Noting James's land holdings once totaled 6000+ acres in varies locations across the State.22 Most of James Land Deeds where later contested in Navarro District Court. 23With one case being heard before the Texas Supreme Court sessions of 1857. But earlier Land Bounty and Donation Warrants issued by the Republic, recorded in 24Burleson and Dallas County of Texas never disputed by any court. Locating the Interment for James was inconclusive after an exhaustive search of Navarro County records. However probate records reveal James was indeed a resident of Navarro County at the time of his death. Moses M.1 Hughes applied for administrator of James estate in 15January 1847 and was granted based on evidence showing Moses being one of James1Hughes closes living relative and presented facts pervasive to being James brother. No other records in Texas have ever contested that fact or produced an extended family for James. Later entries in James7 Hughes probate records show a relationship to Darcas18 Powell, when her husband John25 Powell takes over as administrator of James Hughes estate. 15 The last recorded entry concerning the Life of James Hughes is found when his Probate Case is closed in May 1891 by R.W. Walton Admin de Bonis non [without bond].

With research concluding that James Hughes never had an extended family nor was ever recorded in any

U.S. Census Record that included one's place of birth and placing James life mostly spent on the frontier's edge of the United States. Surly it can be said without a doubt now all where contributing factors that limited us to only one record ever revealing James birthplace. Examining Moses M.1 Hughes date of birth being 1806 and James7 Hughes being born in 1810 and considering the hardships placed on most whom travel abroad during this time period. Makes it very unlikely that the family returned to Ireland during the recorded time of James birth.

____________________________________________

13. Deed Record (Transcribed From Robertson County)1838 -1851 Navarro County Texas, Grantor: Bell Jas T. , Grantee: Hughes James, Instrument: Deed, Date January 9 1837, Filed June 11 1842, Book [ no entry]page 30. Reproduced from the Holdings at the University of TX at Arlington, Reel # 1034854.

15. Probate Abstract Book 1 of Navarro County Texas Page 239 - 245 List Charters of Proceedings for Case # 33 which numbered well over one hundred entries from January 1847 beginning in Book C page 3 through Book 11 page 467 of May 1891.

16. N0 . 292 Republic of Texas, County of Fort Bend This is to Certify that James Hughes a private in the Washington Company of Volunteers, has the certificate of G.W. Bummett and Edward Burlenson, the former Lieutenant of Said Company and Later commandant of the volunteer army, they said Hughes was severely wounded while performing his special duty, and was entitled to the benefits of the act allowing each soldier who was wounded. So as to be disabled [unreadable] league of land. Given under my hand at Richmond May 12th, 1838.Daniel Perry. Reproduced by the Texas General Land Office in Austin, Texas.

17. History of Fort Bend County, by Clarence R. Wharton, Copyright 1939. Page 89 James Hughes 45 Votes

18. Fort Bend County Deed Records 1838 - 1844 Grantor: James Hughes, Grantee: Darcas Powell, Instrument: Deed, Filed January 24, 1838, Records in Book A, page 1. Reproduced using the Microfilm Collection of the George Memorial Library Reel # 1007983

19. Bosque Territory, A history of Agrarian Community by William C. Pool, Illustrated by Body Saunders, page 46

20. Navarro County Tax Rolls 1846 - 1879 Reproduced from the Holdings at the University of TX at Arlington, Reel # 117501

21. Austin County Deed Records 1837-1886 Microfilm Collection George Memorial Library. Fort Bend County Deed Records 1846-1886 Microfilm Collection of George Memorial library. Guadeloupe County Deed Records 1846 - 1886 , Microfilm Collection of San Antonio Regional Offices. McLennan County Deed Records 1850-1906, Microfilm Collection of Baylor University. Navarro County Deed Records 1838-1851 Microfilm Collection of University of Texas at Arlington. Burlenson County Deed records [2 each] - Brazos County Deed Records - Milam County Deed Records.

22. District Court Minutes 1855 - 1859 Navarro County Vol. A& B, Reel # 1034865. Vol. C 1859-1865 Reel 1034866. Reproduced from the Holdings at the University of TX at Arlington

23. Reports of Cases Argued and Decided in The Supreme Court of The State Of Texas, during Austin Session, 1857 and Part of; Galveston Session 1858. By O.C. & R.K. HARTLEY., with notes and other decisions. VOL XX, West Publishing Co. St. Paul, Minn. 1882, originally printed in 1858 pages 346 - 348. Robert Gregory, Administrator de Bonis non, v. Martha C. Hughes

24. File No. 401 Milam County Donation, 640 Acres. Republic of Texas, Know all men To whom presents shall come: That James Hughes Having Guarded the Baggage at Harrisburg Unit [unreadable] is entitled to Six Hundred and Forty Acres of Donation Land, in accordance with the act of congress, passed Dec. 21,1837, Said James Hughes His Heirs, Executors, Administrators or their Assigns, are entitled to Hold said land: but it cannot be Sold, Alienated, or Mortgaged and is exempt for execution During the life- time of the person to whom it is granted. I have hereunto set my hand, at Houston this 6th day of June 1838. Tim W. Hackley, Secretary of War. Reproduced by the Texas General Land Office in Austin, Texas.

25. Navarro County Probate Book Vol. C page 156 , June 1849, John Powell husband of the sister of Jas Hughes decd. files his contest for Letter of Admin & resistance of sale of land heretofore made. Reproduced by the Navarro County Court House of Corsicana, TX.

Alternative Possibilities

Its conceivable that James Hughes was a nephew of Darcas and Moses Hughes and James's care was in trusted to their family line here in America. Representing him as sibling rather than a nephew during the probate proceedings might have been an attempt to quicken its out come. Making James truly born in Ireland.

A previously shown trend by the grandsons of Moses M. Hughes is that they recorded their own father's birthplace as being Georgia, when in fact it was not his birthplace at all. Adding in they continued this misrepresentation of fact in most released copy of 20th Century Federal Census Records for which they where involved. Perhaps by James Hughes skipping a generation and placing his own heritage back in Ireland. Like the grandsons of Moses, this act was practiced in an attempt to quietly honor their forefather's birthplaces, plus being cemented in records for future generations to discover and follow.

We can trace Darcas16 Powell in earlier records of Lauren's County of Georgia, in which marriage index records show Darcas Hughes married John24 Powell in 251818. 26Then the couple is found living in Telfair County of Georgia. Noting Telfair shares it's border with Lauren's County Georgia. A subsequent search of the surrounding area yielded a possible father for Darcas and siblings. Thos.27 Hughs was located in Lauren's County Georgia in Federal Census Records of 1820, age brackets for males listed fit well the age profile for which Moses M.1 Hughes and James7 Hughes should have appeared. Concluding now with no other Hughes families can be found livings in neighboring areas to Lauren's County Georgia. Later records revealed Darcas16 Powell only known child Adaline28 Brady was born 1824 in Alabama. By locating Darcas16 Powell Land Deed Records in Fort Bend County, Republic of Texas Military Records for John24 Powell and varied tax records entries for the family, I did mark their arrival on the Texas Frontier as being before 1838. Disappointed however that none of the records located thus far listed a birthplace for Darcas16 Hughes. Then Darcas and family move to another county in Texas, records show them remaining in Robertson County between the years of 1846 and 1855, realizing in 1846 Navarro County was formed from Robertson County lands. 29Then a record revealed Darcas16 Powell was born in Georgia, age 52, which makes her birth ca. 1798. 30The last time I find Darcas living in Texas is when she gives Power of Attorney to a local lawyer in 1855 and gives her daughter Adaline28 Powell - Brady property in the same year. By all indications John and Darcas Powell leave Texas for an unknown location.

______________________________________________

25. 40,000 Early Georgia Marriages, by Maddox and Cater, of Lauren's County Georgia, page 160, Groom: Powell, John Bride: Hughs, Darcas, Date 02-05-1818.

26. 1820 Telfair County Georgia Federal Census record. Reproduced using the Microfilm Collection of the Ector County Library, Odessa, TX. University Microfilms International MF-649m, M-33, Roll 10

27. 1820 Lauren's County Georgia Federal Census records Thos. Hughes. Reproduced using the microfilm Collection of the Ector County Library, Odessa, TX. University Microfilms International MF-513m, M-33, Roll 9.

28. Brady Daniel household, 1860 U.S. Census Records of Robertson County Texas Enumerated Daniel Brady age 49 wife Avaline Bradly age 35, birthplace Alabama. Reproduced using the microfilm Collection of the Ector County Library, Odessa, TX. National Archives Microfilm Publications Call # MF-8444m, Microcopy No. M-653, Roll No. 1303.

29. 1850 Federal Census of Robertson County Texas, Enumerated Oct 27, 1850 John Powell age 52, male, birthplace: GA, Wife: Darcas Powell, age 52, Female, Birthplace GA. Reproduced using the Microfilm Collection of the Ector County Library, Odessa, TX. National Archives Microfilm Publications Call No. MF-10770m, Microcopy No. M 432, Roll No. 914.

30. Robertson County Deed Book M Pages 159 - 161.[Darcas placed her Mark x]. Reproduced from the Microfilm Holdings of Texas A&M University, Reel # 963278.

Conclusion

The evidence obtain through the 1850 Robertson Federal Census Records concerning Darcas Hughes-Powell being born 1798 in Georgia. Coupled with the fact the probate records in Navarro County persuasively connect all these persons as being siblings. It should be surmised that Moses M. Hughes was indeed born there also, as noted in the 1850 Navarro County Federal Census Records. Defeating the previously implied location being in Ireland, by their younger brother James Hughes.

Further research should be conducted in trying to provide a connection with Thomas Hughes, in that it might yield further information to support Moses M. Hughes being born in the State of Georgia.

Notes:
This paper was written by me to be included in my application packet for a commission as a certified genealogist, deadline Sept.2002. Brent Hughes, July 2002
---
Submitted by Brent Tod Hughes
NO. 23
TO ALL WHOM IT MAY CONCERN
Know YE , that I E.S. Wyman, 1st Lieut. in command of the company raised by Capt. Thos.
I. Smith, of Texas Mounted Riflemen, called into the service of the United States by order of the Secretary of War, under the authority of an act of congress of May 13th, 1846, and mustered in at
Smith's Station, on the 2nd day of August, 1846, to serve for twelve months , unless sooner discharged-- and now mustered out of said service by order of Col. J.C. Hays, in command of the frontier of Texas,---do hearby certify upon honor that M. M. HUGHES a PRIVATE --------- who was mustered into the service of the United States, in my said Company, on the second day of August, one thousand eight hundred and forty-six, to serve for twelve months, unless sooner discharged, has served faithfully in Mexico and Texas, from that date to this, the term of twelve months, and is now honorably discharged from service of the said United States
Given at SMITH STATION this 17th day of AUGUST 1847
E S WYMAN
1st Lieut. Commanding Company
of Texas Mounted Riflemen
Plus another document found concerning his enlistment
STATE OF Texas
County Of Navarro}
ON THIS Second day of June one thousands eight hundred
and fifty five personally appeared before me a Notary Public for the State and county
aforesaid MOSES M HUGHES aged 50 years
a resident of NAVARRO CO. in the state of TEXAS, who being
duly sworn according to law, declares that he is the identical MOSES M HUGHES who was a PRIVATE
in the Company commanded by Captain THOMAS J. SMITH in the regiment of TEXAS RANGERS
in the war WITH MEXICO that he MUSTERED IN at SMITHS STATION
in the FALL OF 1846 for the term of TWELVE MONTHS
and continued in actual service in said war for fourteen days and upwards; that he was hono'
rably discharged at AUSTIN TEX in the FALL OF 1847
______ that he has herefore made application for bounty Land under the act
of CONGRES NOW FORGOTTEN and recieved a Land Warrant, NO. FORGOT for FORTY acres which he has since legally disposed of and cannot now return.
He makes this declaration for the purpose of obtaining the additiorsal Bounty Land
to which he may be entitled under the Act approved the 3rd day of March, 1855 . He
also declares that he has never applied for , nor received, under this or any other Act of Congress, any Bounty Land Warrant, except for the one mentioned above
[Signature of Claiment] MOSES M HUGHES
WE James A Johnson and J M Garner residents of NAVARRO COUNTY in the state of TEXAS upon
our oaths declare that the forgoing declaration was signed and acknowledged by
MOSES M HUGHES in our presence, and that we believe from the
appearance and statements of the applicant that he is the identical person he represents him
self to be.
[Signature of Witness] JAMES A JOHNSON
J M GARNER
the forgoing declaration and affidavit were swore to and subscribed before me
the day and year above written; and I certify that I know the affiants to be credible
person, and believed the claiment is the person he represents himself to be, and that I
have no interest in this claim
[seal shown here] Ja tho <je>
NOTARY PUBLIC