4/27/2003 Former Tiger Bethel Johnson selected in second round of NFL draft by New England
By DERRICK STUCKLY/Daily Sun Staff
Former Tiger and Texas A&M wide receiver and kick returner Bethel Johnson has found a home in the National Football League.
Johnson, the Tigers' and Aggies' all-time career receiving leader, was taken with the 13th selection in the second round, 45th overall, by the New England Patriots during the first day of the 68th NFL Draft Saturday.
The Patriots moved up five spots, after trading with the Carolina Panthers, from the 50th pick overall to choose Johnson who tabbed New England as one of the three teams he hoped would draft him.
"It's a blessing from God and it's a dream come true," Johnson said. "God put me where he wanted me to be.
"New England, Arizona and San Francisco were the teams I wanted to go to if I had choices. I really liked my visits there. I just thank God one of my favorite teams took me."
Johnson stated the afternoon call he received from New England head coach Bill Belichick was the first from anyone related to the NFL Saturday.
"The coach called about five minutes before they announced it on TV and said 'Welcome to the Patriot family,'" Johnson said.
The Patriots' strong sense of team unity was one of several things that appealed to Johnson during his visit. Johnson also believes that ideology will help the Patriots, champions of Super Bowl XXXV, hoist the Lombardi Trophy again in the not too distant future.
"I really think we have a chance to be in the Super Bowl again," Johnson said. "The team means more than the individual here and if you look at most Super Bowl teams, they have been like that. Each player is just a small part of a package. They do their job, but they do it quietly."
Johnson, the third Aggie taken in the draft, will be joined by college teammate Ty Warren in New England. The Patriots selected the 6-5, 307-pound A&M defensive tackle with their first round selection, the 13th overall.
"We've been teammates for four years so it will be the same. We'll just be getting paid for it," Johnson joked.
In recent weeks Johnson, who stands 5-11 and 201 pounds, witnessed his stock rise in some mock drafts to as high as a late first round or early second draft choice after he was clocked with 40-yard dash times of 4.37 and 4.24 in workouts prior to the draft.
Johnson caught 40 passes for 718 yards as a senior after missing the 2001 season with a ruptured spleen.
"I wasn't really surprised," Johnson said of being taken in the second round. "People had said I had first round potential but injuries knocked me down. But it doesn't matter to me if I was the 13th pick (in the second round) or the 60th."
In high school, Johnson was an all-state wide receiver for the Tigers during the 1997 season when the squad reached the Class 4A Division I state championship game. Johnson ended his Tiger career with a program best 65 catches for 1,408 yards and 17 touchdowns.
At A&M, Johnson tallied a school-record 117 receptions for 1,740 yards and 11 touchdowns. He also returned 12 punts for an 11.6-yard average and returned 12 kicks for a 21-yard average on the way to averaging 95.5 yards of total offense per game during his college career.
Being a multiple threat will not change for Johnson in the NFL, he said.
"I'm still going to be doing the same things (at New England) that I was (at A&M)," Johnson said.
Derrick Stuckly may be contacted via e-mail at [email protected]
---
7/25/2003 Patriots, Johnson make it final
From Staff Reports
Former Corsicana High School and Texas A&M wide receiver Bethel Johnson was one of eight players signed by the New England Patriots earlier this week.
According to ESPN.com, the Patriots signed Johnson to a five-year contract. Johnson received a signing bonus of $1.75 million and base salaries of $274,000 (2003), $342,000 (2004), $410,000 (2005), $478,000 (2006) and $546,000 (2007). There is also an escalator clause that could increase the base salary for 2007 if Johnson reaches some prescribed playing time levels.
Johnson, 24, was selected by the Patriots with their second selection in the second round, the 45th selection overall. The 5-foot-11-inch, 201-pound wide out set school records with 117 receptions for 1,740 yards while starting 22 of 35 games played at Texas A&M. He also scored 11 touchdowns, tied for fourth in school history. He averaged 13.0 yards on 15 punt returns and 20.0 yards on 22 kickoff returns during his career. Last year, he started all 12 games for the Aggies and led the team with 40 receptions for 718 yards and 8 touchdowns.
Johnson is the all-time leading receiver (since 1970) in the history of CHS with 65 catches for 1,408 yards and 17 touchdowns. Johnson averaged 21.7 yards a catch as a Tiger.
The Patriots started training camp on Wednesday and Johnson couldn't be reached for comment.
---
1/25/2004 'We Salute ...Bethel Johnson
Bethel made a name outside of the city limits of Corsicana and outside the very shrewd in college football recruiting circles when the Tigers 1997 Class 4A Division I state championship game was televised statewide by FoxSports. His explosive was a major reason the Tigers were in that game, and though they lost, you came away thinking he was a real find. Now, six football seasons later, Johnson could be starring in the ultimate football game, the Super Bowl. As a rookie with the Patriots, Bethel Johnson has begun to make a nationwide name for himself, primarily with his play on special teams. Still electrifying and dazzling, you can bet he will be a factor in next Sunday's clash with the Panthers. Here's to hoping the Patriots win the toss, the Panthers kick deep, and Johnson turns the country on its ear with a game-opening return for a touchdown. Hats ... er, helmets off to one of Corsicana's own making it to the grand stage.
---
1/25/2004 'Bethel Mania': Corsicana getting Super buzz from former football standout
By RAYMOND LINEX II/Daily Sun Staff
Billy Yates is going to Houston. The Dolphins lineman would certainly prefer to be playing in next Sunday's Super Bowl, and will watch in person for only one reason: "(B)ecause Bethel's playing, otherwise I'd just watch it on TV."
There will be plenty of tubes from Corsicana tuned in, nonetheless.
As if watching the Super Bowl isn't a large enough draw, Corsicanans have extra incentive this year. Former Tiger standout Bethel Johnson is a rookie with the Patriots, and has a chance to do something grizzly old veterans don't get to when his team meets the Carolina Panthers in Super Bowl XXXVIII in Houston.
Everyone from his teammates in high school and college to former coaches and lifelong friends will be tuned in to watch Bethel try to make history. He's the only player from Corsicana ever to make the NFL's biggest stage.
"Look where it has spread to," said Tiger football coach Jeff Berry, who recalled the not-so-distant days of August when his staff was abuzz with what Bethel did in preseason games, and with each week more and more people seemed to notice. "Now it's Bethel mania."
'Bethel Mania' has led Bethlehem Baptist Pastor Dairy Johnson to set a Super Bowl Fest watching party next Sunday at his church's fellowship hall. He'll invite fellow friends and other churches, and a few friends up north ... Dallas-area television stations.
He would not normally alter his sacred Sundays.
"It's all to highlight Bethel," he said.
It's about time someone did.
Johnson's second-round draft status and million-dollar signing bonus made him a name on ESPN and in NFL circles. It's truly a rags to riches story, said James Roberts, whose son Kelton was a teammate of Johnson's during the Tigers' 1997 state finals season.
Johnson hasn't always been earmarked for such success, not even after receiving a scholarship to play at Texas A&M. Not earmarked, but perhaps destined.
The Bethel Johnson of today is a different Bethel Johnson than the one who roamed centerfield for David Nyquist Sr.'s National Oranges at Beebe Field, different even from the one that was a star wide receiver for the Tigers.
Today's Bethel is solid, upstanding, his friends contend, a person that led Bible study his final year at A&M, Berry said. As a kid with an uncertain existence, he could be moody and outspoken, those same friends said.
"It's totally different to have a conversation with the guy today," said Tigers quarterbacks coach Shade Boulware, the young man behind center in '97 who teamed with Johnson to set several school records, "from the way he speaks, to what he says ... to the volume. A big part of that is growing up."
And, it's in support.
Nyquist, as Roberts will tell you, took an interest in Johnson long before thoughts of the NFL and riches were even realistic notions. Back then, as Berry remembers, Johnson was a kid testing the waters to see how far he could push. A new coach in town, Berry would work out at the CHS field house, where Nyquist would work out the Oranges.
"I remember Big David yelling, 'Bethel! Bethel!'," Berry said. "There was always this kid running into the field house, running from David. Low and behold, four or five years later, I realize, 'That's the Bethel.' "
David's son, David Jr., was also on that Oranges' team that made a state TTAB appearance and later a Tiger teammate. Today, they run LPL Financial Services together, and still play a big part in Johnson's life. He spent many nights with them, talks to them regularly, and will likely see them sometime this weekend as they leave Thursday for Houston.
"We're real excited for him, we both are," David Jr. said. "It couldn't work out any better for a rookie."
The walls in their office are lined with a number of sport shots, team pictures of the Oranges, Dallas Stars memorabilia, and a number of Johnson's press clippings, 8 x 10s and autographs.
Perhaps most important to 'Big David,' who said in a way he feels like a proud papa, is that Bethel still calls him coach.
"You know a lot of people didn't give him a prayer," David Sr. said, "but we stuck with him through thick and thin. He's a strong, strongly religious person, the most kind-hearted person I know. He'd help anybody, and not a lot of people know that. The only Bethel they know is the kid."
Rick and Joanne Newton also know both Bethels. Both work at CHS, and Rick -- an assistant principal -- was running backs coach when Johnson played here. (He started as a running back his junior year before switching to wide receiver.) Joanne tutored Johnson in math, just as she did Boulware and other students. Their son Corey is the proud owner of an autographed Bethel Johnson rookie card, just as the Nyquists are.
"He was good with me," Joanne said, "because I believed in him. Once Bethel knew you weren't his enemy, he was your friend for life."
Rick said A&M can be credited for a change in Johnson's outlook on life, a claim Yates will concur with. But Rick said Johnson's perceived attitude in high school and as a kid were somewhat misunderstood because of a passion that drove Johnson, and still does.
"He was extremely competitive," Newton said. "He couldn't stand to lose ... he hated to lose so much. He's the one person I've been around who hated to lose more than anything else."
That can give a person too much confidence, or a bad reputation. Right or wrong, it sometimes develops.
"He's learned to bite his tongue a little bit," Boulware said. "The other side of that, and it always was the other side, is that you can back it up when you can do what Bethel does."
Both Boulware and Berry said what he does today should make defensive coaches from that 1997 season feel a little better. He runs by the NFL DBs too, they both said.
Berry was the defensive coordinator during that season, and said at practices during 7 on 7 drills he would double cover Johnson because, if not, it was a touchdown every time.
"He got to college, and we said, 'You know, he's pretty good there too,' " Berry said. "Now we see it at the next level (and) you think it's no wonder we couldn't cover him in high school. He's the real deal."
Yates roomed with Johnson in college at A&M. Yates, an offensive lineman, was the sure thing, the solid recruit with the solid pedigree and solid work ethic. Johnson possessed raw skills and was on campus as a partial qualifier. He couldn't play that first year, but his efforts in practice would lead R.C. Slocum to say before the next year that Bethel "could be the best wide receiver at A&M in 25 years."
"He did it by going to college, getting his education ... that was a starting point," Yates said of Johnson's success story. "He got away from Corsicana, away from things that hindered him."
But it wasn't an instantaneous transformation, high school success to college success. Not on the field. Dairy Johnson said he once counseled Bethel after a tirade at a CHS practice. At A&M, the mouth followed him.
About two weeks before New England made Johnson a millionaire, he stopped at the CHS field house and agreed to speak to the team, Berry said.
"He delivered a great message about not being hard-headed and listening to coaches, acting right and taking care of grades," Berry said. "He told them not to make the mistakes he did. He was in the doghouse at A&M and he realized he wasn't going to play unless some things changed, and it was him."
Johnson received a little help from a current Cowboy, he told the players.
"He said he ran across the middle in practice one day and (Cowboy linebacker and former Aggie) Dat Ngyuen planted him," Berry said. "He said Dat said, 'If you don't shut your mouth, this is what is going to happen.' "
On an interview with Dallas sports radio station The Ticket 1310 AM Saturday, Bethel said he no longer gets into talking trash. He lets his play speak for itself.
And Corsicana is ready to watch.
"If I would have stayed in Miami one more year, I would've got (a Super Bowl ring)," said Ray Jacobs, a former Tiger and NFL lineman who retired before the Dolphins won their first Super Bowl because of injuries. "... I knew Bethel would be good (and) he could be good for a while."
Jacobs will be watching on TV, so will the Newtons and Boulware, Berry and Roberts, and Dairy Johnson at church. For Yates and the Nyquists, they will come back with more stories about a special talent ...
And an even more special friend.
"Corsicana should be proud of Bethel," David Sr. said. "I'm a proud friend. ...
"He's such a good young man, with a good sense of humor and a strong sense of loyalty. I can tell you this, he's proud to be from Corsicana."
----------
Raymond Linex II may be contacted via e-mail at [email protected]
xxx
BETHEL
JOHNSON
QUOTEBOARD
"He brings tears to my eyes when I go up to him and he hugs me."
-- David Nyquist Sr., former little league baseball coach and friend and confidant of Johnson's
"He's become a positive role model, someone for our kids to look up to."
-- Rick Newton, former Tiger running backs coach and current CHS assistant principal
"It's a neat time for the community to celebrate. ... It's caught fire in Corsicana."
-- Jeff Berry, current Tiger head coach and former defensive coordinator
"My friends always want to talk about Bethel. I have to give an interview everywhere I go."
-- Shade Boulware, current Tiger quarterbacks coach and quarterback when Johnson was a Tiger
---
1/28/2004 SUPER BOWL XXXVIII: Former Tiger enjoys Super Bowl spotlight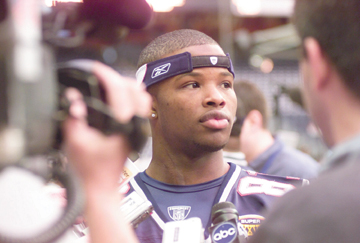 Patriots rookie Bethel Johnson takes a second to ponder yet another question posed to the Corsicana native at the Super Bowl XXXVIII media day Tuesday morning at Houston's Reliant Stadium. Daily Sun photo/SCOTT HONEA
By JAKE SHAW/Daily Sun Staff
HOUSTON -- Looking down from the top of Reliant Stadium, it probably looked as if someone had disrupted an anthill.
Droves of local, state, national and international media scurried about a small section of Reliant's field Tuesday morning for Super Bowl XXXVIII media day, all looking to take advantage of the one-hour window to interview the coaches and players involved in the NFL's penultimate game.
And while New England quarterback Tom Brady commanded the largest convoy of reporters, photographers and cameramen, former Tiger and current Patriots wide receiver Bethel Johnson was never without a handful of press seeking comment.
As a rookie, Johnson seemed totally at ease with the amount of exposure, not a surprise to teammate Dedric Ward.
"No," answered Ward emphatically to whether Johnson is the typical first-year player. "Bethel is ... he's like a guy who's in his first year but you would think he's in his 10th year. ...
"It's been pretty interesting to see him from the start of training camp to how he is now," he said, "and how he's responded to the different situations he's been placed in. He's done a tremendous job."
On display was one of his many adaptations -- how he handles the press. While playing college football at Texas A&M, Johnson said he was rarely approached by the media.
Tuesday morning, he appeared a lot like the seasoned veteran Ward described him as, rarely answering a question without a smile and often trading barbs with reporters.
"Of course," Johnson said when asked if he's happy to come home. "Especially when you're from here, you get to return to play here in the super heat. Compared to New England, this is super heat."
Asked how many tickets he set aside for friends and family, Johnson without hesitation looked into a television camera and said: "I'm sorry, I didn't get tickets for everybody back home, because," shrugging his shoulders, "I couldn't afford it."
Sunday's Super Bowl between the AFC champion Patriots (16-2) and NFC champion Carolina Panthers (14-5) won't mark the first time Johnson took center stage in Houston.
He closed his Tiger career in the 1997 Class 4A state championship game, catching eight passes for 223 yards and three touchdowns in a 37-34 loss to Texas City at the Astrodome. That was probably the high point of his young football career, but win or lose, Sunday's Super Bowl no doubt will trump the 1997 Texas Bowl.
"That was the state championship, this is the world championship," Johnson said. "Hopefully (Sunday's) outcome will be a little better than it was in the state finals."
A laugh accompanied that statement, something that characterized many of Johnson's answers. Part of it is because of this homecoming. Johnson's one of 10 Patriot rookies, the only one with the chance to punctuate his season a couple hundred miles from his hometown.
But a return home or not, Johnson's teammates said his bubbling demeanor is an everyday thing on and off the field.
"I've never seen a guy so enthusiastic about Texas and what it's about," Ward said. "Everything is best in Texas, that's his attitude, that's his response about everything, regardless about what you ask him.
"It could be about the seafood, you know in Boston," Ward continued, then imitating his teammate: "'It's better in Texas, we do it better in Texas.' So he's an interesting guy, like I said, he's an animated guy. It's fun to have a guy with that type of personality in the organization, because it really livens things up."
Like Johnson, fellow rookie Dan Klecko couldn't bottle his elation. Asked if the two-week layoff between the AFC Championship game and the Super Bowl was too long, the defensive lineman from Temple University said, "I wish it were a month."
He also understood Johnson's delight in playing so close to home, going so far as to make a Sunday prediction about Johnson, who aside from playing receiver, finished first in the AFC in yards per kickoff return.
"He's loving being back here, and why wouldn't he," Klecko said. "Hopefully he gets to return a kick for a touchdown in the Super Bowl."
While that might be the ultimate way to finish his rookie season, Johnson, for perhaps the first time all morning, quickly shied away from that thought.
"Dream scenario? To win, that's the whole thing, that's what we come here for," Johnson said. "I don't care what I do, I don't care what happens with me, as long as we win."
In the hour-long session, Johnson might've dealt with a hundred different media personalities. But there was a constant question among the press, the most obvious one of all: What's it like returning home?
At one point during the morning, Johnson had just finished answering that very question when another reporter, new to the circle around Johnson, repeated the inquiry.
"He just asked me that same question," Johnson said smiling and drawing laughter from all but the new reporter. But he quickly turned to his serious side, accommodating the query with a more sincere reply.
"It's coming home, being able to do it at home in front of family and friends."
----------
Jake Shaw may be reached via e-mail at [email protected]
QUOTABLE
Former Tiger Bethel Johnson fielded the media's questions for an hour at Super Bowl XXXVIII media day, and listed below are a few of his answers.
Have you been surprised at your strong role as a rookie?
"When you're a rookie, you gotta do pretty much what they ask you to do. Wherever they put you, you have to learn to adjust to it and do it anyway you can. (The Patriot coaching staff) gave me the opportunity to do that in different situations that they put me in."
What's your reaction to all this media day attention?
"We had a media day in college, but it was nothing like this, this is different. You just don't expect to answer a lot of questions. ... I didn't really get interviewed in college."
How have you gone about your Super Bowl experience?
"I'm just taking it all in right now. This is my first one but hopefully not my last. I ain't trying to be like everyone else and go see the city, I don't live too far from here so I know what's in the city."
What's your favorite Super Bowl memory?
"When the Cowboys were winning 'em all! That's when I was the biggest fan in the world!"
---
2/1/2004 JAKE SHAW: Johnson proud of where he's from, where he's going professionally and personally
Bethel Johnson's boyish appearance was but one characteristic that made him stand apart from his New England Patriot teammates Tuesday at the Super Bowl XXXVIII media day.
As it's been well-documented by now, the 5:25 kickoff for the NFL's title game in Houston provides a sort of homecoming for the wide receiver and kick returner, both as a former Tiger and Aggie. He's one of a handful of players in the clash between Carolina and New England with Texas ties.
In one of the numerous articles covering the Super Bowl, Johnson was quoted with what was misconstrued as a slight to his hometown of Corsicana. I won't get into how the writer misquoted two words from the statement, but I will give you Johnson's words, straight from his mouth to the tape recorder to this Sunday's edition: "There is something other than Corsicana out there in the real world," Johnson said, "go out and get it."
Take what you will from the comment, but to me it speaks clearly. Johnson didn't settle for a few Tiger receiving records. He wasn't satisfied with making it to the 1997 Texas State championship.
Nor were Aggie records enough for a player that looks as if he could get away with suiting up for the Tigers in 2004.
More profound than a switch from running back to receiver his junior season at Corsicana High School, Johnson said, was a change, or rather a decision, he made early at Texas A&M. Johnson shed his past persona -- demanding the ball, thinking of himself over his team -- for a more selfless outlook.
Though Bethel is Hebrew for "House of God," the given name didn't take on its true meaning until he left Corsicana for College Station.
"I'm totally different from when I was in high school," Johnson said. "In high school, I wasn't saved. After I got to college I got saved and I got humbled."
Before his rookie NFL season, Tiger head coach Jeff Berry gave Johnson the chance to speak to his football team. He bypassed instructions on reading cornerbacks, running crisp routes, but instead went straight to the heart of his matter.
"I was just telling them how, Coach Berry knew how I was in high school, what type of person I was ... just being a product of your environment sometimes," Johnson said. "I got to college, and I just told them how I got to college, and I just gave my life to the Lord, and how I started living for Him.
"Those kids know me, they knew how I was, and they see the change in me. I'm just trying to let them know how there's bigger things other than Corsicana out there."
In the transition from college -- where friends, academic advisors and even coaches monitor the student -athletes -- the pros are a quick baptism into the real world, except pro athletes have slightly more cash (in Johnson's case, a $1 million-plus signing bonus) than the average grad.
So a mentor is often needed to help young athletes walk the straight line. Johnson's is New England's hardest hitter, safety Rodney Harrison. Should it be a surprise a defensive standout serves as an offensive threat's version of a guidance counselor?
"No, when you've got a Christian guy on your team coming to you, holding you accountable," Johnson said. " It doesn't matter if he's on offense or defense, you're all playing for one purpose."
Simultaneous with Johnson's maturation off the field was his progression on the field as a receiver. Because of the late change in position, Johnson jokingly said he learned just three pass routes as a Tiger -- "Deep, deep and deep.
"Corsicana just set the stage for me," he said. "Once I got to college, they started polishing me up, to teach me more about playing wide receiver, because I played running back first at Corsicana, didn't really start playing wide receiver till my junior year."
But even at A&M, a school better known for running backs than receivers until recently, Johnson lacked the ins and outs of the position.
"They didn't really show me how to run a lot of the short routes," Johnson said with a laugh. "I had to come (to New England) and learn how to run a lot of the routes, learn how to get definition in my routes, that was the big thing as a rookie."
Johnson steadily decreased the learning curve this season, evolving into one of the prototypical Bill Belichick-type draftees.
"When you draft players, I think what you're expectations are is that they'll be able to contribute to their team," the New England coach said on Tuesday. "It's hard to put a time frame on that, guys develop at different rates."
Johnson still has a long way to go. But he'll have added motivation for future seasons. He's tasted the NFL's finest eight months on the job, a flavor every pro will say never spoils.
"How many kids from Corsicana have been to a Super Bowl? None," said Johnson, answering his own question. "One now."