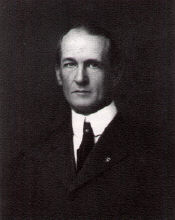 Mayor Johnson, an outstanding surgeon, was the first doctor to be mayor. He was born in 1853 and resided at 122 West Fourth Avenue. He was a very good business man, had been cashier of the Corsicana National Bank, also secretary-treasurer of the Corsicana Land & Loan Co. His principal accomplishment as mayor was the establishment of the Public Library in 1901, in the Hardy-Peck Building, membership dues, $1.00 per year. After being mayor, he moved to Dallas, where he practiced medicine. His children also moved away, but he was related to many good Corsicana families. He died in 1922 and is buried in Oakwood Cemetery.
---
Notes:
I wrote my sister a short missive regarding the name Wistar. My family until last night was insisting it was English.
My feeling has been that it was German, Wuster. In fact, that is the case. And since she lives in Mason, a German-settled town in west-central Texas, I thought this might be of interest.
What I have come to find, is that we are in the midst of a great wave of an historic event, the tumult of late 17th century western Europe, and yesteryear is really as close as the memories we hold of our ancestors.
I include one additional piece for your consideration, as it would be remiss to not include the overlapping of a number of waves of recent eras, those within our sphere. Take for example, the native peoples encountered on this continent. They were human as well, with foibles and fortitudes and magnitudes of dignity that must have affected those they dealt with. Red Jacket is a man who has been portrayed as a buffoon and coward in the pitch of battle, by decedents of native peoples; long-winded, and forever destined to push a wheelbarrow of dirt, back and forth, as punishment for loss of lands to white emigrants.
Contrary to that vindictive short-sightedness is his picture as a leader under tremendously larger pressure, and in the middle of a great wave of history.
(Noteworthy. To summarize, Engilsh mercantile interest wanted markets for English exports: hence, Pennslvania colonies, etc. View of the day among political theorists and capital realists, was that dense popualations were most successfull, universally, and the contrary held true, as well.
Therefore, to depopulate the German areas of the Rhine would serve English interests, and help stabilize that region. The French, under Louis XIV, plundered the Rhenish Palatine to underwrite the armies of France.
In addition, local princes attempted to emulate the Baroque agrandisment of King Louis, taxing their German peoples excessively. The record artic-cold winter of 1701/02, ruined crops and stifled dreams.
Vinyards died, birds froze on the wing, wine was solid ice, and firewood would extinguish.
There were also the Protestant/Catholic conflicts, that made those with interests similar to the English ruler, Queen Anne, perfect candidates for instant populations of industrious, intelligent, like-minded apirants. The copious printing talents of Pennslvania were turned loose, and flooded the Rhine Valley with books and pamphlets, extolling the virtues and good climes of the New World.
Good Queen Anne helped defray the eight pound cost of passage, in many instances.
Thus, began a move of the Wusters, and even my maternal-grandmother's family, the Zugs, from Zug Canton, in Switzerland, at the other end of the Rhine. One and all, they headed for Pennsylvania.
Forevermore, that area, started by William Penn, will be known as the land of the Pennslvania Dutch.)
(I include this because, among other interesting facts, is mention of the WISTARAT, the original lineage developed by the institute, from which which today's most widely used research rat lineage developed, around 1900. )
Samuel Wistar Johnson III