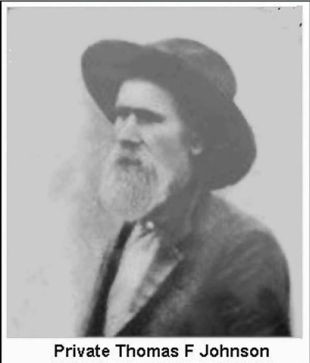 Submitted by J. Platz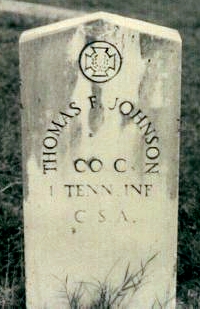 Photo by Dana Stubbs
THOMAS F. JOHNSON
CO C.
TENN INF
C.S.A.
Thomas F. Johnson, b. 1846, died on 1906. Served in the 1st Tennessee Infantry, Husband of Annie Corn & Mollie Greer. Buried at Frost Cemetery, Frost, Navarro Co., TX
Thomas was from Franklin Co, TN.
In Feb, 1861, the men of Winchester (Franklin Co), unable to join the Confederate Army (Tenn had not yet seceded), petitioned the state of Tenn to be allowed to secede from Tenn and join Alabama, which had already seceded.
They were turned down (duh), but the men formed a unit anyway, went to VA, and offered their services to Robert E. Lee. They became known as the 1st Tenn Infantry (not to be confused with a unit of the same name in the Western theater), and served in every major battle of the Eastern theater, including 1st Manassas, Sharpsburg, Gaines' Mill, and Gettysburg.
Thomas' father, 1st Lt. Alfred H. Johnson, was commander of Co C at Gettysburg, where the "Tennesseans", 1st and 7th Tenn Inf, were the only units to breach the Federal lines during Pickett's Charge (left flank).
While Alfred was away, Thomas ran away from home at 15 and enlisted in Co. G, 17th Tenn Inf (1862), as a teamster, and served at the battle of Chickamauga.
In 1864, Alfred asked that Thomas be transferred to his unit, since was only 17, and had enlisted without his father's approval. Gen Lee's Adjutant approved the transfer, noting that the "reasons for the transfer were much better than those generally claimed."
Thomas was subsequently captured at Petersburg Apr 2, 1865 (1 week before the surrender at Appomattox), sent to the infamous prison camp at Point Lookout, MD, and held until his release June 28.
Thomas married Anna Corn in Franklin Co in 1868, had two children (Emma Adeline, 1869, Annie, 1874). His wife died in 1875, and shortly thereafter he and the children moved to Hill Co, TX, where he was a farmer.
Emma Adeline (Addie) married a Navarro Co farmer (Henry Keathley), so in his later years, Thomas moved in with Henry and Addie in Frost, and is buried there. Curiously enough, Thomas is buried about 100 ft from Henry Keathley's father, John Wesley, who also served in a Tenn Confederate unit.
Notes:
Biography submitted by Sandy Keathley, 1st Lt Commander, North Texas Brigade, Texas Division, SCV

Photo of headstone submitted by Norman Stubbs, Commander of J. L. Halbert Camp 359, SCV.