William Killian and family taken in 1900.
William married Lydia Margaret Meek in 1868. Lydia can be found in the 1850 census of Milam County, TX with her father Moses Meek, mother Rhoda Meek nee Langston and brother Noah Meek. Lydia was born in Arkansas in 1849. William and Lydia are buried in the Gholson cemetery in McLennan County Texas. William enlisted in company A of the 1st AR Cavalry Vol. Sept. 1862 and was discharged Aug. 1865 in Fayettevilleville, AR. William died in 1919 and Lydia in 1935.
My great-grandfather is William Killian. He was born in Warren County, TN and raised in Spring Hill, TX. He was in a Union Calvary unit out of NW, AR. He can be found in the 1880 census of Montague County, TX. H. L. W. Killian (Hugh Lawson White Killian) is William's brother. H. L. W. Killian is buried in the Liberty Chapel Cemetery in Montague County near Spanish Fort. H. L. W. Killian married Mary Jane Russell who was born in Madison County, AR. Hugh was in the Navarro Rifles.
H. L. W. Killian was related to the Hill family. His parents are Samuel Killian and Lucinda Hill. Samuel died in 1845 and sometime after Lucinda moved the family to TX. They can be found living near Spring Hill. Lucinda may have moved the family here to be close to family. Lucinda's half brother is George Washington Hill. H. L. W. Killian's brother William Killian, my great grandfather, was said to be living near "Wash" Hills place after the war. His first wife and child died of pneumonia there in 1867. I have this information from William's Civil War pension papers

Submitted by Robert Kimble - July 2004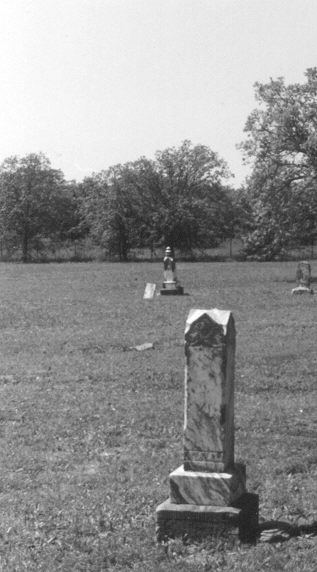 Headstone of H. L. W. Killian
Montague County, Texas
photo by Robert Kimble