12/23/2003 LAW ENFORCEMENT IN BLOOD: Even age didn't deter Johnny Lake from his career at NCSO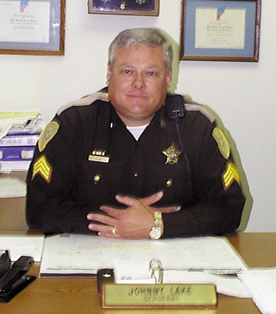 Deputy Johnny Lake was recently awarded a pin for 25 years of service to the Navarro County Sheriff's Office. He has been in law enforcement since before he was even able to purchase his own ammunition. Daily Sun photo/MICAH CHAPLIN
By MICAH CHAPLIN/Daily Sun Staff
Deputy Sgt. Johnny Lake has been wearing a uniform longer than he's been able to legally buy his own ammunition.
"When I first started, I wasn't even old enough to buy bullets for my handgun and we had to buy our own ammunition at that time," Lake said. "So I went to Gibson's, which was where Big Lots is now, and luckily my aunt was there. I had to give her money to buy my bullets for me."
Lake was recently honored with a pin for 25 years of service to the Navarro County Sheriff's Office.
He was born and raised in Navarro County, spending most of his youth in Corbet. He is a graduate of Corsicana High School and Navarro College. Lake has been married to Devonna for 17 years and has two sons, Justin, 22, and Colton, 13.
Throughout high school, Lake worked at Minyard's Grocery Store, which was located on Highway 31 where Dollar General and Subway now stand. He had earned his way to a spot as assistant produce manager, but decided during his senior year that law enforcement was where he wanted to be.
"I just like law enforcement work. I hate to say it's because I get to help people, because that's what everyone says. So, I guess I just like working on the crimes and answering the calls. " Lake said. "I knew I wanted to work for the sheriff's office because I'd lived out in the county all my life."
He enrolled in the reserve academy at Navarro College and became a reserve officer at the NCSO.
Today, six sheriff's later, he shares an office with Sgt. Charles Statham and is currently the patrol sergeant for the day shift.
"I definitely prefer the day shift," Lake said. I've worked evenings and nights. Evenings are really busy and I could never get used to the midnight shift."
He has responded to murder and robbery cases, but Lake says those aren't the toughest calls. Dealing with the death of a child, whether by accident or at the hands of an abuser, is something Lake says he can never get used to.
"I still remember the first child abuse case I went out on. The child ended up dying," Lake said. "Those stick in your mind. You never forget about them and it's something you never get used to."
In three years, Lake says he'll be eligible for retirement, but he hasn't yet decided if he'll take that option.
"It all depends on how things are going all that time. I'm not saying I'll quit then. I really don't know." he said. "This is a very interesting career for someone who can get into it, but it's not always like it is on TV. I'd say it's 99 percent boredom and 1 percent sheer terror. There are some good and fun times, but there are bad and sad times too."
----------
Micah Chaplin may be contacted via e-mail at [email protected]
Originally published in the Corsicana Daily Sun - Dec 23, 2003
Reprinted with permission of the Corsicana Daily Sun
www.corsicanadailysun.com || Articles Index
All rights to this story reserved. Copyright Corsicana Daily Sun and Community Newspaper Holdings, Inc,. Content may not be archived, retransmitted, saved in a database, or used for any commercial purpose without the express written permission of the Corsicana Daily Sun and CNHI.