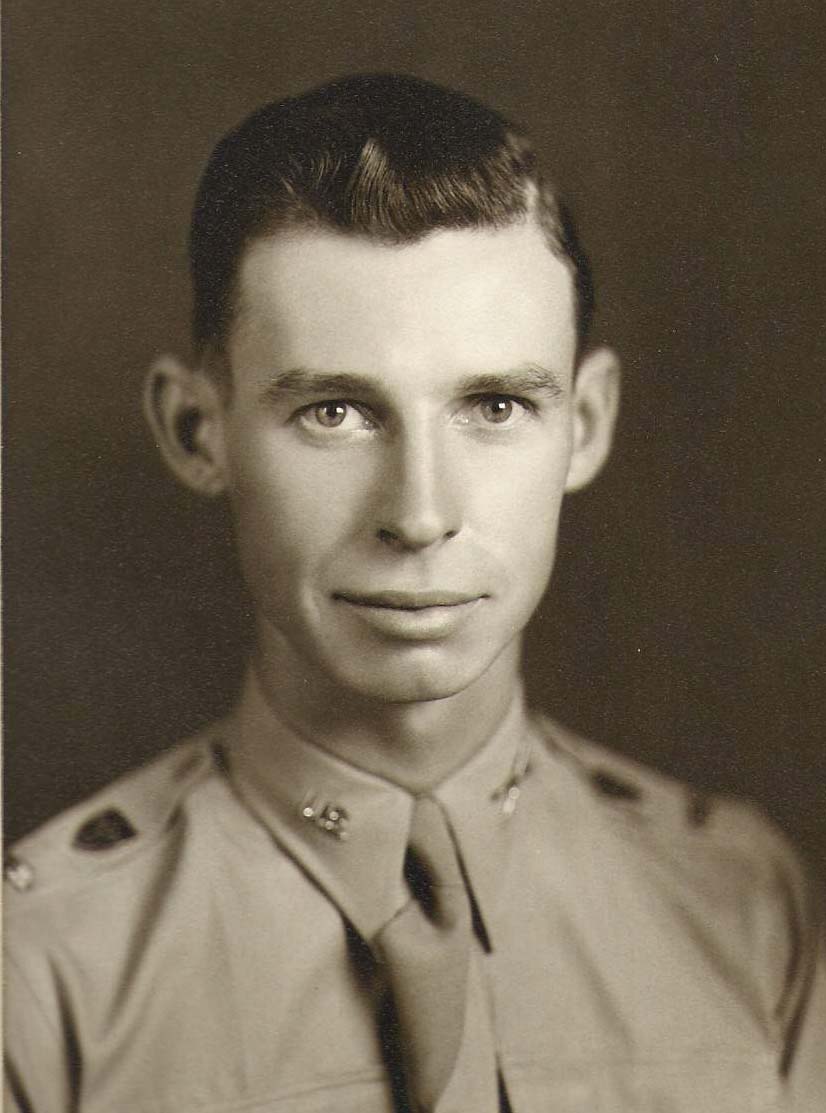 Milton was the 2nd child of Terry Reno McAfee and Mary Dee Anderson.
Mary died in the 1919 flu epidemic when Milton was 6 months old.
Milton served as an officer in Artillery during WWI and Korea.
---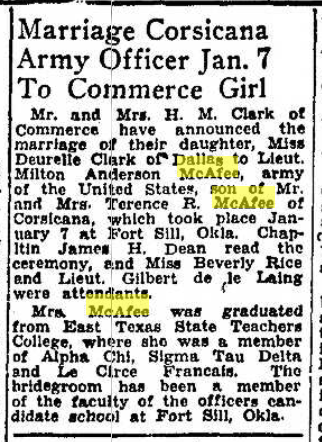 The Corsicana Daily Sun - Thurs., Jan. 13, 1944
IN UNIFORM
Second Lieut. Milton A. McAfee, U. S. Army headquarters, Fort Sill, Oklahoma, has been promoted to the rank of first lieutenant, his parents, Mr. and Mrs. T. R. McAfee, have been advised. Lieut. McAfee is a 1935 graduate of Corsicana High and was a printer here and in Dallas before being called to active duty with the Texas National Guard units as a non-commissioned officer. He later went to an officers' school and received his commission.
Notes:
---
Capt. M. A. M'Afee Arrives In States
Capt. Milton A. McAfee will arrive in Corsicana next week to visit his parents, Mr. and Mrs. T. R. McAfee, 1813 Woodlawn after 18 months overseas service, with the Tenth Air Force in India. He was stationed near Calcutta.
Capt. McAfee arrived in the States Wednesday night and is now en route from New Jersey to San Antonio where he will receive furlough orders. His wife lives in Dallas.
Notes:
---
IN UNIFORM
Capt. Milton A. McAfee has written his father, T. R. McAfee, that he expects to arrive in the states from India about November 1 and will be discharged after his furlough.
Ens. William K. McAfee has been assigned to a Liberty ship, the S. S. A. Franke Lever and is on his way to Japan. He returned to the states recently after being in Antwerp, Belgium.
The Corsicana Daily Sun - Monday, October 8, 1945
---
OBITUARY
McAFEE, MILTON ANDERSON, age 85, passed Friday, May 21, 2004, surrounded by his loving family. By his side were his wife Deurelle; his daughter Teresa Gail McAfee, her daughter Jennifer Cheers and fiancé Kurt Lewis; his daughter, Lennda Schuetz and husband, Edward, their children Kelly and Steven; his son Bruce; his son Michael and wife Linda, their children Lauren and baby Bethany, Jessica, Michael, and Ryan.
Milton is also survived by his brother Bill McAfee and wife Anne and their children: Susan, Mark, Karen, Laura, and Nancy; and 12 grandchildren; his son-in-law Ken Cheers; his grandson Joshua Robertson and wife Marcy and their children: Julia, Haley, Joshua, and Emma; his grandson Kristopher Cheers; his nephew Benjamin Hardy; and niece Helen Hardy Smith.
Milton was preceded in death by his father Terry Reno McAfee; his mother Mary Dee Anderson McAfee, his step-mother Maggie Kerr McAfee, his sister Marie McAfee Hardy and her husband Floyd Hardy, and his brothers Hugh Kerr McAfee and Nathan Garrett McAfee.
Milton was born on June 6, 1918 in Corsicana, TX. He lived and raised his family in Dallas and retired from a career as Publications Manager and Manager of Central Printing at Texas Instruments in 1982. He also retired as a Lt. Col. from the US Army where he served overseas in both WWII and the Korean War. He was a member of the 36th Div. in the Texas National Guard, served with the 10th Air Force in China-Burma-India, and with the 1st Armored Div., at Ft. Hood. He also taught communications at the OCS Artillery School at Ft. Sill, OK, and served with the 25th Infantry Div. in Korea. He was a graduate of Corsicana High School; studied Marketing and Advertising at New York University and received Bachelors and Masters Degrees from SMU. Milton was an avid tree farmer and organic gardener and loved the outdoors.
Family will receive friends from 6-8:00 PM on Monday, May 24, 2004 at Restland Funeral Home. Services will be at 1:30 PM on Tuesday, May 25, 2004 at Restland's Wildwood Chapel. Donations can be made to the Visiting Nurses Association, the Texas Folklore Society, the University Park Library, or the Texas Forestry Association.
Milton was loved and will be greatly missed by all those who knew him. The fruit of the Spirit is love, joy, peace, patience, kindness, goodness, faithfulness, gentleness and self-control. Galatians 5:22-23.
Notes:
---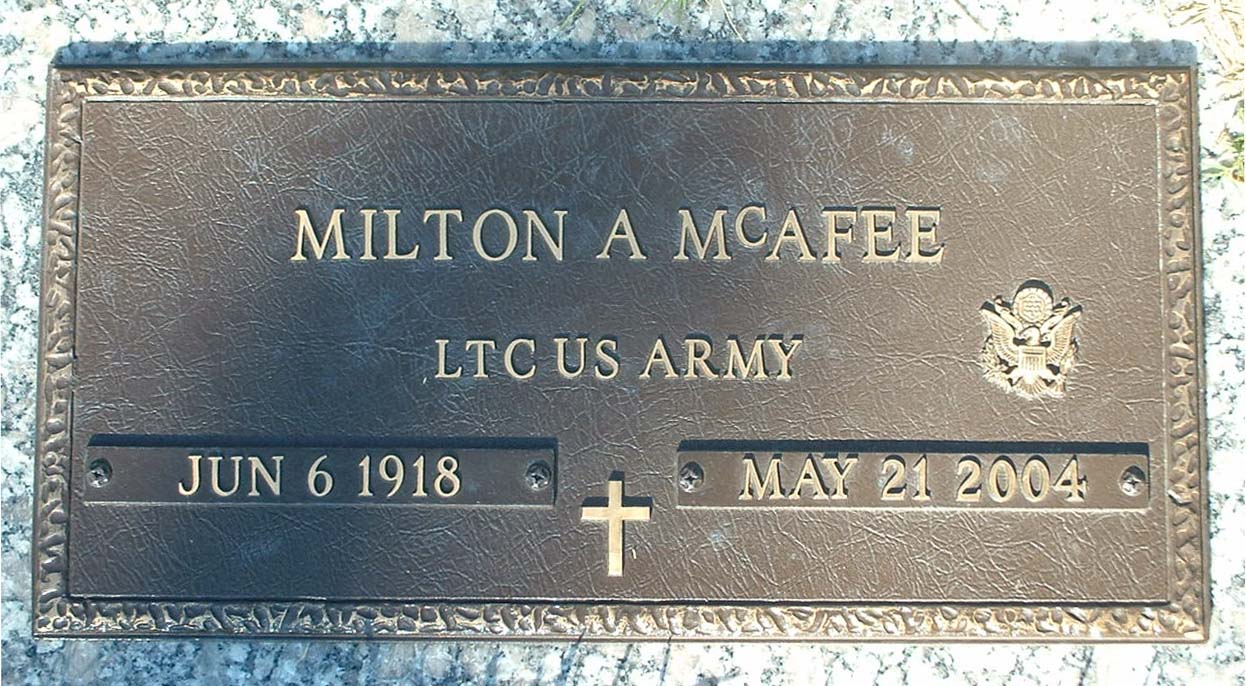 MILTON A. McAFEE
LTC US ARMY
JUN 6, 1918 - MAY 21, 2004
Restland Memorial Park, Dallas, Dallas County, Texas