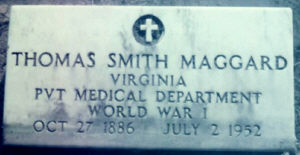 Grange Hall Cemetery, Navarro Co., TX

Thomas Smith Maggard
Virginia Pvt Medical Department
World War I
Oct 27 1886 - July 2 1952
OBITUARY
Thomas Maggard Dies At Waco
Thomas S. Maggard, 65 died in the veterans administration hospital in Waco Wednesday morning following an illness of more than a year. He formerly resided in the Kerens area.
Maggard was a veteran of World War I.
Surviving are a brother, R. Maggard, Denton; a sister, Mrs. Danny Adcock, Denton, and a number of nieces and nephews.
Funeral services will be held from the Corley Chapel at 3:30 p.m. Thursday with burial in the Grange Hall cemetery.
Notes: