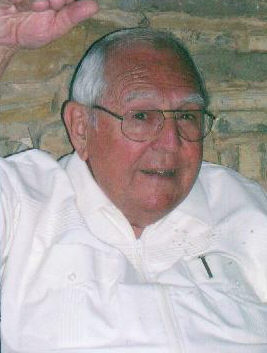 An Autobiography
*Updated 2/27/2017

CARL W. MATTHEWS, JR.
Born August 14, 1924
Died January 7, 2017

Parents
Carl Waymon & Velma Coleman Matthews

Paternal Grandparents
Dr. Harvey Lee and Mattie Belle Dempsey Matthews

Maternal Grandparents
Wiley Ausborn & Ollie Jane Bland Coleman

Matthews was born on Sycamore Street, Corsicana, Texas in the home of his maternal grandparents. His parents lived next door in an upstairs apartment in the J. J. Castles family home. After his birth, his family moved to a single- family residence across from the south side of The City Park. His Father was employed by the Ford Motor Company of Corsicana. His mother was a housewife, after having taught at the one room Brushie Prairie School located several miles west of Corsicana.

Matthews was two when his father became a partner in Matthews Meat Market at Dawson, Texas, his father's hometown and, approximately, twenty-five miles southwest of Corsicana. Matthews Market, operated by his father's brother, Fred Matthews, had been an ongoing business for several years.

Matthews attended The Dawson School from 1930 until 1939 when the family moved six miles west to Hubbard. Two years later, August, 1941, he enlisted in The United States Marine Corps, completed "Boot Camp" at San Diego, California, and was assigned duty with The 8th Marine Regiment, Camp Elliott, near San Diego.

The Second Marine Brigade, formed in less than a month following Pearl Harbor, included the 8th Marine Regiment, and sailed from San Diego January 6, 1941, first contingent of troops to leave the U. S. following Pearl Harbor. Fourteen days later, the troops arrived at Pago Pago, Samoa, to reinforce a Marine artillery battalion.

It was on the island of Samoa that Matthews contracted a still-undiagnosed illness, and, weighing ninety-eight pounds, was returned to California for treatment at a new Naval Hospital at Corona, California. Following his release from the hospital, Matthews served as a clerk-typist at Base Headquarters Company, San Diego.
During the summer of 1943, he completed the Marine Combat Training School at Camp Elliott and was immediately assigned to G-Company, 23rd Regiment, 4th Marine Division at Camp Pendleton, Oceanside, California.
February, 1944, he participated in the invasion of The Marshall Islands and, later, completed more training on the island of Maui, Hawaii.

June 15, 1944, Matthews was in the first wave of Marines to land on Blue Beach to begin the invasion of Saipan. Twenty-three days later he was evacuated to the USS Samaritan hospital ship, transported to a Mobile Navy hospital at Numea, New Caledonia where he received The Purple Heart medal. After hospitalization in the states, he was assigned to The Marine Air Base, Quantico, Virginia. He received a medical discharge March 29, 1945.

Matthews returned home, and to Hubbard High School where he graduated in May, 1945, at age twenty. He entered Baylor University in June, married in December of the following year, completed college in the fall of 1948, and was a teacher at Sinton, Texas, January 1949. He enrolled at Southwestern Baptist Theological Seminary in the fall of 1950. He received a Masters of Theology in 1953 and a Masters of Religious Education, 1956.
Despite his background and training in an ultra conservative environment, his theology today consists of three simple statements: God is Love, God is Practical, Do Unto Others. He is the sole member of The Episco- Shinto- Bapterian-Lutherite-Church, Reformed…Sanctified, Unified, Satisfied.

He was owner, editor, and publisher of The Burleson Shoppers Guide 1952-1955; minister of Reeces Prairie Baptist Church, Burleson, Texas, 1951-1955; summer missionary in The Bahama Islands, 1955. He organized and served as Senior Minister of The Valwood Park Baptist Church, Dallas, Texas, 1956-1962. He was Senior Minister of The University Hills Baptist Church, Denver, Colorado, 1962-1965. His marriage ended 1965.

He became associated with The American Heart Association in 1965 and was assigned to Atlanta, Georgia. He remarried there in 1966. That same year, he became Executive Director of two merging Heart Chapters in Connecticut. Two years later, he was named Director for a unit of the Connecticut Department of Mental Health.

During his residency in Connecticut, Matthews spoke in a number of churches, served as interim and weekend minister, and completed special studies at Columbia and Rutgers Universities. He and his family toured Scotland and England in 1972 when he served as guest minister at Kelvingrove Church, Glasgow. He and his wife spent a similar five weeks in Ireland in 1995 with the St. Columbo Church at Lisburn.

He relocated in 1974 to Atlanta, Georgia, where he served as Executive Director of the thirteen state Southern Area Alcohol Education & Training Program, a federal program, that produced printed and video training materials; designed and operated for two years The Duke University Summer Institute of Alcohol Studies, .and a similar program at Ohio State. While in Atlanta, he taught for six years a one-hundred-fifteen member Men's Bible Class.

Matthews entered the steel business in 1982 at College Station, Texas. Five years later, STEELHAUS Buildings, relocated to Atlanta, Georgia. The company designed, engineered, and shipped steel framing packages for churches, homes, retail, schools, etc., in Texas, Arkansas, New Jersey, Kentucky, the Carolinas, and Georgia.

Matthews and other Marines from G-Company gathered at Atlanta in 1995 where many saw each other for the first time in over a half century. Additional reunions were held in Atlanta in 1997 and 1999. A dwindling group, including Matthews, met in 2001 at Ft, Myers Florida, the final gathering.\

His 1966 marriage to the former Elaine Kinney Farmer of Atlanta ended with her death in 2001. Two years later, he relocated to Dallas, Texas, to be nearer his two sons and their families, his siblings, and many old friends.
2004….Matthews was among more than fifty veterans who returned to Saipan to participate in the celebration of the 60th Anniversary of The Battle of Saipan. It was on the morning of June 15, 1944 that 8,000 Marines landed in twenty minutes on two miles of beach. The veterans were from all branches of the military, and included Paul Tibbetts, pilot of the B-29 "Enola Gay," that dropped the first atomic bomb on Japan. Matthews remained on Saipan for a month, then visited Japan briefly.
The following March and April, 2005, he spent forty-three days traveling New Zealand, Australia, Western Samoa, American Samoa, and Hawaii. When he returned home, he found an invitation from NHK TV of Tokyo to participate in a WWII documentary in Japan and on Saipan. He, as well, had an invitation to be the keynote speaker at the ribbon-cutting of the new Museum and Visitors Center at American Memorial Park at Saipan. He accepted both invitations and enjoyed three weeks on Saipan and another visit to Japan.
The following year, 2006, he was invited to participate in an English Language Program for Spanish business leaders in the mountains between Madrid and Barcelona. Matthews stretched that invitation into three months and visits to nine European countries.
The following April, he left Dallas and began six months of travel to England, France, Spain, Italy, Switzerland, Austria, Poland, Russia, Finland, Sweden, Norway, Denmark, and Germany.
Matthews spends much of his time writing. His subjects include genealogy; history of Western Navarro Co Texas; World War Two; travel journals; and more. Excerpts of his book, "TEXAS Lies, Legends, & a Little Gospel Truth, appeared weekly in two newspapers in 2008. "THE FEATHER MERCHANT," his WWII experiences with the U. S. Marine Corps, is being processed for publication.
He moved, December 2007, from a one bedroom condo near Southern Methodist University to a quiet subdivision in a small town twenty minutes southwest of downtown Dallas
Carl W Matthews
1130 Madlynne Dr
Cedar Hill TX 75104
---
NEWS RELEASE - 2005
FORMER MARINE
TO PARTICIPATE IN
JAPANESE DOCUMENTARY
Carl Matthews, who grew up in both Dawson and Hubbard, Texas, has received confirmation from NHL TV, Japanese Public Television, that he is to participate in a documentary commemorating the 60th Anniversary of the end of WWII. Matthews, who now lives at Dallas, Texas, leaves May 24 and will spend two weeks on the Island of Saipan and two weeks in Japan. Matthews was a nineteen year old U S Marine in June 1944 when his unit participated in the invasion of Saipan, then held by the Japanese.
Matthews will carry with him a Japanese flag found during the battle. The flag, filled with Japanese writing, was typical of many carried by Japanese soldiers. The writings are said to be good wishes from family and friends, and usually, bear the soldier's name. NHL TV will attempt to locate the soldier's family in Japan and, if located, Matthews will personally return the flag to the family after sixty-one years.
Matthews will, also, attempt to locate the Saipan cliff where his platoon leader, James Stanley Leary Jr., was killed July 8, 1944 Leary and Matthews were talking when Leary was hit by machine gun fire. His body was never recovered.
Matthews wrote a detailed account of the battle several years ago. The account may be found on the USGenWeb site, Navarro Co. Texas.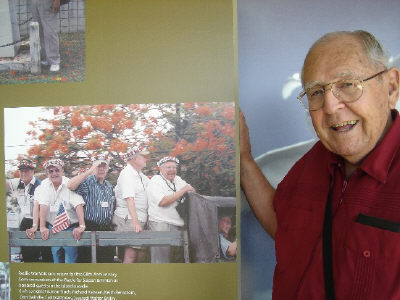 Notes:
Submitted by: Carl W. Matthews

(email address)

Carl has submitted a very large number of files concerning the history of Dawson and Western Navarro County. These files are located through out the website but are all indexed at the [ Stories from Dawson Texas Index ].
---
OBITUARY
Carl Waymon "Tubby" Matthews, Jr.
Aug 14, 1924 - Jan 7, 2017
Carl Waymon Matthews of Cedar Hill was born Aug. 14, 1924, in Corsicana and passed away Saturday, Jan. 7, 2017 in the Dallas VA Hospital. Carl, the son of Velma and Carl Matthews, attended schools in Dawson and Hubbard. He joined the Marines a few days before his 17 birthday, four months before Pearl Harbor. In January, 1942, his unit was sent to Samoa, but he returned to the mainland the following summer as a medical patient.
In 1944, he participated in the invasion of The Marshall Islands and Saipan and was wounded on Saipan the day before the surrender of the Japanese. After receiving a medical discharge in March, 1945, he returned to Hubbard to finish one and one-half credits in two months, graduating from Hubbard High School on a Friday night and enrolling in Baylor University the following Monday. He married Nell Baggett of Holland in December, 1946. They have two sons Mark and Michael. After completing college in 1948, Carl and Nell taught in Sinton, for one and-a-half years and he then enrolled in Southwest Baptist Seminary, earning two degrees.
Throughout the 50's and early 60's he pastored churches in the Ft. Worth and Dallas area and in Denver, Colorado. His marriage ended in 1965, and he became associated with the American Heart Association in Atlanta, Georgia. In 1966, he accepted a position as director for a unit of the Connecticut Department of Mental Health. He later moved to Atlanta in 1974 where he was director of a 13 state alcohol education training program. He founded Steelhaus Buildings in 1980, retiring in 2003.
In 2001, he returned to Texas. During his retirement years, he traveled extensively, visiting 25 countries including Japan and Russia. He traveled to Spain to participate in an English language program for Spanish business executives. Returning to Samoa once and Saipan four times were special trips. On one trip, he was keynote speaker for the dedication of the American Memorial Museum on Saipan. A Japanese television network returned him to Japan and Saipan in 2005 to participate in a documentary commemorating the end of World War II. He was guest of honor and speaker at the 2011 Marine Birthday Ball at Camp Lejeune, North Carolina. Since 2007, he has engaged in historical and genealogical research and writing and public speaking including participating in World War II symposiums.
He is preceded in death by his parents, his sister and her husband Marilyn and W.D. Lowrie.
Carl is survived by long time special companion and loving caregiver, Samantha Green of Cedar Hill; his two sons Mark and his wife Suzanne of Grapevine and their sons Jack and Jeremy, and Michael and his son Cole of Dallas and daughter Ashlyn of College Station; sister Jeane and her husband C.B. "Buddy" McGown of Bryan; two nieces and one nephew; numerous cousins and multitudes of friends around the world.
A graveside service with full military honors will be held at 1 p.m. Saturday, Jan. 21, 2017 at the Spring Hill Cemetery in Dawson. A reception will follow the service at the Dawson Baptist Church fellowship hall. As he has requested, part of his ashes will be buried in the family cemetery and the remainder will be taken to Saipan to be scattered from the mountainside where his lieutenant (Lt. James Stanley Leary, Jr.) was killed in 1944.
In lieu of flowers, Carl specifically requested that memorial donations be sent to Spring Hill Cemetery Association, P.O. Box 94, Dawson, TX 76639 or to Hubbard Community Affairs Association, P.O Box 84, Hubbard, Texas, 76648
Corsicana Daily Sun - Thursday, January 19, 2017
Submitted by Karen Rost
He is preceded in death by his parents, his sister and her husband Marilyn and W.D. Lowrie.
Carl is survived by long time special companion and loving caregiver, Samantha Green of Cedar Hill; his two sons Mark and his wife Suzanne of Grapevine and their sons Jack and Jeremy, and Michael and his son Cole of Dallas and daughter Ashlyn of College Station; sister Jeane and her husband C.B. "Buddy" McGown of Bryan; two nieces and one nephew; numerous cousins and multitudes of friends around the world.
A graveside service with full military honors will be held at 1 p.m. Saturday, Jan. 21, 2017 at the Spring Hill Cemetery in Dawson. A reception will follow the service at the Dawson Baptist Church fellowship hall. As he has requested, part of his ashes will be buried in the family cemetery and the remainder will be taken to Saipan to be scattered from the mountainside where his lieutenant (Lt. James Stanley Leary, Jr.) was killed in 1944.
In lieu of flowers, Carl specifically requested that memorial donations be sent to Spring Hill Cemetery Association, P.O. Box 94, Dawson, TX 76639 or to Hubbard Community Affairs Association, P.O Box 84, Hubbard, Texas, 76648
Notes: