6/11/2002 After over 20 years of service, Mays calling it a career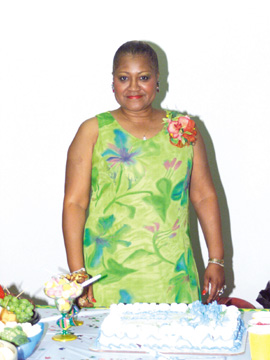 Friends and co-workers help Virginia Mays celebrate her retirement. Over 20 years of her life has been dedicated to helping children and senior citizens with food and nutrition programs. Daily Sun photo/KIRK SIDES
By BARBARA FORMAN/Daily Sun Staff
Several people in Navarro County have had a better life because of the work and dedication of Virginia Mays. Since 1996 she worked for the Navarro and Ellis county extension offices with the Better Living for Texans Program.
Monday, she celebrated her retirement and recalled some of the accomplishments and strides made while working in Navarro County.
"I started out with Joe Baxter when I started with the agency," she said.
The Better Living for Texans program teaches the young and the old alike how to achieve a better quality of life.
"It is teaching food and nutrition, food safety and money management with limited resources," Mays said.
Some of her most rewarding times were working with the different state agencies which helped to provide for others. Mays said she especially enjoyed working with the WIC program and Texas Department of Human Services in both Navarro and Ellis counties.
Another area Mays was particularly fond of working with was Navarro County students at the high school level. She provided food demonstrations that educated students concerning proper nutrition and educated girls on teen pregnancy.
"When we first started working with the program in home (economic) classes, teen pregnancy went down," she said.
Community Services, Even Start, Head Start and senior citizen programs were also areas that Mays contributed educational and nutritional information to.
"I loved them all," Mays said.
Although each group held a special place in her heart, Mays said working with the elderly was rewarding for many different reasons. She said the elderly responded to what she taught them in a more positive manner.
"The elderly were more accepting," Mays said. "They were never too old to learn. They were excited and definitely attended the programs."
Another appreciation she held for the elderly was because of their zeal to learn proper nutrition which afforded them ways to have a better life.
"From the food and nutrition aspect they learned how to control high blood pressure, diabetes and other things," she said.
Although teaching healthy nutrition was her main goal another significant factor was taste. Mays said providing good snacks and foods with a pleasing taste were important. Teaching people how to obtain a good taste without the use of salt, sugar and other ingredients that most people think are essential to food was all part of her job.
Mays said the importance of proper nutrition would always be a necessity and it is an increasing and ongoing field of work.
Navarro County was always home for Mays. Even though she moved away and worked in the corporate world for a period, in 1992 she was back.
During her time with the Better Living for Texans Program she was recognized not only by the community and people she worked with but also by the state where she won awards for her work.
Mays said retiring did not mean stopping. She is already making plans that will continue to serve the community.
Barbara Forman may be contacted via e-mail at [email protected]
All rights to this story reserved. Copyright Corsicana Daily Sun and Community Newspaper Holdings, Inc,. Content may not be archived, retransmitted, saved in a database, or used for any commercial purpose without the express written permission of the Corsicana Daily Sun and CNHI.