Homer Pierce McAfee, son of Hugh McDuffie & Roseanna (Toal) McAfee, was born 19 December 1869 in Searcy, AR. He married Ira Toal, a second cousin, on 3 December 1891. Homer died in Tulsa Oklahoma in December 1957. Ira died in 1948. They are buried in the Rose Hill Cemetery, Tulsa, Tulsa Co., OK.
Their children; Eddie L; Addie; Pearl, Emmitt; Tinsell; Hue; Homer Raymond; Rosa; Isic; Leona Ira; Melvin; Fay; Ray; and Earl Golden McAfee.
---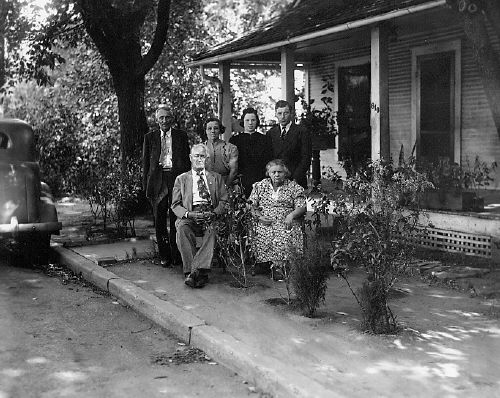 Homer Pierce McAfee & Ira,
Standing l to r are Ed McAfee, Allie McAfee, Maxine
McAfee and husband Golden McAfee youngest son of Homer
Rose Hill Cemetery, Tulsa, Tulsa Co., OK.
Pearl McAfee daughter of Homer, Sherman TX. 1931
I have obtained a photo of my aunt Pearl McAfee ,daughter of Ira & Homer, her daughter Bessie Smith tells me that Pearl was born in the jailhouse in Corsicana, apparently Homer was a jailer or deputy in Corsicana when she was born.
Notes: