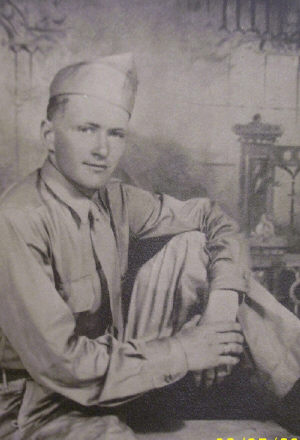 Pvt. James R. McFall, son of Mr. and Mrs. M. M. McFall, attended Richland High School. Trained with Infantry at Little Rock, Arkansas. Served in European Theater, injured in France. He is buried at the Richland Cemetery, Richland, Navarro Co., TX
---
My dad was born on January 26, 1926 and passed away on October 12, 1974. His parents were Marion & Honor Belle McFall. He was married to Carrie Louise Vesperman of Dallas on November 10, 1950. They had 1 child (Dennis Ray McFall) born on June 28, 1955.
James served overseas from October 1944 to May of 1946 in the Battle of the Ardennes (official name – known to the public as the Battle of the Bulge) and Rhineland. Received EAME Campaign Ribbon with 2 Bronze Stars, Good Conduct Medal, Victory Ribbon and 3 Overseas Service Bars.
James worked for the motion picture business in many capacities from booking agent to internal auditor for all the branch offices where films were booked to theatres.
---
The following was from Mexia Daily News obituaries dated October 14, 1974"
J. R McFall Funeral Set Here Today
James Raymond McFall of 804 East Glendale and formerly of Irving, died Saturday morning at 11:30 in General Mexia Hospital at the age of 48. Born in New Hope on Jan. 26, 1926, Mr. McFall booked Motion Pictures. He lived in Mexia for six years.
Services for Mr. McFall will be held today at 2 at the Blair-Stubbs Funeral Chapel with the Rev. Henry Raddle of First Methodist Church, presiding. Burial will be in Richland Cemetery.
He is survived by his wife, Carrie McFall of Mexia; one son, Dennis McFall of Mexia; his mother, Mrs. Honor B. McFall of Mexia; two brothers, Wallace McFall and Robert McFall both of Mexia; and two sisters, Mrs. J.R. Crutchfield of Mexia and Mrs. Claude Freeman of Dallas.
Members of the VFW are pallbearers.
Notes:
Submitted by Dennis McFall