Ethan A. Melton
Mar 11, 1897 - Jan 28, 1919
Ethan A. Melton
Cpl. E. A. Melton, was born March 11, 1897, and educated in the public schools of Navarro County. Entered the service September 6, 1918, and was assigned to Company 25, 8th Battalion, 165th D. B. at Camp Travis. Was killed January 28, 1919. Was grand-nephew of one of the defenders of the Alamo. His home was at Blooming Grove, Texas
History of Texas World War Heroes - World War I
---
OBITUARY

YOUNG LADY KILLS SOLDIER
Daughter of a Dresden Citizen Said to Have Fired Fatal Shot At Dresden, fourteen miles west of here at 12:30 o'clock today Ethan Melton, aged twenty-one years, son of Carter Melton of that community, was shot through the heart and instantly killed, by a young lady, aged eighteen years, the daughter of a prominent citizen of the same community.
Young Melton was a soldier at Camp Travis, and was due to return to the army today.
After the shooting the report is that the young lady entered an automobile in which was seated another person and the two drove towards Blooming Grove.
Notes:


Sheriff office
Miss Annie Smyrle, who is charged with killing Ethan Melton at Dresden yesterday, was brought to Corsicana today by Deputy Sheriff Jake Nutt and Constable Tom Slay and her bond was fixed by agreement between the County Attorney and the defendant's counsel, Callicutt & Johnson at $3,000 which was promptly given. The following citizens signed the bond: Annie Smyrle, T .C. Smyrle, W. L. Green, E. L. Carroll, G. D. Cumpston, W. F. Arnett, B. F. Hartzell, S. B. Robinson. B. L. Finch, E. Tramel and Earl Albritton. A number of Blooming Grove citizens phoned that they would be in later to sign the bond.

Notes:
Remains Not Buried
The remains of Ethan Melton, the soldier who was killed at Dresden Tuesday, have not been buried yet. The authorities at Camp Travis wired that the remains be turned over to an undertaker to await further orders.

Notes:
---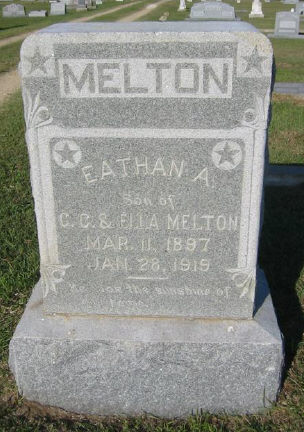 MELTON
EATHAN A.
Son of C. C. & ELLA MELTON
MAR. 11, 1897
JAN. 28, 1919
Dresden Cemetery, Dresden, Navarro Co., Texas