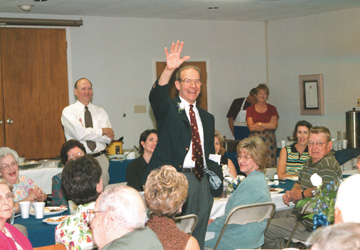 8/20/2002 THE DOCTOR IS OUT: Surgeon retiring after 33 years at the table
By JOAN SHERROUSE/Daily Sun Staff
After 33 years as a surgeon at Medical Arts Clinic, Dr. Scott Middleton has spent his last night on call and has no concrete plans for the immediate future.
His retirement party will be held from 11 a.m. to 2 p.m. Friday in the clinic dining room. After that, he will likely say a few more last-minute good-byes, clear out his office and curl up with a good book on what life is like after a shining career.
"We're going to visit our children and grandchildren, and then I'm sure I'll find something to do," he said. "I enjoy reading and photography, but I haven't indulged in much non-professional reading in quite a good while."
In the constantly-changing world of medicine, Middleton found stimulation rather than stress. Surgery is not only a specialty that requires a great deal of continuing education, he said it stirs the imagination because no two cases are ever the same.
"I've loved what I do," he said. "Every patient is different -- you can't approach anybody routinely. That makes the operating a stimulating place to be"
A graduate of Corsicana High School, class of 1954, he planned to be an engineer like his father and backed up his ambition with two years of study at Rice University in Houston. Plans changed, however, during a Christmas visit in his junior year.
"When I came home that time, I talked with Dr. Robert Bone and Dr. Louis Gibson, two of the founders of Medical Arts, and decided I wanted to be a doctor," he said.
He finished his undergraduate work at Baylor University in Waco, went on to earn his medical degree there and then did his internship and residency at Parkland Memorial Hospital in Dallas.
As he looks back over his career, Middleton has no regrets about coming back home to practice medicine.
"One of the things I've enjoyed in Corsicana is my patients," he said. "They're appreciative, considerate and they do have a more personal relationship with their physician."
In addition, seeing his patients around town -- patients he knows he has helped -- is a special reward few big-city doctors enjoy.
"Corsicana has an exceptional quality of physicians that work together," he added. "We really get along well, and that makes it so much nicer.
"One of the reasons I've been so happy here is that I was able to set some priorities, and not always stick to them, but most of the time."
Middleton has received several professional honors and awards, but he said they pale in comparison to achievements of a more personal nature.
"The real honors I've received are when people tell me I'm like my dad," he said. "The other honor is with colleagues who have asked me to take care of them or their families. I think that's one of the greater compliments a person can receive."
He admits, however, that he is also honored to have been a clinical professor of surgery at the University of Texas Health Science Center in Dallas since 1974 -- somewhat unusual for a small-town doctor -- and he has served on the council for the American Council of Surgeons. He was also president of Parkland Surgical Society and a member of the nation-wide Committee on Trauma, to name a few.
A father of three and grandfather of seven, Middleton has been married to his wife, Susan, for 42 years.
Joan Sherrouse may be contacted via e-mail at [email protected].
---
8/24/2002 Dr. Middleton says goodbye to medical profession
By JOAN SHERROUSE/Daily Sun Staff
Hugs and remember-when stories abounded at Medical Arts Clinic Friday when about 150 well wishers crowded into the dining room to tell Dr. Scott Middleton good-bye.
The retiring surgeon chatted with more than one former patient who reminded him he had taken care of them, their parents and their children during his 33 years at the clinic.
"Dr. Scott Middleton is a very unique and accomplished person, and he is best described by all the superlatives you can think about in life," said Dr. Alex Douglass. "I think the number and variety of people who are here really attests to that far better than anything I can say."
He called his friend's surgical skills "legendary," and reminded those present that Middleton not only has helped countless thousands of patients, he has also served as a clinical professor of surgery at the University of Texas Health Science Center in Dallas.
He continued, praising Middleton's many leadership roles, at the local, state and even national level.
"There is a part some of us have been privileged to see and work with, and this persona is as a leader of men," Douglass said. "Over the years, we have seen a lot of people here at the clinic in leadership roles, but I don't think any have done it as well as Scott Middleton."
A deep desire to serve humanity was at the root of the surgeon's success, Douglass said, citing his upbringing, his experience as an Eagle Scout, his involvement with the church and the love he has for his family.
"We're not going to be without you -- we will be with you -- and the reason we're going to be with you is that, in the two decades I've been here, you have set the moral standard for this clinic," he said. "You also have developed a work ethic here that's going to be hard to duplicate, but it's certainly something the rest of us need to try and exemplify."
Fellow surgeon Dr. Robert Kingman delighted the audience with a brief comparison between himself and Middleton.
"He and I are like night and day," he said. "He's quiet, I talk all the time. Early on, during a trip to a meeting together, I learned you can go all the way to Fort Worth without talking."
Kingman further characterized his partner as gentle spirited, even tempered and patient.
"It's just really cool to me that we can be such close friends, being so different," he said. "It's been an honor because he's a great man."
Dr. Dan McCoy, who was late for the luncheon due to traffic, echoed his colleague's accolades, saying Middleton characterizes the essential elements of any great physician.
"His service here is a credit not only to the patients he took care of, but to the physicians he's trained and to the long-lasting legacy he's provided at Medical Arts Clinic," he said. "He will be sorely missed."
Laughingly, Middleton claimed most people knew better than to believe all the praise, but he talked of the pleasure he has had in serving at Medical Arts Clinic.
"Thank you for letting me work with you," he said. "It's been my privilege, and I'm so glad God allowed me to practice here."
He even produced the stethoscope he received from the clinic when he graduated from medical school and began his career.
During the event, friends and co-workers presented him with a new laptop computer -- in lieu of golf clubs or tennis equipment which all agreed did not fit the retiring surgeon.
Joan Sherrouse may be contacted via e-mail at [email protected].
---------------------------------
Reprinted with permission of the Corsicana Daily Sun
www.corsicanadailysun.com || Articles Index
All rights to this story reserved. Copyright Corsicana Daily Sun and Community Newspaper Holdings, Inc,. Content may not be archived, retransmitted, saved in a database, or used for any commercial purpose without the express written permission of the Corsicana Daily Sun and CNHI.