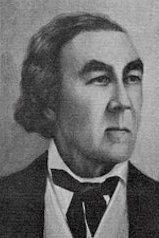 Navarro County was named for Jose Antonio Navarro, who was born in San Antonio February 27, 1795 to Maria Josefa (Ruiz) and Angel Navarro. He was appointed Land Commissioner for DeWitt's Colony in 1831, and in 1834-5 was Land Commissioner for Bexar District. He was a consistent Republican and an implacable foe to despotism in any form. He, with Samuel A. Maverick, was elected delegate from Bexar to the convention which declared independence and framed the Constitution of the Republic in March 1836. He became a member of the Texas Congress in 1838. In 1840 he accompanied the Santa Fe Expedition as a commissioner to treat with the New Mexicans; was captured and carried to the Castle of Juan d'Ulloa, where he was kept in close confinement until his release in 1845. He was an object of special hatred by Santa Anna, who condemned him to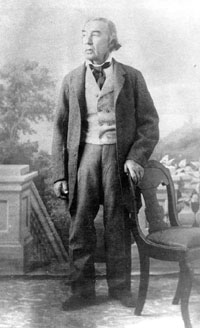 imprisonment for life, though during his captivity he was offered his liberty and high office if he would forever abjure Texas. Being a native Mexican and Texan, his zeal in behalf of Texas aroused all the ire of Santa Anna. Santa Anna was succeeded by Herrera, a liberal, in 1845, and he released Navarro. He arrived at Galveston in February, 1845, after an absence of four and a half years. Upon his return home he was immediately elected delegate to the convention which framed the first State Constitution, in 1845, and afterward served his district in the State Senate.
Always a strong advocate of state's rights, in 1861 he defended the right of Texas to secede from the Union. Although he was too advanced in years to participate in the Civil War, Navarro's four sons served in the Confederate Military. In 1825 Navarro married Margarita de la Garza; they had seven children. He died in San Antonio on January 13, 1871, universally beloved and respected by all patriots in Texas. His father was a native of Corsica, and in compliment, the county seat of Navarro was named Corsicana.
---
WOULD BRING REMAINS HERE

Hon. R. S. Neblett Has Started Most Laudable Undertaking

Last night before the business of the city council was taken up, Hon. R. S. Neblett appeared before that body in regard to a matter of much historic interest to the people of Corsicana and Navarro county.

Judge Neblett stated to the council that he had recently learned that Mr. J. A. Navarro, a grandson of Col. Jose Antonio Navarro, the Texas-Mexican patriot from whom Navarro county was named, was a citizen of San Antonio, and that he had recently written him to ascertain if the Navarro family would consent to the removal of the body of his grandfather from San Antonio to Corsicana, provided the people here would erect a suitable monument to his memory over the tomb after the removal of the remains here. Judge Neblett stated that his object in bringing the matter before the city council was to get the council to co-operate with him in bringing the matter before the county commissioners court, and through the two bodies to inaugurate a move to bring the body of Col. Navarro to Corsicana and to bury it in Oakwood cemetery and erect a suitable monument to his memory. Judge Neblett recited to the council the acts of Col. Navarro in his efforts to free Texas from Mexican rule, and the fact that he was with Houston at battle of San Jacinto.

Mayor Halbert appointed as a committee to act with Judge Neblett in this most laudable matter City Attorney Scarborough and Alderman Johnson.

Following is the reply received by Judge Neblett from the grandson of Colonel Navarro:

San Antonio, Texas, Aug. 26, 1916.
Mr. R. S. Neblett, Atty., Corsicana, Texas

Dear Sir:
Replying to your favor of the 23rd inst., it is my good fortune to be able to say that I am truly a grandson of Col. Jose Antonio Navarro, the Texas patriot, and that I am his namesake.

It affords me great pleasure to know that in the City of Corsicana there is a number of intelligent, enterprising and patriotic citizens interested in the history of their town, and the first to launch a movement to do honor to a Texan patriot who was a conspicuous figure in the struggle for Texas Independence and about whom so little has yet been written in the pages of the history of our great and glorious State of Texas.

The question of whether it would be possible to get permission to remove the remains of Col. Jose Antonio Navarro to Corsicana to erect a suitable monument in his honor had been broached to me before by Miss DeZavala, who takes considerable interest in historical events, and while I have not given the subject due consideration however, I am inclined to believe that it may be possible for you to secure such permission provided positive assurance could be given that a monument will be erected to his memory and in keeping with the dignity of his character.

I should think the Navarro family would require the parties who are to be responsible for the project to enter into a contract to defray the expenses of removing the remains to Corsicana, and to erect a monument within a certain time in accordance with the plans and specifications agreed upon by the parties concerned.

Col Jose Antonio Navarro is buried in San Antonio and his resting place is marked by a small marble tombstone, which bears his name. His grave has been under my motherís care and under her immediate supervision for several years, therefore I should think it is with her and the members of her family that you should correspond respecting the matter, and in as much as I attend to her affairs and her correspondence, you might as well communicate with me directly. However, should you desire to have the names of some other members of the Navarro family, I shall be glad to furnish them to you. All of Colonel Navarroís children are dead, and his nearest relatives living are his grandchildren, of whom there are a great many, all known to me, and almost all of them living in Texas.

Col. Jose Antonio Navarro died in San Antonio, January 13, 1871, and his remains were buried in a bronzed casket. About twenty years ago one of my brothers was buried in the same grave. In digging my brotherís grave they had to stop at a certain depth because they struck the bronze casket. Therefore, I should think the remains can still be located.

I shall appreciate further correspondence with you on this subject and thanking you for your favors, I am glad to remain.
Yours very truly,
JOSE A. NAVARRO.

Notes:
---
See Also:
Dawson, Joseph Martin, Jose Antonio Navarro, Co-Creator of Texas, Baylor University Press, 1969. LOC: 73-112732
[Note: Contains detailed in Jose Navarro's involvement in the creation of Navarro County]

Here is a vivid account of one of the major founders of Texas. In it we find fresh and full recognition of his noble origins, his self-education in a period of great turmoil, his versatility as successful lawyer, businessman, rancher and legislature, and his vast influence.
Dawson, Joseph Martin, Jose Antonio Navarro, Co-Creator of Texas, Baylor University Press, 1969. LOC: 73-112732

Defending Mexican Valor in Texas : Jose Antonio Navarro's Historical Writings, 1853-1857
by Jose Antonio Navarro, David R. McDonald (Editor), Timothy M. Matovina (Editor)
"Jose Antonio Navarro" by Richard; Mays, c. 1935.
Benito and the White Dove : A Story of Jose Antonio Navarro
by Marj Gurasich