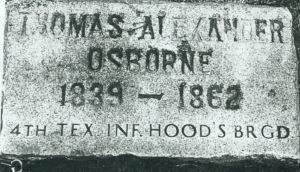 Thomas Alexander "Sandy" Osborne was born 4 December 1839 in Lawrence Co., AL to Ephraim Brevard Osborne, MD & Nancy Smith. He served in Hood's Brigade, 4th Texas Infantry. He died of Typhoid on 22 February 1862 at Dumfries, VA.
HOOD'S TEXAS BRIGADE: A COMPENDIUM by Harold B. Simpson, page 545 "Nicknames abounded among the young soldiers who applied monikers with wild abandon to describe physical, moral, or professional characteristics. One gets a visual image of 'Sandy' Osborne..." page 158 "Osborne, T. A. ("Sandy") - Died of typhoid fever, Feb. 20, 1862 near Dumfries, VA.
In EDWIN AUGUSTUS OSBORNE'S AUTOBIOGRAPHY he states of his brother: "Thomas Alexander, born December 4, 1839. Died in the Southern Army. (A noble, generous and lovely young man and a brave soldier) (Note: called Sandy) note by Josephine A. Osborne of Charlotte, NC, Jan 1947"
Picture of grave marker and copy of Edwin Augustus Osborne's Autobiography donated to the J. L. Halbert Camp 359, SCV by S. W. (Dub) & Sandra Osborne submitted by Norman Stubbs, Commander of J. L. Halbert Camp 359, SCV.