2/3/2002 BLACK HISTORY MONTH: Pendleton put Jackson football on a state pedestal
By KEN HALL/Special to the Daily Sun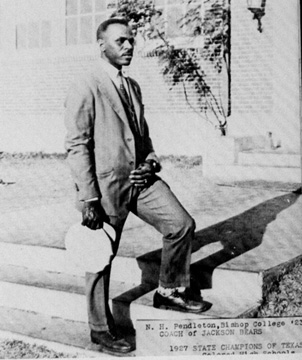 Jackson football coach N.H. Pendleton. The Jacksonian 1882-1970
In 1923, Corsicana Independent School District Superintendent Herbert D. Fillers searched for a young black man to oversee the instruction of, and provide discipline for, male students at G.W. Jackson High School. His search led him to Dean Fuller of Bishop College, then located in Marshall. Fuller recommended a graduating senior named Nathaniel H. Pendleton, who was a superb athlete at Bishop.
Pendleton joined the Jackson faculty for the start of the 1923 school year, serving as head football coach, assistant coach and trainer. Additionally he taught geometry, general science, chemistry and physics. The beginnings of any new endeavor inevitably suffers from growing pains, and the fledgling football program at Jackson was no different. Interest in football was nearly non-existent; having only 30 players to work with Pendleton began the task of assembling his first group of footballers.
The schedule that year included Ft. Worth's I.M. Terrell, and playing the following schools twice: Dallas Booker T. Washington, Waco A.J. Moore, Texarkana Dunbar and Tyler East Texas Academy.
Jackson's young gridders took the field against Terrell, and were soundly defeated 100-0. Even with this huge setback the team numbers grew to 40 by the following week. Apparently the game seemed to be catching on.
Despite their initial trouncing Pendleton's charges rallied for four victories that inaugural season. Thus was the course set for future success under his stewardship.
For the next few years Pendleton continued to build his football squads. It came to his attention that the school mascot of "Tigers" was the same as the white Corsicana High. Velma Hardee Middlebrooks, director of the Jackson Glee Club, was given the task of finding anew name. Her group chose "Bears" as the new mascot.
In the early days of high school athletic competition there was no regulating body to insure fair play, only loose federations around the state. Some schools played each other twice in a season, which could extend into the following January.
To further complicate matters no system was in place to determine a single champion. For the purpose of competition the state was divided into sections such as North, Central and South. Teams winning their sections would challenge other section winners, and the one left undefeated could claim a championship. It was not uncommon for a team with no losses and a tie to declare themselves champions and another with a similar record saying otherwise.
In 1927, Pendleton's Bears claimed their first colored State Championship with an 18-0 win over South champion Galveston Central's Sandcrabs. The Jacksonians won the title after taking the Central crown with an unblemished record and defeating the Buffaloes of Texarkana Dunbar, the North champ, 6-0. The Bears tallied an astounding 359 points while giving up 6.
The very next year Pendleton had the Bears in contention once more, this time sporting a 7-0-2 mark. A controversy erupted when the administrators of Fort Worth Terrell accused Jackson of fielding ineligible players. These charges were responded to by Pendleton in the Houston Informer, saying in part "we represent the best there is in everything and share no vantage ground with whiners ..." By the way, Jackson had beaten Terrell 12-6.
On their way to the championship, the Bruins clawed Greenville, 63-0, Waco Moore, 96-0, and Mexia Dunbar, 101-0. They entered the championship round by defeating Texarkana again, 22-6.
The State Championship game was played before a local crowd at Municipal Park. Jackson prevailed once more, topping the Wildcats of Houston Phillis Wheatley, 25-0.
Pendleton had built a powerful squad in 1929 that really showed its muscle. Not only did the Bears dominate their high school opponents they taught a thing or two to a couple of college teams. Southwestern Athletic Conference member Paul Quinn College fell to Jackson, 31-0 and fellow conference foe Texas College gained a tie, 6-6. Texas College tied SWAC champ Wiley College that year.
For the third straight time Jackson met Texarkana, squeezing by with an 8-2 score. The win set up a match with much heralded Beaumont Charlton-Pollard.
The Bulldogs came into the game without giving up a single point all year but Pendleton's gridders overcame the challenge, scratching out a 13-6 victory and back-to-back-to-back State Championships.
Once more controversy swirled as Bryan High officials contested the Bears' 1929 title. Their claim was based on an undefeated season and the failure of Jackson to play them in legitimate competition. Pendleton took pen in hand and responded thusly in the Houston Informer: "We wish to say for the information of the many well-wishers and readers after the Bears, that the cry from Bryan ringeth as "sounding brass and a tinkling cymbal.'" Pendleton continued: "If Bryan is a district winner why then has she not played any bi-district games. We work to the finals and not challenge for them ... We fear no comers. Ask Texas College and Paul Quinn." And that, as they say, was that!
Pendleton touched many lives. A key member of the 1927-1928 championship teams was John Thomas, who returned to coach his alma mater from 1938 to 1940. Thomas gained much success at Corpus Christi Coles High School after he left Jackson, winning Prairie View League State Championships in 1948 and 1960 and appeared in the finals in 1947 and 1952.
Nathaniel H. Pendleton stepped down as coach in 1932 after 10 seasons and his legacy remains a key part in the history of G.W. Jackson football. Although subsequent teams were strong, none won championships until the Walter Day squads of the 1950s.
The dedication and hard work of Pendleton set a high standard for future Bear coaches to aspire to, and left a valuable treasure behind in the process
All rights to this story reserved.
Copyright Corsicana Daily Sun and Community Newspaper Holdings, Inc,.
Content may not be archived, retransmitted, saved in a database, or used for any
commercial purpose without the express written permission of the Corsicana Daily Sun and CNHI.