Johnny Wilson Phelps spent most of his life in Navarro county TX. He married Minnie Drucila Chaney in January 1893 near her home in Henderson county. They made their home in Blooming Grove. Johnny was commissioned Constable of precinct 8 by Governor M.A. Ferguson in 1925. He served in that capacity for many yars. He was also blacksmith by trade. Johnny and Minnie are buried side by side in Cryer Creek Cemetery.
Johnny Wilson & Minnie Drucila (Chaney) Phelps
taken in Woodlake, TX abt 1940 (their daughter
lived there at the time)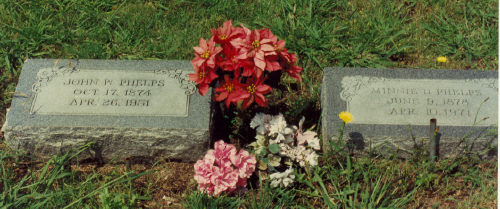 Cryer Creek Cemetery, Navarro Co., TX
View: Obituary Clippings
This photo was taken in the cotton fields of Navarro County. I can only identify some of the folks in the front rows. The third man from the left with child is John W. Phelps holding his grandson Bobby N. McLean, his wife Minnie D. Chaney Phelps is in front of him and his daughter, Minnie Lee Phelps McLean is standing beside him, to her left the tall man holding child is my grandfather Francis M. McLean, he's holding my mother, Marjorie. The man in front with the crutch is believed to be Jim Ballard, and his wife next to him. My mother, grandparents and great grandparents are in this picture, all taking a break from their "cotton picking"
Notes:
---
OBITUARY
Phelps Rites

Blooming Grove—Funeral services for Mrs. Minnie D. Phelps, 92, a longtime resident of Barry and Cryer Creek Community will be at 2 p.m. Monday at the First Baptist Church in Blooming Grive with burial in Cryer Creek Cemetery.
Mrs. Phelps died at 12 noon Saturday in the Evergreen Nursing Home after an extended illness.

Born on June 9, 1878 in Van Zandt County near Canton, she was a member of the First Baptist Church in Blooming Grove. She was preceded in death by her husband John W. Phelps in April, 1951.
Survivors include one daughter, Mrs. Minnie Lee McLean of Baytown, 13 grandchildren and several great-great grandchildren.

Notes: