1/13/2004 Thinking Big: Passion for theater has Pritchett primed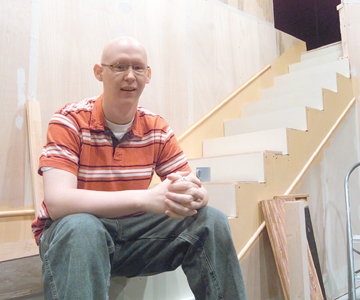 Former Mildred student Jamey Pritchett has done it all in the theater thanks to help from locals. Daily Sun photo/SCOTT HONEA
By MICAH CHAPLIN/Daily Sun Staff
Jamey Pritchett's dreams may eventually lead him from Navarro County, but nothing can change the fact that this is where they began.
Pritchett spent part of his life in Dawson, but moved to Mildred when he was in seventh grade. It was during his years at Mildred High School that he developed a love for acting and theater.
"I was always in one-act in high school, but I didn't really get into theatre until my junior year," Pritchett said. "Julie Mitchell was my teacher, and she really got me into it. I care a lot about her opinion and really look up to her. She went to L.A. and she wasn't afraid to go off and do her own thing. She's the one who made me really passionate about theatre."
According to Mitchell, who is now living and working in Los Angeles, Calif., Pritchett was as much a help to her as she was to him.
"When I had him as a student, Jamey always kept me in line," she said. "He was very organized and responsible. He kept me on my toes."
It was her first year of teaching and Mitchell admitted she didn't know much about UIL rules, so she had to recruit Jamey's help in directing the one-act play.
"He was the UIL expert and he helped me a lot," she said.
Mitchell and Pritchett remain friends and talk on a regular basis.
"I think the world of Jamey," she said. "He's very talented and creative. He has a lot of great ideas. And he's good at all different aspects of theatre. I like to run my ideas by him because I trust his opinion."
While Pritchett has been in more than 20 shows, "As You Like It," which Mitchell directed, is still his favorite. He graduated from Mildred High School in 1999 and is currently in his second year at Navarro College, where his is majoring in, what else, theatre. He is the president of Delta Psi Omega, the theatre club at Navarro College, and is currently the Odis B. Kindle Apprentice at the Warehouse Living Arts Center.
According to Sandra McClure Mahood, the Odis B. Kindle Apprenticeship fund was set up by Odis' widow, Marian, after her husband passed on.
"He was always a wonderful supporter of the Warehouse," Mahood said. "So when he passed, his widow set up a fund in his name that would pay for a scholarship for an apprentice."
Pritchett is the seventh Kindle Apprentice and Mahood says he's very deserving of the honor.
"Jamey is one of the finest young men I've ever had the pleasure of working with," Mahood said. "He's so talented and so organized. He's a fabulous asset to the Warehouse."
While most of Pritchett's theatre experience has been on stage as an actor, his apprenticeship at the WLAC has shown him a whole new side of the business. His apprenticeship has him working with reservations, mailings, deposits, schedules, costumes and sets.
"I never knew how much work went into it. It was always just done for me so I never had to think about it," Pritchett said. "Sandy's been really patient with me while I was learning. There was a lot to learn, but she never overwhelmed me. Everyone at the Warehouse has been very nice."
After Navarro College, Pritchett's future isn't clear. Texas State University and Mitchell's alma mater, Texas Tech University, are at the top of his list for school. He plans to teach high school while he works on his Master's Degree before moving onto a community college while earning his Doctorate so he can eventually work at a four-year university.
Wherever he's headed, Pritchett wants one thing -- somewhere bigger.
"I want to go to a big town," he said. "I'm not used to it, but I think I'd like it."
----------
Micah Chaplin may be contacted via e-mail at [email protected]