Maggie A. (Weaver) Ross
Oct 19, 1871 - May 8, 1961
This is my great grandmother, Maggie A. Weaver Ross. She was the wife of James Hosea Ross. She was the daughter of James Knox Polk Weaver and Catherine Bryant Weaver. They are all buried at Cosgrove Cemetery. The little boy standing beside her is my grandfather, Dick Ross who was born in 1898. The baby is Martha Lee Ross Butler Osborn. I would date this picture as 1901.
---
Mrs. Ross Of Drane Expires

Mrs. Maggie Ross, 89, of Drane, lifelong resident of Navarro county, died Monday morning at her home.

Funeral services will be held Tuesday at 3:30 p.m. from Corley's chapel with burial in Cosgrove cemetery at Retreat.

She is survived by two sons, W. H. Ross of Corsicana and Dick Ross of Gilmer, and five daughters, Mrs. John Butler and Mrs. Floyd Stone of Corsicana, Mrs. J. H. Keith of Purdon, Mrs. T. J. Bell of Sulphur, La., and Mrs. Delma Lassiter, of Edna, Texas.

Notes: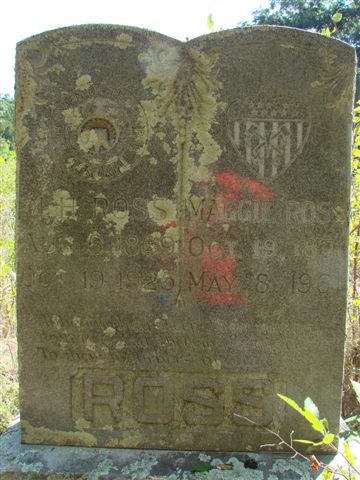 James Hosea Ross Jr. & Maggie A (Weaver) Ross
Cosgrove Cemetery