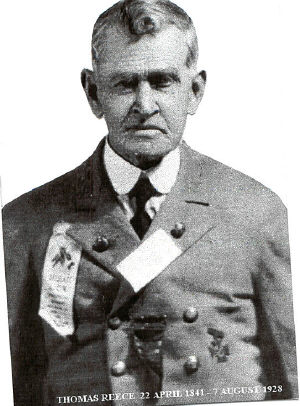 According to War Department records that I have copies of, he enlisted as a member of Co. A – 12th Texas Cavalry, Parson's Brigade on October 28, 1861 near Hempstead and was discharged in Hill County, Texas on May 28th, 1865. I have attached an obituary that was published in The Confederate Veteran Magazine as well as a picture of his tombstone located at Prairie Point Cemetery. He is buried beside his wife Winnie Ellen Morgan Reece. I have also included a picture of him taken at one of the old C.S.A. reunions around 1920. ...Brantley Clegg
--

Thomas Reese, Rev.
Apr 22, 1841 - Aug 7, 1928
OBITUARY
Rev. Thomas Reese
Rev. Thomas Reese, a devoted member of the Robert E. Lee Camp, No. 151, U.C.V., of Fort Worth, Tex., for twenty years, passed to his eternal reward on August 7, 1928, at the age of eighty-seven years. for the past ten years he held the office of Quartermaster of the Camp, discharging its duties with efficiency and fidelity.
Thomas Reese was born in Jackson County, Ala., in 1841, his parents removing to Texas some ten years later, where he grew to manhood and served with the Texas Rangers in fighting the hostile indians on the frontier of Texas from 1860 to 1861, when he enlisted in Company A, of the 12th texas Cavalry, Parsons Brigade. In this command he served during the War between the States, taking active part in the battles of Cotton Plant, Mansfield, Yellow Bayou, and others, with courage and distinction. He was mustered out at the close of the war, and devoted the remainder of his life to service as a minister of the gospel in the Methodist Church, to which he was loyal to the end. He was laid to rest near his old house at Bazette, Navarro county, Tex.
During his long and useful life, Comrade Reese was a consistent Christian, a brave and valiant soldier in the cause of the Confederacy, a good and useful citizen in peace, a devoted husband and father in his home and a real comrade in the activities of his camp. U.C.V.
We shall miss this comrade, who for so many years stood among us at our weekly meetings of the Camp with soldierly bearing, clad in his favorite suit of gray, tall and splendid in appearance, ever true to the principles for which he so nobly fought during the war - the picture of health and to our finite minds holding just claim to an additional score of years of borrowed time.
In paying this tribute to our deceased comrade, who wore the gray with pride and treasured the memories and associations of the Confederacy as a precious memorial to the end of his life, we can truly say that those who knew him best loved him most, and his memory will be cherished by his comrades until they, too, shall have answered the last roll call.
{From memorial resolutions adopted by the Camp, August, 1928. Committee; Capt William Barr, J. T. Pickett, Mrs. F. W. Bounds.}; The Confederate Magazine Volume XXXVI - January 1928 - December 1928
---
VETERAN MINISTED DIED IN FORT WORTH TUESDAY MORNING

REV. THOMAS REESE WAS WELL KNOWN CORSICANA AND NAVARRO COUNTY

The following taken from the Fort Worth Star Telegram of Wednesday will be read with sad interest in Corsicana and Navarro county where the Rev. Mr. Reese was well known and had hosts of friends.

Rev. Thomas Reese, 82, resident of Texas for 67 years and a prominent figure among Confederate veterans of Fort Worth, died in a Fort Worth hospital at 5 a. m. Tuesday.

Rev. Mr. Reese, who resided at 208 ½ East Weatherford street, came to Texas in an ox cart with his parents from Jackson county, Ala., at the age of 10.

On his last birthday anniversary the veteran pastor returned to his former home at Bazette, Navarro county to tell his old friends that he was still looking forward to the passing of 14 more years of his life, that he might keep his appointment to preach a sermon at the age of 100 years.

"Whosoever Liveth and Believeth in Me Shall Never Die" was to be the subject of the minister on his one hundredth birthday anniversary.

Rev. Mr. Reese was converted to the Christian religion in the army in 1863 and became a circuit rider in the Methodist church on receiving his discharge from the army after the Civil War.

He obtained his first glimpse of Fort Worth in 1860 as he passed through the village en route to the Western frontier to fight Indians as a Texas Ranger. After several months experience with the Ranger forces, the war broke out and he enlisted in the Confederate forces at Hill county with the Twelfth Texas Infantry.

Rev. Mr. Reese was past chaplain of Robert E. Lee Chapter of the United Confederate Veterans past quartermaster and treasurer of the camp, and had taken an active part in the work of the camp during the last 20 years.

Survivors of Rev. Mr. Reese are a daughter, Mrs. Thelma McQuary of Kerens; three granddaughters, Misses Pauline and Daville Weaver, Fort Worth, and Mrs. T. B. Daniels Spearman, and three grandsons, Thomas, Lloyd and Phillip Hunt, all of Fort Worth.

Funeral services will be conducted at the George L. Gause Undertaking company Tuesday afternoon at 4:30 o'clock, Rev. D. A. McGuire, pastor of Weatherford Street Methodist church, officiating, after which the body will be forwarded to Bazette for interment there.

Notes:
PRAIRIE POINT CEMETERY
NAVARRO CO. TEXAS
Thomas Reese
Apr 22, 1841 - Aug 7, 1928
W. Ellen Reece
Oct 22, 1847 - Mar 11, 1898
Weep not, for they are not dead, but sleepeth
REECE
Notes: