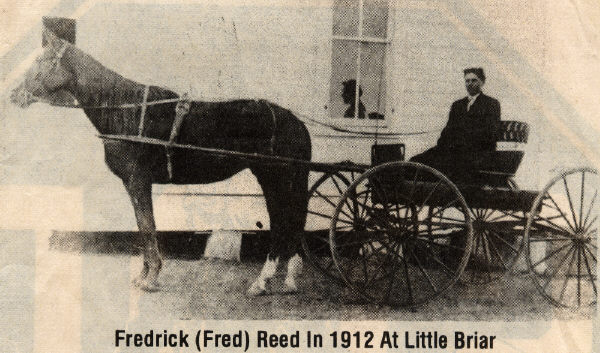 Mr. Fred Ready To Pick Up Date In Transportation Used in 1912
When a young man takes a bath, slicks his hair down nice, puts on his best suit and tie, brushes and curry his horse and washes the mud off his buggy, just what do you think he has on his mind ? Well, it's off to church then most likely a date with his best girl.
This handsome gentleman is Fredrick (Fred) Reed. The picture was taken in 1912 when he was twenty years old. The place Little Briar, Texas. Mr. Fred (as his friends called him) probably had a date with pretty Dora Estell Watson. They were school mates. One year after this picture was taken, they were married. After their marriage Mr. Reed farmed until retirement. Mr. Fred and Miss Dora had two sons born in Barry. Weldon Fredrick in 1914, and John Franklin in 1916. John the youngest, lives in Barry today. Mr. Fred came to Little Briar from Georgia when he was five years old with his family.
Notes: