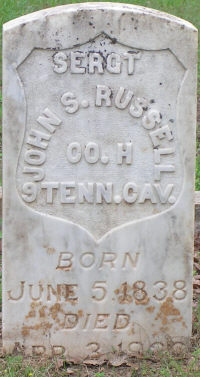 Grange Hall Cemetery
Photograph by Karen Rost - Jul 2007
John S. Russell was born June 1838 in Wilkes Co. NC but by 1860 census was living with his family in Roane Co TN. and he enlisted in Co H, 9 TN Cavalry which was organized at Knoxville, Tenn. August 1863.
They were on duty in the District of East Tennessee, at Knoxville, Nashville and on line of the Nashville and Chattanooga Railroad, and at Bull's Gap, Tenn., till fall of 1864 and saw operations in East Tennessee and also Stoneman's Raid into Southwest Virginia and Western North Carolina. They mustered out September 11, 1865.
The Russell family had several members of its family to serve in the Union Army. One of them left the account of how the family felt so strong for the Union but told how they lived in a Southern sympathizing region and they dare not let their feelings be known publicly. So when the boys made the decision to leave for the theater of war they sneaked out in the dark of the night through the back window of the house so not to be seen by anyone that might retaliate against them.

OBITUARIES
Jun 5, 1838 - Apr 3, 1926
Several attended the funeral services of Grandpa Russell at Grange Hall cemetery Sunday afternoon. Rev. A. W. Luper had charge of the services at First Baptist church Sunday morning at 11 o'clock. He very earnestly pleaded for the missionary cause of Portugal, portraying the ignorance and superstition of those people in such a way as to demand out attention to their need of the gospel. A liberal donation for the advancement of the cause was made by the church at the close of the services.
Notes:
FUNERAL SERVICES FOR AGED MAN HELD SUNDAY AFTERNOON

J. S. RUSSELL DIED AT HOME OF DAUGHTER—BURIED CRYER CREEK

Funeral services for J. S. Russell, aged 88 years who died at the home of his daughter, Mrs. Ben Garlington, Athens, Texas, at an early hour Saturday morning were held Sunday afternoon with interment in the Cryer Creek cemetery at 3 o'clock. The funeral services were conducted by Rev. Gibson, Primitive Baptist minister.

The deceased was born in North Carolina and had been a resident of Navarro county for more than forty years. He had been sick one week.

Mr. Russell is survived by his wife and the following children; Dr. P. S. Russell, Corsicana; G. W. Russell, Wichita Falls; Mrs. Jessie Garlington, Cryer Creek; Mrs. Ben. Garlington, Athens. A number of grandchildren and other relatives also survive.

Recently Mr. and Mrs. Russell celebrated their sixty-fifth wedding anniversary.

Notes: