A few months ago, at an antique store, I found some old postcards and letters from Corsicana and this card was among them. It is addressed to a Miss Minnie Sadler from someone with the initials J. G. S. (assume last name is Sadler also) and tells of a young high school aged boy feared to have Typhoid.
Like an unsolved mystery, I am looking to find out who "Mc" is and if he survived. We are starting to find come clues.... see the notes at the bottom of this page.
If anyone has any info on this family, or know of the fate of this young man, I would love to hear the rest of the story.
... Ed Williams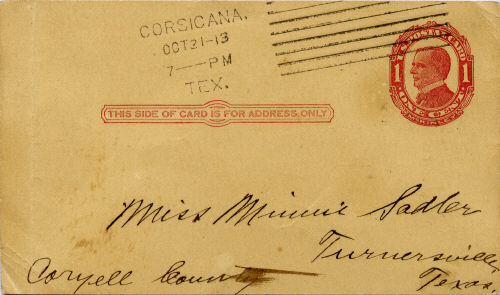 Tuesday P.M.
Mc is much worse this afternoon. Has a raging fever. I feel quite anxious about him. Typhoid is feared and the High School Principal has already suggested me moving my boarding place. I shall stay with him until the last. I shall inform you as to his condition tomorrow. J. G. S.
---
NOTES
Ed,
I love a good mystery! Thought, just for fun, I'd take a look at the census for your mystery post card people....Minnie Sadler and J.G.S.
I found Minnie Sadler age 19 in 1910 on the Coryell Census, prec. 1, Gatesville City, ED 23, pg. 43A&B. Her father was H. S. Sadler and mother Dollie.
Just in case you wanted to take a look at it.
Jeanna Chowning