Bonnie Ruth Slauson
Aug 29, 1921 - Jul 13, 1943

Bonnie Ruth Slauson
1938 Corsican - Most Beautiful Girl
---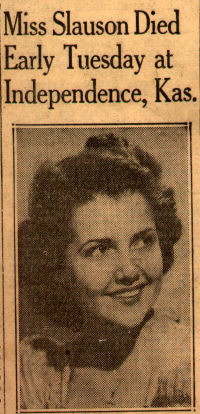 CORSICANA DAILY SUN - JULY 13, 1943
Article from the collection of Edward L. Williams
Bonnie Ruth Slauson, age 22 years, died in a hospital at Independence, Kansas, about 3 o'clock Tuesday morning after a short illness following an attack of infantile paralysis. The body is being returned to Corsicana for burial. Funeral services will be held from the chapel of the Sutherland-McCammon Funeral Home Wednesday afternoon at 5:30 o'clock. Rev. Alex B. Hanson, rector of St. Johns Episcopal Church, will conduct the rites. Burial will be in the Oakwood Cemetery.
Miss Slauson, popular member of the young set in Corsicana, graduated from the Corsicana high school on May 27, 1938. She is also a graduate of Baylor University, Waco, where she was active in student affairs. She taught in the Junior high school here during the past term.
Surviving are her parents, Capt. and Mrs. F. C. T. Slauson, Corsicana; a brother, Fred Slauson, Corsicana, grandparents, Mr. and Mrs. H. L. Slauson, Corsicana, and other relatives.
Notes:
---
INDEPENDENCE. Kas., July 13, (AP) - Bonnie Ruth Slauson, 22, who was "Miss Texas" in 1940 at the Dallas State Fair, died today of infantile paralysis from which she fell ill only last Thursday.
She had come here with her mother and young brother from Corsicana, Texas, to visit her father, Capt. Frederick C. T. Slauson, operations officer at the Independence Army Base.
Lieut. John Bagwell, Army Medical specialist, was flown here last night from Fort Worth in a last minute effort to save her life.
Miss Slauson was graduated from Baylor this year and was teaching art in the Corsicana schools. The funeral will be in Corsicana Wednesday.
---
St. Johnís Will Dedicate Organ Chimes, Cruets

The Rev. James Joseph, retiring rector of St. Johnís Church, has announced that a new set of organ chimes given to the church by the H. L. and Fred Slauson families will be dedicated Sunday, March 6th, at the 9:30 a.m. service.

The gift is given in memory of H. L. Slauson and Bonnie Ruth Slauson.

The rector further announced that a set of silver cruets given by the R. R. Cocke family will be blessed and dedicated at the same service.

Father Joseph will complete his rectorship on Sunday and the following week will proceed to St. Paulís, San Antonio, where he officially takes over the rectorship of that parish.

Notes:
---
RITES PLANNED FOR BONNIE RUTH SLAUSON WEDNESDAY AT 5:30
POPULAR CORSICANA GIRL DIED WHILE VISITING KANSAS
Funeral services for Miss Bonnie Ruth Slauson, who died early Tuesday morning at Independence Kansas, will be held Wednesday afternoon at 5:30 o'clock from the chapel of the Sutherland-McCammon Funeral Home. Rev. Alex B. Hanson, rector of St. John's Episcopal Church, will conduct the rites. Burial will be in the Oakwood Cemetery.
Miss Slauson had gone to Independence with her mother and brother, Fred, to visit her father, Capt. F.C.T. Slauson who is stationed there, when she was stricken.
Reared in Corsicana, she was one of the most popular members of the young set. She graduated from Corsicana High school, later from Baylor University, and was a teacher in the public schools here.
She was showered with honors through high school and college, but their frequency never dulled her appreciation of them. She was voted the most beautiful girl in the Corsicana high school in her senior year and participated in coronation of high school queens here. At Baylor she was voted a college beauty each year. In 1941 she was elected queen of queens of the Texas State Fair and was awarded a trip to Hollywood for a screen test at the Metro-Goldyn-Mayer Studios.
In College Who's Who.
She was selected tow years in succession by Who's Who Among Students in American Universities and Colleges as an outstanding student while attending Baylor University.
At Baylor she majored in Home Economics, was a D.A.P., Baylor Beauty, Delta Sigma PI Sweetheart, Secretary Home Economic Club on Yearbook staff and represented Baylor at the University of Texas Round-Up, on Dean's honor roll, member of W.A.A., Little Theatre, president of D.A.P. Pledges and received many other honors.
She was a member of St. John's Episcopal Church and a charter member of the James Blair, Jr. Chapter of the D.A.R.
Surviving are her parents, Capt. and Mrs. Frederick Slauson, Corsicana; a brother, Fred Slauson, Corsicana; grandparents, Mr. and Mrs. H. L. Slauson, Corsicana and other relatives.
Notes:
---
From "Neighbor, How Long Has It Been ?" by Wallace O. Chariton
used with permission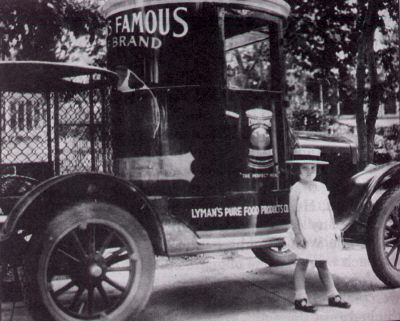 Probably the first photograph ever taken of the original
Wolf Brand Chili Can car, as it was called. The little
girl is is Bonnie Ruth Slauson, Fred Slauson's daughter.
The following excerpt is from "Neighbor, How Long Has it Been ?"
.... Back home in Texas, one member of the Wolf Brand family seemed on the verge of stardom. Bonnie Ruth, Slauson's daughter, had grown to be quite a young lady. After graduating from Corsicana High School where she had been one of the friendliest and most popular students, she left to attend Baylor University in Waco, to major in home economics. Although classmates described her as a modest all-around coed, she was voted most beautiful four years in a row and twice was named an outstanding student by Who's Who Among Students in American Colleges and Universities.
By the time Bonnie Ruth was a senior at Baylor, she'd caught the eye of a Hollywood scout. Metro-Goldwyn-Mayer called and wanted her to come to Hollywood for a screen test. She agreed, but there was something she had to do first. She had been selected to represent Baylor in the Queen of Queens contest at the State Fair of Texas in Dallas. At a time when most young ladies would have dropped everything for the chance of a screen test, Bonnie Ruth wanted to fulfill her obligations. She said she'd come to Hollywood after the contest and the studio agreed.
The state fair competition was no contest. Just as Bonnie Ruth's friends had predicted, she was crowned Queen of Queens. Earl Carrol proclaimed her the most beautiful girl in Texas. The Sunday after the competition, October 26, 1941, she was featured in a full-page picure spread in the Dallas Morning News. By the time the newspaper hit the streets, Bonnie was in Hollywood.
Fred Slauson's head, it's been said, swelled to several times its normal size with pride. He managed to get leave from the Army so he and his wife could accompany Bonnie Ruth to Hollywood.
A local girl going to Hollywood was big news in Corsicana, Texas. The Corsicana Daily Sun, which couldn't afford to send along a reporter, asked Bonnie Ruth if she would write the story of her adventure, in her words, for the paper. Like she always did, Bonnie Ruth agreed. Here's how she described her first day in Hollywood:
"Strange" fails to describe the feeling of being "feted and dined" by the top names in Hollywood. It's an all-mixed-up sensation - like a skyrocket going up, and up, and up. The thought of making a screen test tomorrow is even more frightening, and honestly I don't think my knees have stopped shaking since I left the train this morning."
Apparently, the arrival of a young Texas beauty was also big news in Hollywood. Fred and Bonnie Ruth both expressed surprise at the amount of local press she received. Her picture appeared in the local newspapers several times during her week long stay.
Bonnie Ruth got her screen test. She was dressed in one of Lana Turner's gowns and looked prettier than ever. Hollywood was far from through with this Texas beauty. Bonnie Ruth enjoyed lunch at the commissary, especially eating next to the likes of Spencer Tracy, Judy Garland, Robert Taylor, and Gracie Allen. Paramount heard she was in town and wanted to give her a screen test of their own and a major talent agency called and wanted to talk contract.
After several days in California, Fred Slauson sent a letter back home to Texas. In part he said, "Each day Bonnie feels less and less as though she would take a job if they offered it. She has seen the inside of it very thoroughly and is not too greatly impressed." So Hollywood liked Bonnie, but she didn't like Hollywood.
Despite assurances from Paramont executives they they would make her "a big star," Bonnie Ruth opted to return to classes at Baylor and never even considered going back to Hollywood. She graduated in May 1942 and took the summer off. In the fall of 1942, she became a teacher at the Navarro County Junior College [ NOTE 1 ] in Corsicana. In her free time, she took flying lessons, hoping to become a pilot like her father.
In July, 1943, Jeanne, Bonnie Ruth, and her little brother Fred Jr. decided to visit Capt. Slauson in Independence, Kansas. They rode the train to Dallas where they were to make connections for Kansas. While waiting for their train, Bonnie Ruth fainted. She was revived and insisted they go on to Kansas even though she wasn't feeling well.
By the time they arrived in Kansas, Bonnie was very sick. She was rushed to a hospital where it didn't take the doctors long to make a diagnosis. Bonnie had the dreaded infantile paralysis, better known as polio. The doctors were not optimistic.
Slauson has some contacts with the Army Medical Corps since it had been his unfortunate duty to notify families in the area when their sons had died in combat. He pleaded with anyone and everyone for help. The Army responded with all they had.
Lt. John Bagwell, a polio specialist, was immediately flown in from Fort Worth. After examining Bonnie, he told Slauson there wasn't much hope. About the only thing they could do was try a new machine called an iron lung that had recently been developed. Slauson agreed and a few hours later, an Army transport touched down in Independence with the machine on board. Bonnie Ruth became the first polio patient placed in an iron lung.
The machine didn't even slow the disease. Bonnie Ruth Slauson, the young lady with such a bright future ahead of her, died shortly after three o'clock in the morning on July 13, 1943. She was twenty[-two years old.
Fred Slauson was devastated beyond description. The love of his life had been taken from him and he would never be the same again. Bonnie Ruth was buried in Corsicana. There's a bench beside her grave with the simple inscription. "Sit here awhile with Bonnie Ruth who never knew a stranger." .....
Notes:
---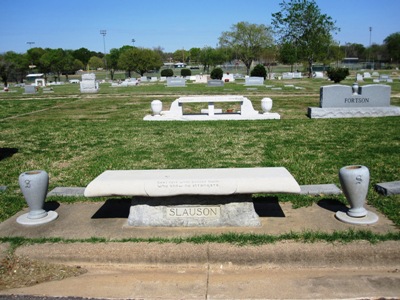 Inscription on the Bench reads:
Rest here with Bonnie Ruth, who knew no stranger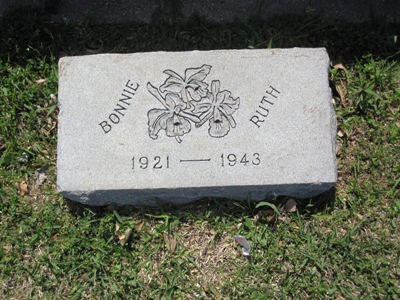 BONNIE RUTH
1921 - 1943
Oakwood Cemetery, Corsicana, Navarro County, Texas