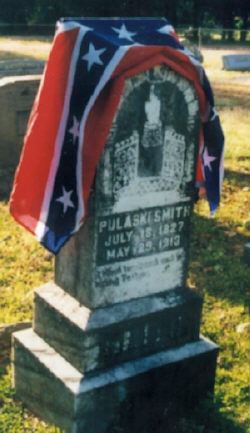 Lafayette Cemetery, Upshur Co., TX
Photo by Dana Stubbs
Pulaski Smith, born July 18, 1827, served the Confederacy as a Private in Winkler's Company I, 4th Texas Volunteer Infantry - The Navarro Rifles. He enlisted as a Private but was promoted to sergeant Was never sick or wounded until he was wounded at Gettysburg on July 2, 1863. He was on Furlough on Feb 21 1864. Member of Co I, 4th Texas when surrendered at Appomattox. Paroled at Montgomery, AL on May 13, 1865. He lived in Lafayette, Upshur Co., TX as of Jan 1, 1908. He died May 29, 1913 and is buried at the Lafayette Cemetery.
Notes: