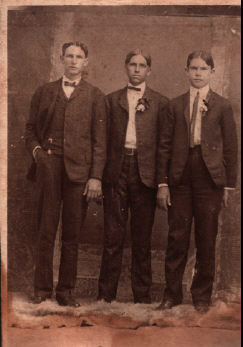 This Is a Picture of my GreatGrand Father on the left C.R Steely,
middle Lonnie Steely, right George Steely Taken around 1900 Corsicana.
Contributed by Kevin & Tammy Steely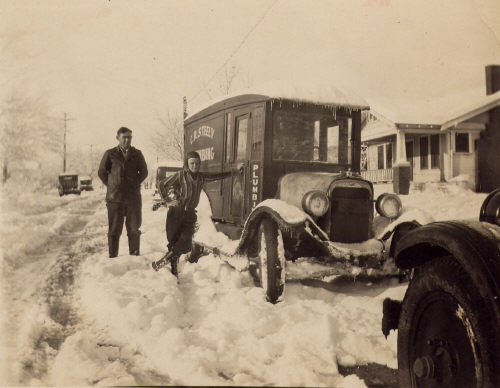 C. R Steely & Son Charles R. Steely Jr. About 1929...
The house to the right of the picture is where the Steely's
lived 1418 West Park Ave Looking West.
Picture by Kevin Steely [email protected]
Buried at Oakwood Cemetery
He was born 1883 and died 1931
Receipt made ot to C. R. Steely in Corsicana
on Sept 9, 1905
This is the Wedding dress my Great Grand Mother wore on the day
of December 25th 1902 Corsicana, TX . Her name was Alice
Burrow She married C. R Steely. Alice (Burrow) Steely died 1911.
---
OBITUARY
HEART ATTACK FATAL TO CORSICANA BUSINESS MAN JUST AFTER MIDNIGHT
C. R. Steely, 48, native and life long native of Corsicana, well known plumber, died at his home 1418 West Park avenue, Wednesday morning at 12:30 o'clock after only a few minutes illness with a heart attack, and the funeral will be held Thursday afternoon at 3 o'clock from the first Methodist church with interment in Oakwood Cemetery.
Mr. Steely was well-known here and had operated the Steely plumbing company for a number of years. He was an active of the First Methodist church, being a member of the board of stewards, and formally was a member of the Corsicana Rotary club. He was a member of the Knights of Pythias lodge here, and took part in all civic affairs. Mr. Steely was a candidate for the city commissionership in the recent municipal election.
The service at the church will be conducted by Rev. J. W. Bergin, pastor and the Knights of Pythias lodge will be in charge at the grave.
Surviving are his wife, seven sons, C. R. Steely Jr., Willie Steely, Earnest Steely, Orus Steely, Henry Thomas Steely, Beauford Steely and Walter Bingham Steely, three daughters, Margaret Steely, Mary Francis Steely and Edna Earl Steely, all of Corsicana; mother, Mrs. H. C. Steely, Corsicana, three brothers, J. H. Steely, Stamford; G. W. Steely, Paris; L. D. Steely, Corsicana; and one sister Mrs. G. J. Powell, Beaumont.
R. J. Jackson, chairman of the board of stewards of the church said all members of the board were asked to meet at the church at 2:50 Thursday afternoon.
Pall bearers will be A. R. Lewis, Vivian Mowlam, John T. Fortson, Will Walton, H. G. Brown, Cecil Foster, Estill Cunningham, and Beauford Jester.
The funeral will be directed by the Corley-McMahon Funeral Home.
His friends are honorary pallbearers.

----
K. P. Notice
All Members of Corsicana Lodge No. 435, Knights of Pythias, are requested to meet at First Methodist Church at 2:50 o'clock Thursday afternoon to attend the funeral of Knight C. R. Steely, Sr.
W. V. Mowlam, C.C.
C. B. Haley, K. R. & S.

---
RELATIVES ATTEND FUNERAL SERVICES OF C. R. STEELY
One of the largest concourse of sorrowing friends and relatives seldom seen, attended the funeral services Thursday afternoon of the universally beloved Charles R. Steely, held at the First Methodist church. Every available seat in the large auditorium was filled and the chancel was a mass of beautiful floral offerings which bespoke the love and esteem in which this good man was held by the entire community from the lowest to the highest degree.
Among the out-of-town relatives Were Mr. and Mrs. O. B. Bingham of Eldorado, Ark; Mrs. G. J. Powell, Beaumont, Mr. and Mrs. J. H. Steely and daughter, Vera of Stamford, Miss Steely coming over from C. I. A. Denton where she is in school; Mr. and Mrs. Clay Steely and daughter, Bertha, Fort Worth; Mr. G. W. Steely, Paris, Texas; and Mr. and Mrs. G. W. Riddle of Ennis.
---
Notes:
Bur at Oakwood Cemetery, Section H, Row 2: 15

Oct 1883 - 15 Apr 1931

1st wife Alice (Burrow) Steely married Dec. 25, 1902 2nd wife Mary Tom (Bingham) Steely married Feb. 10, 1915 buried in Grove Hill Memorial Park, Dallas, Texas; s/o Henry Clay Steely & Matilda (Haire) Steely