---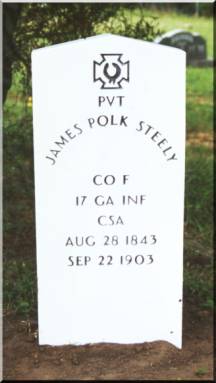 A memorial service and Confederate Headstone dedication for James Polk Steely was held May 26th,2001 at Oakwood Cemetery

This day cannot end without a reflection of our dear friend, Don Steely. Without him the history made today would not have taken place. He was in our thoughts with every word said today. He is missed and we will never forget him.
President Jefferson Davis passionately wanted the true motives and heroic courage of the Confederate soldier preserved for future generations. He appealed to those of his time to "keep their memory green". It is our desire to keep the Steely and all Southern heritage green, remember today under the evergreen cedar tree in Oakwood Cemetery as a memorial to all who hold Dixie near their hearts.
We want to take this opportunity to thank the men and women that helped to make this a very special day. We could not have done this without the help of Johnson-Sayers-Nettles Camp, No. 1012, of Teague, Freestone Co, Texas, The Val Verde Artillery Battery and the Confederate Sisterhood Association.
For more information on the Sons of Confederate Veterans or the Val Verde Artillery Battery please contact Norman Stubbs at 903.872.5595, Roy Miller at 903.872.1997 or John Carr at 903.389.6755, John Robinson at 245.562.6386.
CAPT. J.

L.

HALBERT

CAMP

NO.

359
Sons of Confederate Veterans
Honor
PVT. JAMES POLK Steely,
Co F, 17 GA Inf.
With a Military Monument Dedication
Saturday, May 26, 2001
2:00 P. M.
Oakwood Cemetery
Corsicana, Navarro Co. Texas
Pvt. James Polk Steely, Co F, 17th GA Infantry
James Polk Steely was born in Muskogee Co Georgia in 1843. He was the first son of Elijah & Jane Steely. After his father died in 1849, James Polk, at a very young age, had to go to work. James Polk Steely is on the 1850 census selling peanuts at age 6.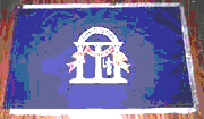 GA STATE FLAG IN 1861

Out Of 75 battles that the 17th GA fought in James Polk was in 11 of them. They were:
Battle Malvern Hill, VA, Aug 1, 1862
Battle Malvern Hill, VA, Aug 5, 1862
Battle 2nd Manassas, VA, Aug 03,1862
Battle Sharpsburg, MD, Sep 17, 1862
Battle Fredericksburg, VA, Dec, 13, 1862
Battle at Chancellorsville, VA, May 3, 1863
Battle at Thoroughfare Gap, VA, Jun 17, 1863
Battle at Gettysburg, PA, Jul 2, 3, 4, 1863
James was captured on Aug 4, 1863 at Gettysburg. He would not sign the pardon papers so he was sent to Fort Delaware. He stayed there till his Discharge on November 05, 1864. He was admitted to the Hospital on November 02, 1864. Just three days before he was discharged. He went back home to Columbus Ga / Muskogee County where he married a lady by the name of Mary Elizabeth Culpepper on Nov 5, 1868.
James Polk & Mary had 9 children:
Fannie Weston born August 7th 1869
Jessie Frances born August 12th 1870
William Gadson born September 8th 1873
Clay Malingen born July 6th 1874
James Wesley born July 30th 1876
Charles Christfur born August 15th 1878
Mary Starley Steely born April 22 1882
Mallie Elizabeth born & died on September 1st 1884
James & Mary came to Texas a little after 1870. Someone got sick in the family and they were told to go west. James and his brother Henry Clay Steely were butchers here in Corsicana in 1880.
Posting of Colors Val Verde Artillery Battery Under Color Sgt. Sid Hullum Camp 1012
Welcome and Remarks 1st Lt CDR Roy Miller, Camp 359
Prayer Adj Ron Matthews, Camp 359
Charge
Adj John Robinson Camp 1012

"I Am The South" Sister Dana Stubbs

Confederate Sisterhood Association
Remarks
CDR John Carr, Camp 1012

Eulogy 1st Lt CDR Roy Miller, Camp 359

Unveiling of Monument CDR Norman Stubbs,

1st Lt CDR Roy Miller, Camp 359

Marker Dedication Compatriot Forrest Green &
Compatriot Mark Barry, Camp 359
Laying of Wreath
Sister Dana Stubbs, Jennifer Boyd
Placing of Flag
Sister Dana Stubbs

"The Flag My Grandpa Knew" CDR Norman Stubbs
Camp 359
Echo Cannon Salute Val Verde Artillery Battery
Thank you for coming and sharing the God given gift of life.
Godspeed,
The Capt J L Halbert Camp, No. 359, SCV
---
This is my great-great Uncle. He was in the civil war :Company F,17th Regiment Georgia Volunteer Infantry Army Northern Virginia C. S. A Muscogee County, Georgia. Captured at Gettysburg, PA July,1863. Released at Fort Delaware, Del. June 16,1865.