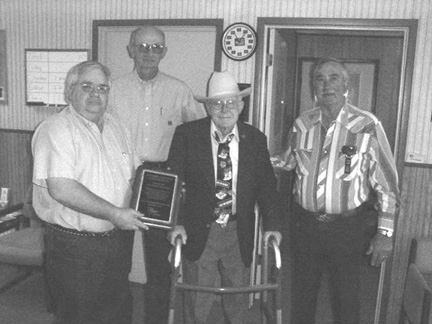 Farm Bureau president Roy Burns, left, presents a plaque to Rutherford Stough, center, awarding him a honorary life board membership. Also at the presentation were Lloyd Smith, back, and Frank Commiato. COURTESY PHOTO
2/24/2002 Farm Bureau recognizes Stough for serviceFrom Staff Reports
The Navarro County Farm Bureau board of directors presented John Rutherford Stough with a plaque awarding him with a Honorary Life Board Membership.
Stough has been an outstanding member of the board of the Navarro County Farm Bureau since 1973. He served as secretary of the board for over 20 years. "When I came on the board Navarro County Farm Bureau was so low you had to reach up to touch the bottom," Stough said. Through the years he has seen Navarro County Farm Bureau prosper and grow both financially and in membership. One major accomplishment has been the purchase of the building where Navarro County Farm Bureau is housed and retiring the mortgage on the building in 2001.
Stough was born Jan. 28, 1915, in the Emhouse community. He graduated from Blooming Grove High School in 1933, and entered Texas A&M University and received his degree in 1938.
He began his career with the Soil Conservation Service that spanned for some 15 years serving in the following counties: Denton, Mills, Brown, and Pecos. The Department of Army called for his services for the next 20 years to work with land management and entomology. His first assignment was in Puerto Rico for five years and then to Washington D.C. for the next five years. He spent the next 10 years at the Continental Army Command in Hampton, Va., where he retired on Feb. 5, 1971.
Stough came home to his farm that has been in the family since 1900. His first order of business was to rid the farm of mesquites. To accomplish this mission Stough said, "I became reacquainted with the grubbing hoe."
Since returning to Navarro County Stough has dedicated much of his time to community service. He has served on numerous boards including Rice Independent School District, Chatfield Water Supply Corporation, Navarro County Electric Coop, Navarro County Red Cross, and Navarro County Central Appraisal District. Other honors received include the following: Farmer of the Year in 1975 by the Lions Club, Outstanding Texas Forage Producer in 1981, Outstanding Older Citizen of Navarro County in 1988, and Navarro County Farm Bureau Pioneer Award in 1992.
Stough and his wife, Louise, have two sons, John Rutherford Stough Jr. and William Preston Stough, four grandchildren and two great-grandchildren.
Stough has a sincere love for his fellow man and everyone who knows him will acknowledge him as a Christian neighbor.
All rights to this story reserved. Copyright Corsicana Daily Sun and Community Newspaper Holdings, Inc,. Content may not be archived, retransmitted, saved in a database, or used for any commercial purpose without the express written permission of the Corsicana Daily Sun and CNHI. www.corsicanadailysun.com