Eugene Stubbs
Born 06 Jun 1914, Corsicana, Navarro Co. TX
Died 18 Mar 1983 Corsicana Navarro Co. TX
Hamilton-Beeman Cemetery Navarro Co. TX.

Mamie Thelma (Oliver) Stubbs
Born Jan 10, 1915 Waco, McLennan Co. TX
Died Nov 16, 2008
Hamilton-Beeman Cemetery Navarro Co. TX.
My In-laws - Dana Stubbs Jan 2002
Eugene Stubbs
June 6, 1914 - Mar 1983
OBITUARY, CORSICANA DAILY SUN, MAR, 1983
Eugene Stubbs, 68, of Corsicana, died Friday at Navarro Memorial Hospital.
Service was Sunday, 3 p.m. at Griffin Funeral Home chapel with the Rev. David Hale officiating. Burial was at Hamilton-Beeman Cemetery.
Survivors include his wife, Mrs. Mamie Stubbs, of Corsicana; two sons, Billy Gene Stubbs and Norman Lee Stubbs both of Corsicana; a daughter, Miss. Eva Dean Stubbs, of Corsicana; one granddaughter Billie Jo; a brother, Richard Stubbs, of Corsicana; one sister, Mrs. Frances Rice, of Corsicana.
Pallbearers were Terry Paul, Paul McCullough, Joe Hambrick, June Clark, Mike Jenkins, and Sonny Bowden.
Notes:
Social Security Death Index: Eugene Stubbs; SSN: 453-10-1100; Residence: 75110, Corsicana, Navarro, TX; Born 6 June 1914; Died Mar 1983
Texas Death Index: Stubbs Eugene 19830318 NAVARRO M
Submitted by Dana Stubbs
---
Mamie Thelma (Oliver) Stubbs
Jan 10, 1915 - Oct 16, 2008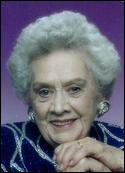 Mamie Thelma (Oliver) Stubbs, 93, died peacefully at Twilight Nursing Home in Corsicana on Thursday, Oct. 16, 2008. Graveside service will be held at 2 p.m. today at Hamilton-Beeman Cemetery. Mamie was born Jan. 10, 1915, in Waco to Robert Lee Oliver and Nora Jane (Hand) Oliver. She was a resident of Corsicana for 82 years. She spent her childhood in the Corsicana State Home, making lifelong friends there. Until her health declined, she greatly enjoyed the annual State Home reunions. She graduated from high school in 1936 and became a full-time nanny to Joe Wolens' children. She and Eugene Stubbs were married on Dec. 19, 1936, in Corsicana. She was preceded in death by her husband, Eugene Stubbs, in March 1983; her son, Jodie Eugene; brothers, Charlie, Howard and Walter; and sister, Marion. She is survived by sons, Billy Gene Stubbs and wife Glenda Jo and Norman Lee Stubbs and wife Dana, all of Corsicana; daughter, Eva Dean (Stubbs) McGaughey and husband Paul of Mount Eliza, Victoria, Australia; and sister, Ruby Marstaller of Lancaster. She is also survived by one granddaughter, Billie Jo (Stubbs) Hamilton and husband Darrell, and twin great-granddaughters, Madilynn and Makenzie Hamilton, all of McGregor. The family suggests memorials may be made to Alzheimer's Association, 225 N. Michigan Ave., Floor 17, Chicago, IL 60601. Arrangements by Griffin-Roughton Funeral Home.
Notes: