Lucian King Truscott, Jr., was born January 9, 1895, in Chatfield, Texas. He enlisted in the Army upon America's entry into World War I. He was selected for officer training and was commissioned in the cavalry in 1917. He served in a variety of cavalry assignments during the interwar period and served as an instructor at both the Cavalry School and the Command and General Staff School.

Early in World War II he joined Lord Mountbatten's combined staff where he developed the Ranger units for special operations. He led his Rangers in combat at Dieppe and in Morocco and then began his assent through the various levels of major combat command.

He was the commanding general of the 3d Infantry Division (Mar. 1943) in Sicily and Italy, VI Corps (Feb. 1944) in Italy and Southern France, Fifteenth Army (Oct. 1944), Fifth Army (Dec. 1944), and Third Army (Oct. 1945).

In the post-war period he commanded occupation forces in Bavaria and served in various advisory positions, enabling the Army to capitalize on the great wealth of his experiences. General Truscott was a reliable, aggressive, and successful leader.

Included among his many awards and decorations are the Distinguished Service Cross, Distinguished Service Medal (Oak Leaf Cluster), Legion of Merit, and Purple Heart.

General Truscott died on September 12, 1965, in Alexandria, Virginia.

Bigelow, Michael, CPT, USA. "General Truscott and the Campaign in Southern France." Military Review, Aug 94. p. 72

Dupuy, Trevor N. et al. Harper Encyclopedia of Military Biography. NY: Harper Collins, 1992, p. 754-55.

Eisenhower, Dwight D. Repro of msg to C/S Marshall, 16 Feb 1944. 2 p. Biogs - Truscott. Notes Brit request to him to replace VI Corps HQ in Italy & advises that--if asked by US MTO cmdr--he would lend Patton for a month, but recommends Truscott.

Spiller, Roger, ed. Dictionary of American Military Biography. Westport, CT: Greenwood, 1984. pp. 1110-13. U52D53/Ref

Truscott, Lucian K., Jr. Command Missions: A Personal Story. Novato, CA: Presidio, 1990; orig pub 1954. 556 p. (Available at the Fort McPherson Post Library.)

"The Change in the Axis of the Attack." Interview with Lt. Gen. Lucian K. Truscott, Jr., by Sidney T.Mathews. Bluemont, VA, 3 Apr 1948. 10 p.

The Twilight of the U.S. Cavalry: Life in the Old Army, 1917-1942. Lawrence, KS: U of KS, 1989. 198 p.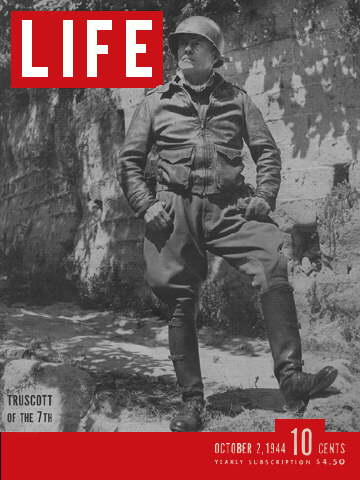 ---