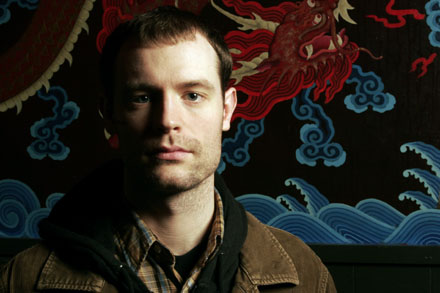 Singer/songwriter Rocky Votolato was born in 1978, spending his childhood on a 50-acre horse farm in rural Frost, TX (population 647), located 100 miles south of Dallas. Growing up amidst a backing soundtrack of Willie Nelson, Steve Earle, and Johnny Cash, he had a semi-unconventional upbringing, as his father was a member of the Dallas-based motorcycle gang the Scorpions, rivals to the Hell's Angels. Rocky's mother moved the family to Seattle in his early teens and he was inspired to start playing guitar by his older brother Sonny. Expanding on his country music roots, Rocky spent high school discovering the underground punk and indie rock scenes, soon starting his first band, Runaway Laughing, with some high-school buddies. He also fronted Lying on Loot, which included his friend and drummer Rudy Gajadhar. When the latter band broke up in 1996, the two (under the influence of Fugazi) started the acclaimed though emo-stigmatized punk outfit Waxwing with bassist Andrew Hartley and Rocky's younger brother Cody on second guitar; Cody also played in the art-damaged hardcore combo the Blood Brothers. The band recorded three full-lengths together before officially disbanding in late 2005.

While Waxwing were still active, Rocky had begun seeking another outlet for his lyrical musings outside of the band's dynamic and hard-hitting approach. An eponymous solo record thus appeared in 1999 through Status that found him playing subtle and acoustic folk songs not so dissimilar from Elliott Smith. A 7" with Seth Warren was released that same year on Redwood before the EP A Brief History was issued in 2000 through Your Best Guess. The record featured backing members of Sharks Keep Moving and Red Stars Theory, and garnered him favorable reviews. Produced by Matt Bayles (Botch, the Blood Brothers), Burning My Travels Clean was next released in 2001 and marked Rocky's first for Second Nature Recordings; what would become Waxwing's final album, Nobody Can Take What Everybody Owns, was released soon after in 2002.

May 2003's Light and the Sound EP served as a precursor to the eventual release of his third full-length, Suicide Medicine, that September. The album was his most focused effort yet, touching on country, rock, and folk influences amidst his still stripped-down sound. Though Rocky had taken only about two weeks to flesh out each of his previous works, he devoted a year and a half of writing and recording in the home studio of co-producer Casey Foubert (Pedro the Lion) to complete his fourth record and Barsuk debut. With Rocky now a married father of two, the resulting album was a fuller-sounding and matured album of country-tinged folk tunes that recalled his Texas roots. Makers was issued in January 2006 to the praise of fans and critics alike, and its lead track, "White Daisy Passing," was featured on an episode of the popular teen drama The OC. Various tour dates followed, including a fall run supporting Lucero. Corey Apar, All Music Guide.
Notes: