Willie Dean McAfee
Corsicana High School Class of 1919
Sep 5, 1899 - Oct 16, 1988
Willie Dean McAfee was the daughter of Almerine Cicero McAfee & Margaret Elizabeth (Terry) McAfee.
WEDDING ANNOUNCEMENT
Wedding Announcement - Willie Dean McAfee & Brantly Harris
OBITUARY
Former isle Mardi Gras director dies in Houston
GALVESTON - Willie Dean Williams, 89, a longime Galveston resident, died early Monday at Methodist Hospital in Houston.
Services will be 2 p.m. Wednesday at Trinity Episcopal Chruch, the Revs. John F. Caskey and John Donovan officiating. Burial will follow in Galveston Memorial Park under the direction of M. Levy & Bro. Funeral Home.
Visitation will be 5-7 p.m. today at the funeral home.
The body will lie in state at Trinity Episcopal Church from 1 p.m. until time of services Wednesday.
Survivors include two sons, Brantly Harris of Houston and Dr. Robert Harris of Albuquerque, N.M.; three daughters, Margaret Womack of Dallas, Jessie Lou Hall of Arlington, Texas, and Grace Williams Moore of Houston; 24 grandchildren and 10 great-grandchildren; numerous nieces and nephews.
Pallbearers will be Fletcher W. Harris Jr., Doyle McDonald, Charles Zweiner, Joseph B. Hall Jr. and William Patrick Moore.
Born Sept 15, 1899, in Corsicana, Mrs. Williams moved to Galveston in 1922 as they wife of Brantly Harris, an attorney and later mayor of Galveston. Harris died in 1942.
In 1944, she married Bryan F. Williams Sr., who at the time was city attorney. He died in 1961.
Mrs. Williams was responsible for reactivating Mardi Gras activates in the city during the early 1950s and served two terms as executive director.
She also served as president of the Galveston County Symphony Society and was a board member for the Houston Symphony Society and Houston Grand Opera.
Notes:
OBITUARY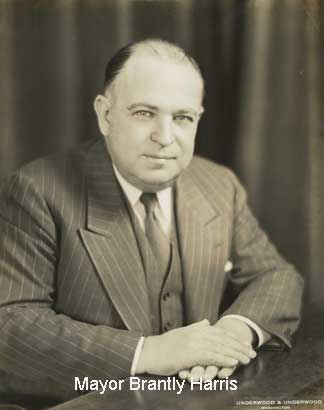 Galveston's Mayor Dies on Thursday
GALVESTON, July 30, (AP) - Mayor Brantly Harris, 49, who had been head of the municipal government here since 1939, died today after suffering a stroke of paralysis early this morning.
Mayor Harris has been in poor health for some time but has been able to attend to his office duties as late as last night.
He is survived by the widow; two daughters, Margaret and Jessie Lou Harris, and two sons, Brantly, Jr., and Robert Harris.
Mayor Harris was born in Montgomery, Ala., the son of the late Rev. W. M. Harris, a prominent Baptist pastor.
He received his law degree from George Washington university, Washington, D.C., where he served as secretary to Rep. Rufus Hardy of Texas.
He began law practice here in 1912, was a U.S. commissioner for eight years, and served as mayor since 1939.
Mayor Harris was largely instrumental in obtaining the RFC-financed $1,500,000 pleasure pier now nearing completion, and the creation of Stewart Beach park.
Notes:
Memoirs of Willie Dean (McAfee) Harris-Williams