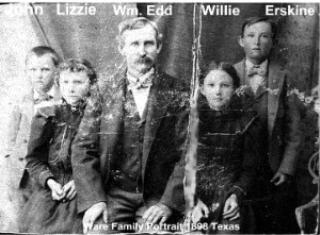 Edd Ware was born in 1858 in York County, SC. His family fled SC in 1866 during Reconstruction and took up residence in Bradley County, Arkansas. This is where Edd met and married Hannah P. Carmical from Coweta County, Georgia. They married in AR in 1883 and shortly thereafter moved to Nash, Ellis, Tx., where their first child was born, Robert Erskine Ware, in 1884. They moved to the Chatfield area where Edd owned and operated a store that eventually was carried away by the flooding Trinity River. He eventually bought land and moved to the Roane area, present day Wheelock Ranch.
Photo was taken in 1898 Corsicana of Wm. Edgar "Edd" Ware and his four children by his first wife Hannah Permila (Carmical) Ware. Hannah died the previous year in 1897 and is buried in an unmarked grave in the Old Chatfield Cemetery. Edd remarried in 1901 to a widow with one child, Mary Jane (Spence) Hair1 and they had 7 more children together, 4 living to adulthood. Edd and Mary are buried in the New Chatfield Cemetery a long side their 3 infant children, and Edd's son John Edward Ware who died at age 29 of a Bladder infection.
L to R: John Edward Ware m. Bertha Rogers, Carrie Elizabeth "Lizzie" Ware m. Nace Eaton, William Edgar "Edd" Ware Center, Willie Virginia Ware and Robert Erskine Ware m. Dorath Elizabeth "Bessie" May.
Notes:
Submitted by Judy Brown - July 2003
Obituary of William Edgar Ware
Obituary of Mary Jane (Spence) Hair-Ware
Note1 - she was a widow Hare, maiden name Spence, who married my Ware. Another one of those confusing things that happen in genealogy.