Brief History of Rev. Jacob Andrew Watts
by Ruth Watts-Fulton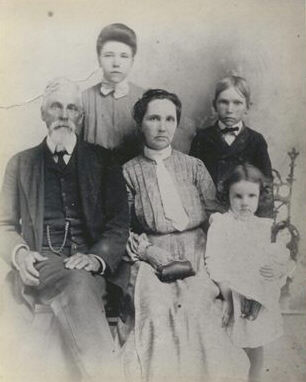 Rev Jacob Andrew Watts
Mary Elizabeth Holloway-Watts
Elsie Mae Watts
Background: Charlie Holloway
Bertha Holloway
Jacob Andrew Watts was born to Moses and Mary Ann T R Haynes-Watts, August 15, 1847 in Alabama. He was schooled in Alabama. He fought in the Civil War from age 15--He enlisted November 1863 and served until May 1865. He served in Buoy's Battalion under Nathan Bedford Forrest. He was in the Calvary. Private Watts was detailed to assist as chief commissary of War Department to assist in driving cattle from Demopolis, Alabama to Atlanta, Georgia in the Fall of 1863. He was wounded in the leg in 1864 and was hospitalized until the end of the War. He had a scar from the knee to the ankle from the wound.
Jacob returned home to Alabama after the war and married Artenicy Elizabeth Ann McDougal, daughter of James and Elizabeth McSwain- McDougal. They had four children born in Alabama. They were Willis Augustus--October 1, 1868, Joseph Andrew--May 10, 1870, Artie E.--March 1, 1873, James M.-- March 16, 1875. Sometime between 1875 and 1877 they moved to Lawrence County, Tennessee where two more children were born, George Daniel--February 20, 1877 and Laura--May 7, 1880.
Jacob was a minister. Pastorage of a particular church in Tennessee is unknown. Records of marriages performed by Rev Watts are recorded from 1883 to 1894 in Lawrence County, Tennessee. the family moved to Ennis, Ellis County, Texas in 1895. He was pastor of little Bethel Baptist church in the Bethel Community five miles west of Ennis, what was once the main road connecting Ennis and Waxahachie, Texas.
On July 26, 1896 Artenicy Elizabeth Ann McDougal-Watts died and is buried in the Myrtle Cemetery in Ennis, Ellis, Texas. Also buried there is James M. son of Jacob and Betsy Ann. James M. was killed in a train accident in Tarrant County TX. James died on January 17, 1914.
On October 12. 1898, Jacob married Marry Holloway in Ennis, Texas. Jacob and Marry had one child, Elsie Mae--April 5, 1900. Mary Holloway had two children, Bertha and Charlie by a previous marriage.
Jacob was pastor of churches in Navarro County, Texas. He served in the Prairie Grove Baptist Church and participated in the dedication services June 27-30, 1918. Friday June 28, 1918 the sermon was preached by Rev. Jacob Andrew Watts. Rev. Watts was a very special person who left a lasting impression on all who knew him. he was a kind and gentle person who had compassion for others.
On July 19 1925, Rev Jacob Andrew Watts died in Raliegh, Navarro County, Texas of a hemorrhage into the brain and paralysis. He is buried in Dresden Cemetery, Navarro Co., Texas. His beloved wife Mary is buried beside him.
A son George Daniel Watts is buried in the White Church Cemetery, Navarro Co., Texas
A son Willis Augustus Watts is buried in Grove Hill Cemetery, Dallas County, Texas.
A son Joseph Andrew is buried in the Malakoff City Cemetery, Henderson County, Texas.
A daughter Laura Watts-Grimes is buried in the Whitt Cemetery , Whitt, Parker County, Texas.
A daughter Artie E. Watts-Duncan is buried in Dresden Cemetery, Navarro County, Texas.
A daughter Elsie Mae Watts-Whitner is buried in Dresden Cemetery, Navarro County, Texas.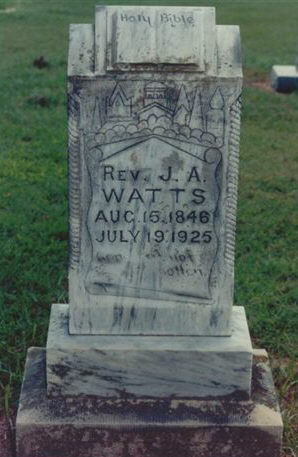 Headstone of Rev. Jacob Andrew Watts
Dresden Cemetery, Dresden, Navarro Co., TX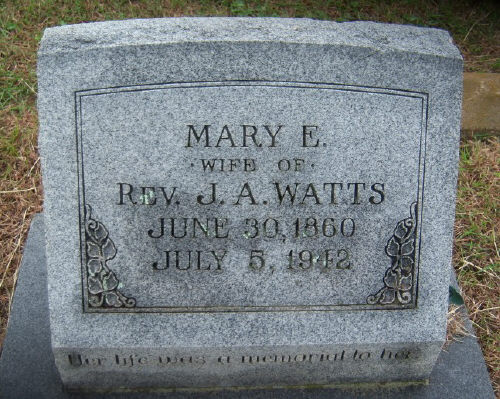 Headstone of Mary Elizabeth (Hardin) Holloway-Watts
Dresden Cemetery, Dresden, Navarro Co., TX
Marker Photo by Karen Rost