George M. Westbrook
From the Kerens Tribune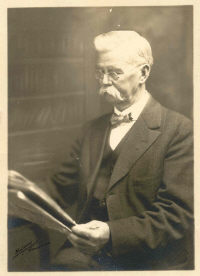 While in the beginning of a revival meeting in Orange, Texas, I was called by telephone to Kerens, Texas, Dec. 21st to conduct the funeral of my old steward, Geo. Middleton Westbrook, who was born in Monroe County, Miss., August 17th 1844. He died Dec. 14th, 1925, aged 81 years, 3 months and 27 days. He came to Texas in 1852, being only 8 years old, living near Chatfield in Navarro County. At the age of 17 he enlisted in the Confederate Army, 1861, at Corsicana with General Dick Taylor's Regiment, Lane's Division, and served with them 2 years. He was then transferred to Morgan's Battalion, Parson's Brigade of Cavalry, with which he served until it was disbanded in April 1865 in the Little Brazos River. He never knew fear and never wavered from his duty as a soldier during his 4 years of service. He was married first to Miss Emma C. Hurst [Hunt] of Chatfield, Texas. To this union was born a daughter who died in infancy, and was followed to the heavenly world by the mother two days later. He was married second to Miss Mary E. Morgan of Bazette, Texas, January 19, 1876. It was my lot as her pastor in 1896 to witness her complete triumph over death through faith in Jesus and to conduct her funeral in the old church at Prairie Point (which is the old Westbrook Church.) Nine children were born to them of whom six still survive, viz. Mrs. C. E. Forbes, and Jack [Zach] Westbrook of Perryton, Texas; Mrs C. W. McClumby [McCluney] and E. Middleton Westbrook of Kerens, Texas; and Mrs. W. A. Askew of Amarillo, Tex. There are 9 grand children and one sister, Mrs. Starling [Sterling] Carpenter of Powell, Texas.
After establishing and running a ranch in 1898 in Ochiltree Co., Texas and living on it for 3 years he moved to Kerens, Texas, in 1912 and organized the First State Bank and served as President until his death, his son being the cashier. He made a public confession of Christ as his own personal Saviour at 36 years of age and served as steward in the M. E. Church, South, or 45 years. He lived in his own beautiful home in Kerens, Texas under the loving care of his two daughters, Miss Maude, until her marriage and then Miss Neita who gently cared for him to the end.
To eulogize Brother Westbrook's character as a Christian, father, husband and citizen would be to "point the lily's cheek or gild fine gold." His humble, lowly, Christian life is its own eulogy. May heaven's choicest blessings abide with the bereaved family and friends till they too shall meet him "In the City beyond"

W. H. CRAWFORD.
Box 217
Midlothian, Texas
Notes:
----

PROMINENT KERENS MAN PASSED AWAY MONDAY MORNING

Special to the Sun.

Kerens, Texas, Dec. 14.—G. M. (Mid) Westbrook, age 84, died at his home here Monday morning at 6:30 following an illness of three days.

He is survived by two sons and four daughters. Mid Westbrooks, a son, lives here and works at the First National Bank, Zach Westbrook lives at Amarillo.

Two of his daughters, Mrs. McCluney and Miss Neta Westbrook lives here and the other two live at Amarillo.

Funeral arrangements have not been definitely made but burial will probably be in Prairie Point cemetery Tuesday afternoon and the services will be conducted by the pastor of the local Methodist church. Definite arrangements are being held up pending word from his children in Amarillo.

Notes:
---

FUNERAL SERVICES PROMINENT KERENS MAN HELD TUESDAY

G. M. WESTBROOK HAD LIVED IN KERENS COMMUNITY MANY YEARS

Special to the Sun.
Kerens, Texas, Dec. 15.—Funeral services for G. M. (Mid) Westbrook, age 84, who died at his home here Monday morning, were held Tuesday afternoon at the Methodist church of this city and were conducted by Rev. Mr. Crawford, Methodist minister of Midlothian who was a former pastor of the church here. Burial was in Prairie Point cemetery.

He is survived by four daughters, Mrs. C. W. McCluney, Kerens; Mrs. W. A. Askew, Amarillo; Miss Neita Westbrook, Kerens; Mrs. M. E. Forbes, Perryton, Texas, and two sons, Mid Westbrook of Kerens and Zack Westbrook of Perryton.

Mr. Westbrook had been a resident of Kerens for several years and was well known in this section of the county.

The First National Bank, where his son, Mid Westbrook is employed, closed for the funeral.

Notes:
---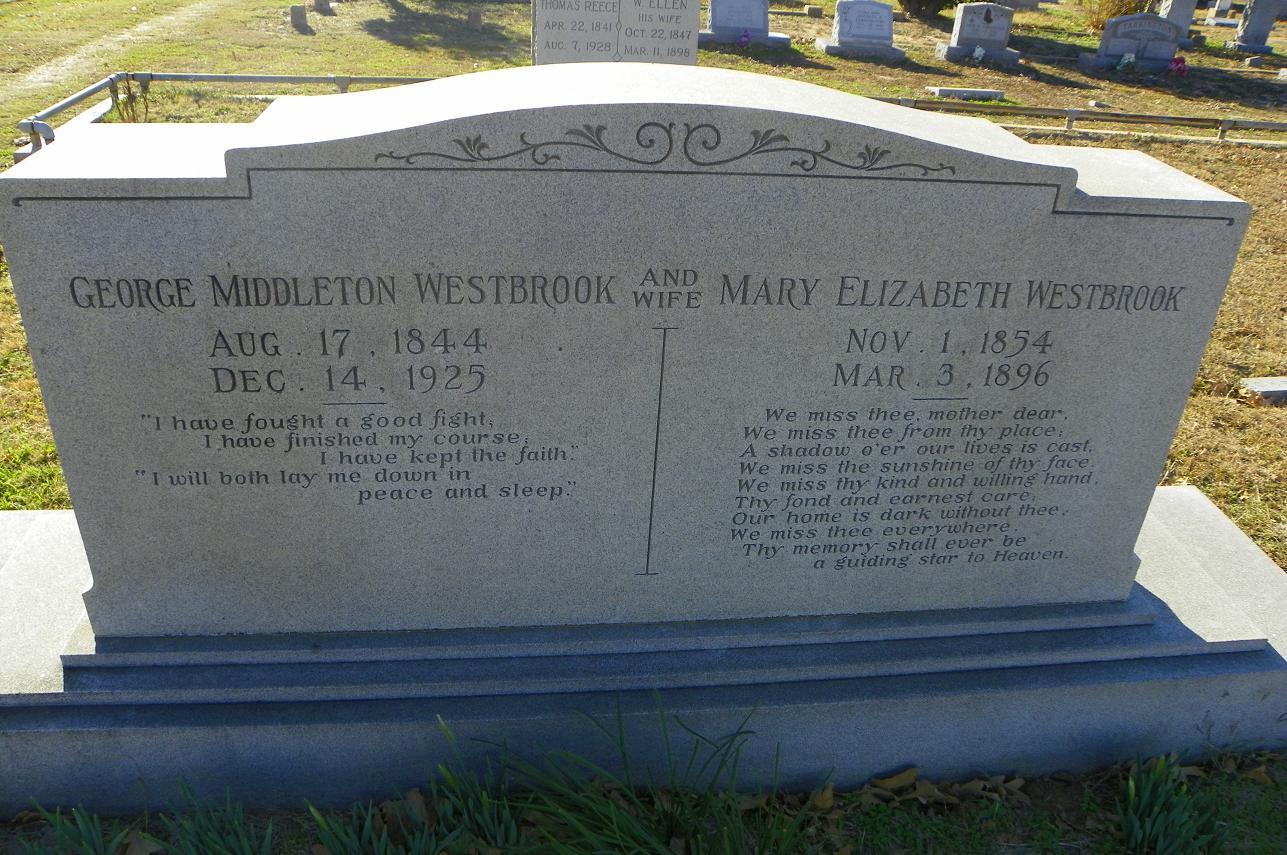 Prairie Point Cemetery, Bazette, Navarro Co., TX
Notes:
Census
- 1900 Navarro Co. TX ED 106 page 5b
- 1910 Navarro Co. TX ED 88 page 14b

NAVARRO COUNTY PROBATE RECORDS
Box L. Pkg 730
LANDINGHAM, Minors.
G. M. Westbrook appt'd Guard of minors Laura, James, & John heirs
with their married sister Olivia Doyl and father J. A. Landingham
in an estate May 6, 1886.