6/1/2002 Wilkinson Takes Over as Corsicana Postmaster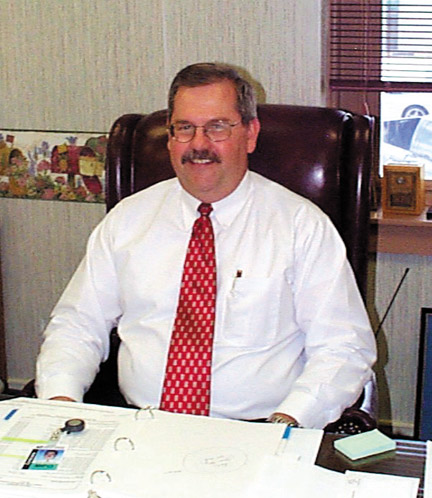 Rick Wilkerson is the new postmaster for the Corsicana United States Post Office. Wilkinson has lived in the area for several years, and now he works here.Daily Sun photo/BARBARA FORMAN
By BARBARA FORMAN/Daily Sun Staff
There is a new postmaster in Corsicana. Although new to the position, he is not new to the area.
Rick Wilkinson has been a busy man. He started out in Tennessee then moved to North Carolina. He said he liked the east but his wife preferred the west. To combine their interest the logical solution was to settle somewhere in the middle.
Texas became the focus. His hopes rested heavily on things falling into a permanent place by way of Corsicana.
Even though he has lived in the area for the past 15 years he has also been commuting back and forth to work. For a time he worked South of Tyler, Buffalo and several other places that kept him on the move.
When the opportunity arose that he could make a move closer to home, he did not waste any time. He is now managing the Corsicana post office.
"I think Corsicana has a lot to offer," Wilkinson said.
One of the reasons he wanted to be in area was it offered big city conveniences and small town congeniality. The possibility of meeting people that he knew on the street appealed to him.
"I like meeting the same people that I know everyday," he said.
Other attractions to the area was the location and school district.
Major factors in coming to Corsicana was its availability to the Dallas and Waco area which gave it an appeal over other locations. It was also centrally located for other family members who lived away from the area.
The school district was an important for his whole family. His wife has taught school for a number of years in the Corsicana School District. During her tenure she taught at Navarro and Carroll Elementary as well as Collins and Bowie Middle Schools. Recently, she accepted an assistant principal position in the Hillsboro School District.
Wilkinson said he and his wife both liked the idea of being able to keep their children in one school district from the beginning of school and into college.
When there was not post office business, there was school activities such as soccer, football and roping that his children were active in. As for Wilkinson he found personal pleasure in raising horses and cows.
After becoming pastmaster in Corsicana he said his job evolved around making people happy and it was his biggest concern.
"Customer service, making sure things are done right and that the mail is delivered the way it should be is all part of the job," he said.
Although he has managed other facilities, Wilkinson said he preferred working with larger facilities. Corsicana has 23 mail carriers and there are about 49 employees in the local post office.
From 1987 until 1995 he worked out this office, now he is overseeing the operations of the facility. He said managing each unit according to its need was essential.
In addition to location and schools other good characteristics Corsicana had for Wilkinson and his family were the people.
"We have good friends here," he said. "There are a lot of nice people in Corsicana."
Getting to live and work in the area has been a plan in the works for a long time. He said because of the people, size and community it was like having a "dream job."