Grange Hall Cemetery
Photograph by Dana Stubbs - Jul 2007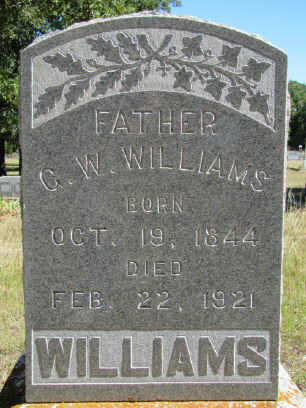 Grange Hall Cemetery
Photograph by Pete Rost - Aug 2002
George Washington Williams was born October 1844 in Mississippi. He died February 1921 and his widow received a pension on his service in Co I, 27 MS Inf. which was organized in November and December, 1861. After serving in Florida and Kentucky, the unit was assigned to General Walthall's and Brantly's Brigade, Army of Tennessee. It took an active part in the campaigns of the army from Murfreesboro to Atlanta, moved with Hood into Tennessee, and fought in North Carolina. For a time it was consolidated with the 24th Regiment. It saw action at Resaca and at Ezra Church. It surrendered on April 26, 1865.
OBITUARY:
Oct 19, 1844 - Feb 22, 1921
A Good Citizen Passes Away
G. W. Williams, aged 76 years, and for nearly thirty years a resident of Navarro county, died at his home in Barry yesterday afternoon at 5 o'clock after many weeks illness. The deceased was for ten or twelve years justice of the peace of the Barry precinct and was in all the walks of life a good man and a good citizen and his death, although happening at a ripe old age, will bring sorrow and regret to all who knew him.
The funeral will take place tomorrow morning from his late home and interment will be in the Grange Hall cemetery. The deceased is survived by his wife and five grown children. The children are P. D. Williams of Corsicana, Mrs. L. B, Mitchell, Mrs. J. W. Mitchell and Claude Williams of Barry and Mrs. Geo. Stokes of Tulsa, Okla.
The funeral services will be conducted by Rev. J. R. Darwood, Barry.
Notes: