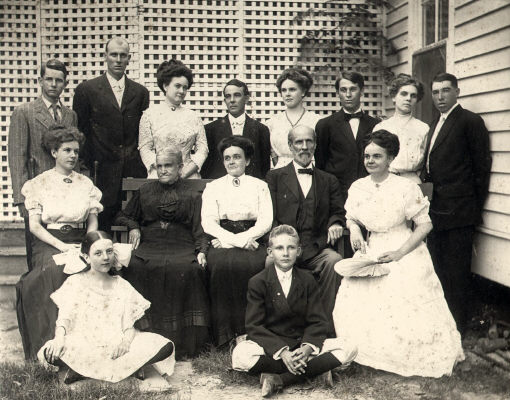 Wills/Lacy Family Portrait - 1910
The legend is in my grandmothers (Elizabeth Wills Lord) handwriting.
The top row [left to right] are: T. Opie Wills, M.D.; J[ohn] Lacy Wills[very tall]; Cora Lacy Neblett; Glen G. Lacy; Emily McNeill Wills Stroud; Clyde Scott Stroud; Frances Wills Hilliard; and W.C. Hilliard.

In the middle row l-r, are Elizabeth [Bess] Wills (Lord), Emily Ann McNeill Lacy, Julia Lacy Wills, John Murphy Vaughn Wills M.D., and Miss Tommie Lacy


The front row [seated] are: Cora Wills [later the wife of Dubart
Miller, M.D.] and Roger Neblett.


Emily and Clyde Stroud were the parents of Dr Clyde Stroud and Emy Neil Settle and owned a wholesale grocers in Corsicana. Their grandson John B. (Abe) Stroud lives still in Corsicana as does his mother Mariella Burke Stroud

Emily Lacy, died in 1912 and buried in Corsicana, was the widow of Matthew M. Lacy CSA
My understanding is that Miss Tommie Lacy was a principal in one of the schools in Corsicana, in the census of 1920 she is listed as a teacher.
Photograph donated by Elizabeth Hanebury June 2002