The following text was copied from "Corsicana Texas - Compliments of Will S. Knight, Chief of Police". Pictures for this page were taken from an original copy. The entire book was reprinted in the Navarro County Scroll and is used here with permission of the Navarro County Historical Society.
---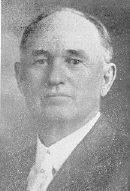 Mr. Wilson was born in Monticello, Ark., November 7, 1857, and came to Texas in 1883, settling at Eureka, Navarro County, where he engaged in farming and stock raising.
Five years later in 1888 Mr. Wilson moved to Corsicana and in 1894, he entered the retail grocery business. On May 1, 1900, he organized the Central Texas Grocery Company here, with a capital stock of $100,000, and as its president and active manager has increased this stock to $300,000. Mr. Wilson served on the Corsicana School Board for eight years, and was elected City Commissioner in April 1923, by an overwhelming majority leading the ticket throughout.
Mr. Wilson's experience and success in the business world doubly qualifies him for the responsible position he now holds in the administration of the city's affairs.