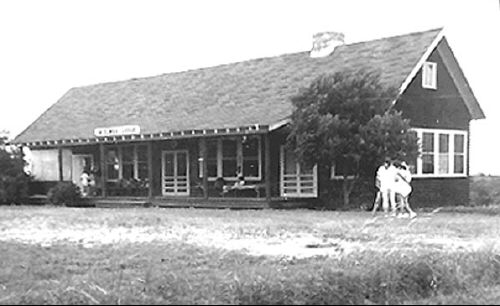 McElwee Lodge, Camp Wanica - 1955
Photo from the collection of Ann Marcy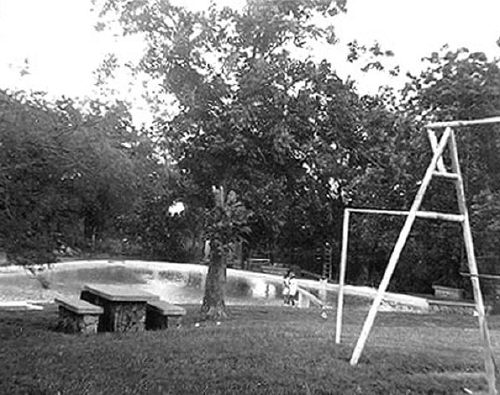 Swimming Pool, Camp Winica, 1955
Photo from the collection of Ann Marcy
These are some pictures taken in the summer of 1953. The camp fire girls camp has had at least two pools since that time. I'm not sure the lodge looks that different now, but it has a lot more stuff around it. The photos were taken with a little Kodak Brownie.

I went there as a child, so directions are those I remember. You go south on the old Highway 75 and take the left hand Y, Highway 287, I think. Then turn left on a farm to market road about a mile south of Lake
Halbert and travel east for three or four miles.

I think near Powell and Eureka. A very old oil field on the south side of the farm to market road still had a forest of derecks, closely spaced, when I was a child. Wanica is and was a Camp Fire Girls (now Girls and Boys) camp on what was supposed to be the highest land in the county donated by the McKie family for as long as it is used as a camp. Many of the old cabins were donated by service clubs.

The last time I was there, the pool had been put in the area in front of the
Lodge.

Ann Marcy

---
Camp Wanica
The Corsicana Camp Fire Girls was organized in January 1937. Miss Buena Watt was the executive director. In 1928, a group of civic minded people became interested in a camp site for the girls. Ten acres of land about seven miles south-east of Corsicana was donated by the J. W.McKie estate. This location is the highest elevation in Navarro County.
After the camp was built, the name "Wanica" was chosen. The name Wanica is a combination of the Indian words which mean hills, trees, and high ideals.
Mrs. Elbert Williams became the first council president after the charter was issued.
There are nine buildings on the grounds with the Tom McElwee Lodge and dining hall located near the center. Around the grounds are the cabins - Wahanka, Okihi-do-Nut, Suzanna, Walinn, Rotaryann, Uncle Tom's Cabin, and others. Also included at the site are a modern swimming pool, work house, first aid house, camp store, cook's cabin and the caretaker's home.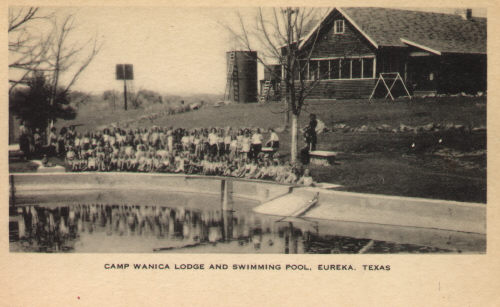 Camp Wanica Lodge and Swimming Pool, Eureka Texas
Postcard from the collection of Edward L. Williams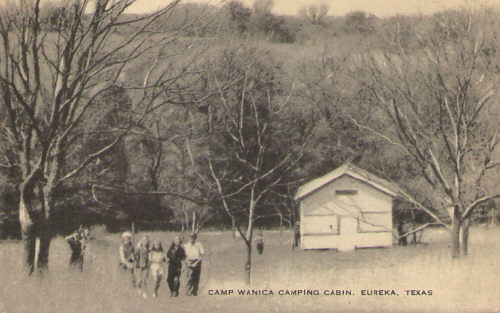 Camp Wanica Camping Cabin, Eureka Texas
Postcard from the collection of Edward L. Williams
Notes: