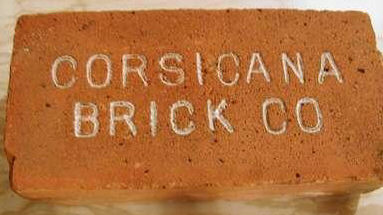 4/17/2002 Local brickyards
By Bill Young/Daily Sun columnist
Corsicana Brick was another company that produced bricks locally. Its yard and pit was located across Farm-to-Market Road 709 to the south of the Magnolia Refinery. Many residents today refer to this as Poeboys wrecking yard. According to stories, the quarry is the round body of water next to FM 709 and one day as they were removing clay, the equipment struck an underground spring. Before the equipment could be removed from the hole, it filled with water and has remained full ever since. On the plus side, it has been stated that local residents would go there during the drought periods to acquire water since there seemed to be no end to the volume of water this spring could produce.
The Magnolia Company bought out the Corsicana Brick company and the last few years production went to Dallas. The Magnolia Company built its new headquarters in downtown Dallas using bricks from the Corsicana location. This is the building still standing today with the newly restored flying red horse on top. Completed in 1926, this building and others prove just how durable bricks manufactured by Corsicana Brick and Whiteselle Brick could withstand the test of time.
Another local brick company produced bricks marked with the name of Benton. To date, I have not found any written documentation pertaining to this company. Within a radius of 40 miles, there have been several other brick companies. Mexia Brick operated around the turn of the century. Palmer Brick and Ferris Brick lasted much longer. Texas Clay Products, now part of the Acme Brick company, has produced bricks for years and still is a viable company.
Archeologists must be careful when documenting a historic site if bricks are used to help in identifying what time period a site belongs. By far, bricks are recycled more than any other construction material used in an historic structure. If a house burns or falls down from neglect, the bricks were gathered up by others and moved to another site for some specific use. I have found sand brick on sites that date after the 1900s. Sometimes, they were moved to a new location only to be used to outline a flower bed or a footpath but these bricks are now part of the cultural material distributed across this new location even though the bricks may date 50 or 100 years.
The next major category used in historic archeology is ceramics. Like the bricks recently discussed, ceramics are made from natural elements such as fine clays. Based on how each object is fired and the type of clays utilized, ceramics are divided into five sub-classes, coarse earthenware, stoneware, yelloware, refined earthenwares and porcelain.
Stonewares are comprised of jugs, churns, storage jars, ceramic bottles, chamber pots, and some types of mixing bowls. The main distinguishing features are the thickness and weight of the vessel, and how coarse is the paste after firing. All stoneware vessels have a paste that is porous and quite commonly some form of "clinker" can be seen in a cross section view of the paste. Although there were many manufacturing companies scattered throughout east Texas, there wasn't a single company in Navarro, Ellis or Freestone counties producing stonewares. Several researchers have comprised a tremendous volume of documentation pertaining to the location of most of the pottery companies and the years that each was in operation. They also have determined what type of "slip" was applied by each company.
The term, "slip" applies to the glaze that was put on both the interior and exterior surfaces of each vessel. A few very early vessels do not have any glaze applied and are referred to as unglazed. Next are the alkaline glazes that were commonly used by the early potteries in east Texas from the early 1830s up to the 1880s. An alkaline-glazed vessel has streaks of greenish or black glaze that is applied. A few pottery companies in the Groesbeck area produced vessels with alkaline glazes but the majority of companies located in the Trinity River basin area used several other slips. There were a lot of pottery facilities in Rusk and Smith counties that utilized alkaline glazes.