12/30/2003 Humbert's taming flame: After 40 years, barbecue staple closing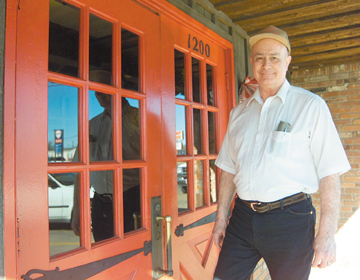 After Wednesday, owner Brantley Humbert will close the Humbert's Hickory House doors for the final time. Daily Sun photo/SCOTT HONEA
By RAYMOND LINEX II/Daily Sun Staff
It took about two weeks for Humbert's Hickory House to realize barbecue alone wouldn't be a meal ticket. That was almost 40 years ago, and Wednesday Corsicana's long-standing eatery will open and close its doors for the final time.
Owner Brantley Humbert, who started the restaurant chock-full of smoked delights Sept. 7, 1964 with his father, informed his employees Monday. Customers who visited were also among the first to know via a note affixed to menus.
"Let's just say it's a business decision," said Humbert, 66. "I'm not going to retire, I'm just going to do other things."
Humbert said he's pondered closing the iconic establishment on the corner of Seventh Avenue and 20th Street for about two months. It was one he and father Lester, who had a successful restaurant already with V's Cafe, ventured into together before Brantley was drafted into the Army in 1966, and sold all of his interest to his dad.
In 1970, Brantley returned home and bought all of his dad's interest. That stomach-charming smell of sweet barbecue became a constant in his life as he and wife Janice put three daughters through college with the corner hot spot.
At its peak, Humbert's employed 30 to 35 people. Today, it employees 15, including Fannie Johnson, a part-timer who goes back to 1954 and the days at V's, and 15-year veteran Queenie Rhynes and manager Ronnie Folmar, who has been with Humbert "12 years off and on," Folmar said.
"(The employees) took it well," Folmar said. "Everybody respected his decision, we were just kind of shocked.
"Mr. Humbert's been good to us. He's wonderful; you couldn't ask for a better boss."
From pancakes and omelets for breakfast to seafood and Tex-Mex and, of course, barbecue, Humbert's offered a little bit of everything. You could dine in, order out or even have Brantley and his staff smoke meat for you.
A staple of business success has been good service and good food, Humbert said, but offering a variety helped the restaurant's viability for almost four decades.
"We opened in '64 as barbecue only, but within about two weeks we discovered we needed to broaden our menu so we added lunch specials and other items," he said. "We learned people won't eat barbecue twice a day, seven days a week."
Business has slowed in recent years, but in its day Humbert's employed two managers. And lately, Humbert said, he's met third and fourth generation customers. To date, Brantley hasn't had offers to keep the business going, but he knows it is his time to move on.
"I'm looking forward to a change," he said.
----------
Raymond Linex II may be contacted via e-mail at[email protected]