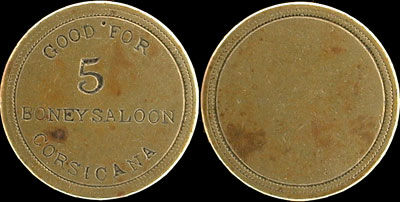 Boney Saloon
Corsicana
From the collection of Alan Weinberg
Submitted by Robert Stone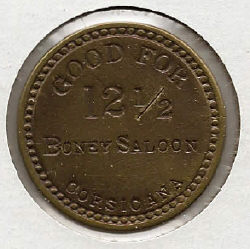 Boney Saloon Corsicana - 12 1/2
From the collection of John Byars of Houston Tx
Submitted by Robert Stone - Images used with permission

Deluxe Bus Service
Corsicana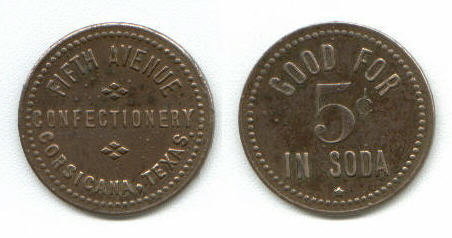 Fifth Avenue Confectionary Corsicana
Good for 5 cents in Soda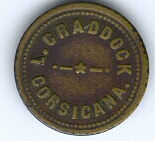 L. Craddock - Corsicana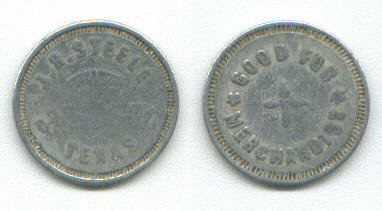 J. S. Steele - Corsicana
WM Engelberg - Corsicana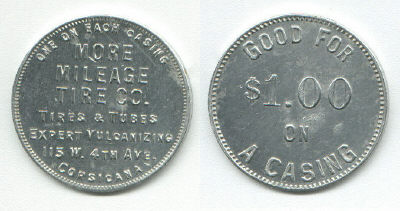 More Mileage Tire Co.
One On Each Casing
Tires & Tubes
Expert Vulcanizing
113 W. 4th Ave. Corsicana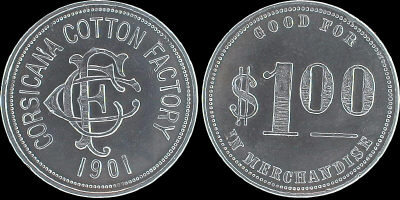 Corsicana Cotton Factory - 1901
Good for $1.00 in Merchandise
Token From the Collection of David Durocher
http://www.texastradetokens.com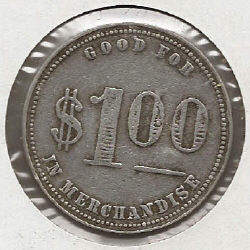 Corsicana Cotton Factory - 1901
Good for $1.00 in Merchandise
From the collection of John Byars of Houston Tx
Submitted by Robert Stone - Images used with permission
One of a kind saloon token from Kerens, and it is Good For A Smile.
From the Collection of James Kattner
"A Smile" was a small bottle of whiskey. I have about 15 different Texas Smile tokens from all over the state, and one is from Corsicana. No picture has been made of the Corsicana piece yet.
- J. Kattner
Carroll & Murphey
Soda Water
Kerens Texas
Token From the Collection of David Durocher
http://www.texastradetokens.com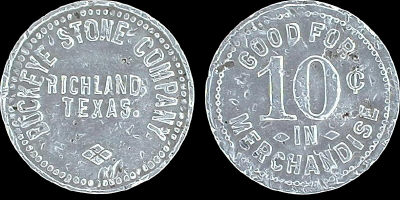 Buckeye Stone Company
Richland, Texas
Good for 10 cents in Merchandise
Token From the Collection of David Durocher
http://www.texastradetokens.com
Kiber & Cobb Soda Token, Corsicana, TX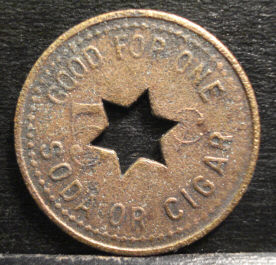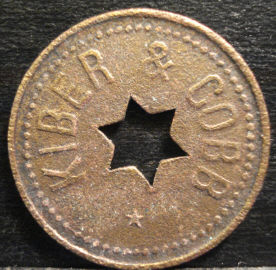 Kiber & Cobb Soda Token, Corsicana, TX

Butler's Drug Store Token - Corsicana

J. E. Butler - Corsicana, Texas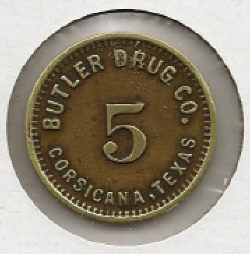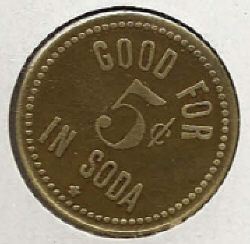 BUTLER DRUG CO. CORSICANA, TEXAS
From the collection of John Byars of Houston Tx
Submitted by Robert Stone - Images used with permission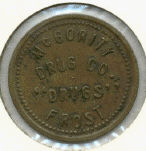 Frost Texas Trade Token
Dun & Brad listed this drugstore as McGarity, which may be correct. It is very common for a token to have misspelled names. The die cutters engraved what they thought was heard or read. I have a Gladewater token where "Texas" is spelled "Teaxs". Most of the die cutters were German and did not understand English that well, although in their trade--they were the BEST!! This token is brass, and a bit larger than a quarter.
Token from the collection of James Kattner
JOHN FRYAR'S PLACE, CORSICANA, TEXAS
This token is from the collection of Billy Shivers, Longview Texas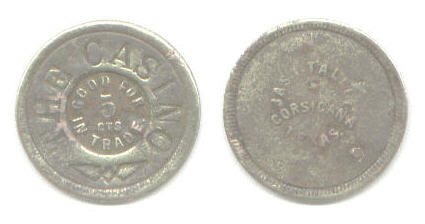 I am aware that no more than 3 of these 5 cent Casino tokens have turned up among collectors in the last 40 years. James Talley also did tokens for Boney's saloon and one other that I can think of right now. He provided tokens for the Casino in a 12 1/2 cent denomination, and only one of these is known. All of these are listed in the Texas Token Books under Corsicana. It is entirely possible that Talley had a working interest in all of the saloons for which he provided tokens.

Interestingly, an arrest warrant for an individual who was gambling at Boney's, dated 1891, turned up many years ago at an Austin book store.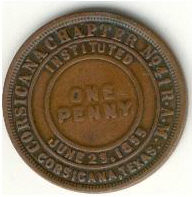 OFFICIAL TOKEN FOR CORSICANA, TEXAS--
READS CORSICANA CHAPTER NO.41 R.A.M.
INSTITUTED JUNE 25,1855, ONE PENNY
Stone Mason Token
From the collection of Edward L. Williams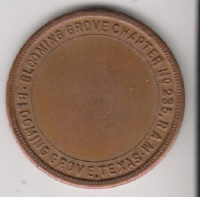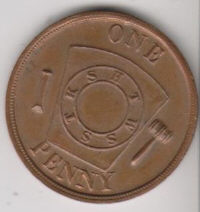 OFFICIAL TOKEN FOR BLOOMING GROVE, TEXAS--
READS BLOOMING GROVE CHAPTER NO. 235 R.A.M.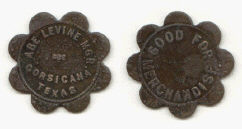 ABE LEVINE MGR - CORSICANA TEXAS
The Levines were very much in the saloon business in Corsicana. I find Louis Levine at least from 1894-98 running his own "Iron Front Saloon" at 205 N. Beaton Street. Then later Levine & Goldman are operating the same saloon at the same address in 1901. I find Abraham Levine running the "White Front Saloon" just down the street at 105 N. Beaton at least as early as 1897-1901, and this one represents the token pictured here.

In Corsicana, it is evident that the Prohibitionists were greatly feared. I can see it in researching the merchants in my various commercial directories. Evidently in 1908 saloons were voted out only to be restored in 1909. Then in 1910 they are voted out again, and I believe this was the final end. This constant turmoil undoubtedly caused the saloonists to leave off anything on their tokens that suggested a saloon. They wanted to maintain a low profile. Therefore no saloon name appears on the Abe Levine token. No token is known to have been issued by either Louis Levine or Levine & Goldman.

I have other Corsicana saloon tokens that also indicate the low profile nature of the saloonists. One merely says "Palace S., Corsicana, Texas". The letter "S" was as close to "Saloon" as that proprietor dared to go on his token. The others just have a proprietor's name and town, for the
most part. Tokens are rare because they were destroyed when the proprietor quit his business.
From the collection of Edward L. Williams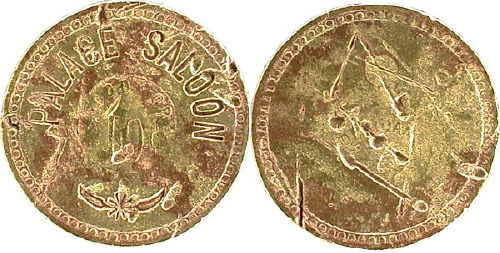 Palace Saloon
from the collection of Robert Stone
http://www.texastradetokens.com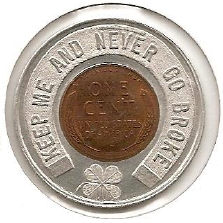 First National Bank
Souvenir of your visit
Dec. 1956
"The Old Reliable"
Corsicana, Texas
From the collection of Edward L. Williams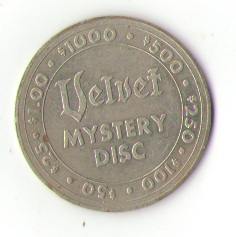 DIXIE ICE CREAM CO., DELICIOUS VELVET ICE CREAM,
CORSICANA, TEXAS VELVET MYSTERY DISC,
$1.00, $25, $50, $100, $250, $500, $1000. Token is white metal and round.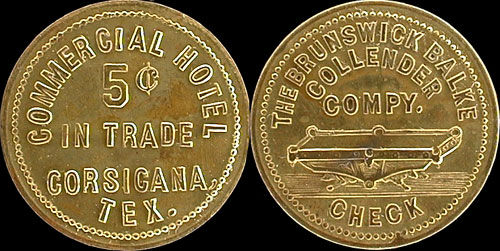 From the Collection of Alan
Submitted by Robert Stone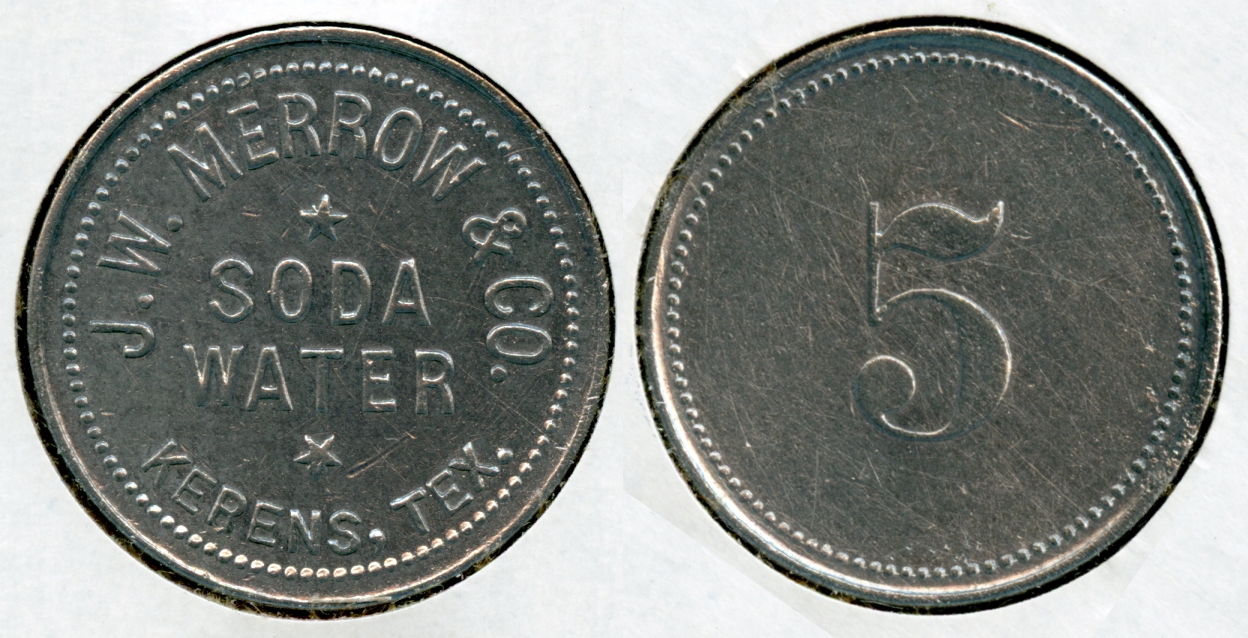 This token dates to the early 1900's and is the Aluminu Trade Token for the J. W. Merrow & Co Soda Water
in Kerens, Texas. This 5 cent in trade token measures 1" across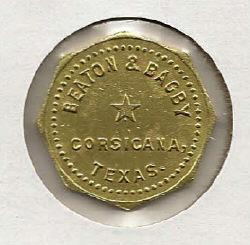 Beaton & Bagby - Corsicana, Texas
From the collection of John Byars of Houston Tx
Submitted by Robert Stone - Images used with permission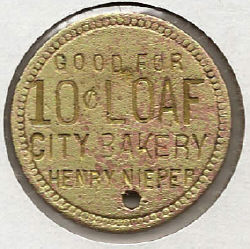 Henry Nieper - City Bakery
From the collection of John Byars of Houston Tx
Submitted by Robert Stone - Images used with permission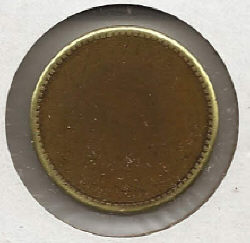 Melville Caldwell - Cream & Oyster Parlor - Corsicana, Texas
From the collection of John Byars of Houston Tx
Submitted by Robert Stone - Images used with permission

Alex Freedman - Corsicana, Tex
From the collection of John Byars of Houston Tx
Submitted by Robert Stone - Images used with permission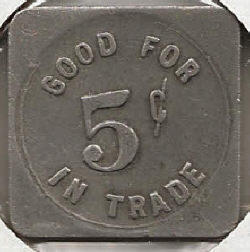 CHAS SIMON - Corsicana, Texas
From the collection of John Byars of Houston Tx
Submitted by Robert Stone - Images used with permission

Miller Paint & Home Supply Co. - Corsicana, Texas
From the collection of John Byars of Houston Tx
Submitted by Robert Stone - Images used with permission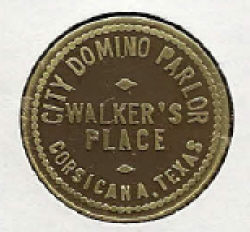 City Domino Parlor - Walker's Place - Corsicana, Texas
From the collection of John Byars of Houston Tx
Submitted by Robert Stone - Images used with permission

J. R. Steele - Corsicana, Texas
From the collection of John Byars of Houston Tx
Submitted by Robert Stone - Images used with permission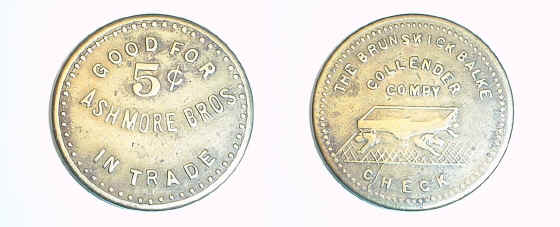 ASHMORE BROS - THE BRUNSKICK BALKE COMBY
This is a Brunswick Balke Collender Compy Check from Ashmore Bros.
of (Corsicana, Texas), good for 5 cents in trade.
The token is in fine condition, 25mm in diameter, and made of brass. Ashmore Bros.
operated during the early 1900's in Corsicana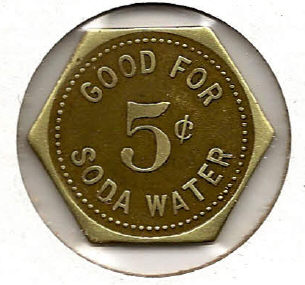 J.T.Y. & Co., Kerens, Texas
From the collection of John Byars of Houston Tx
Submitted by Robert Stone - Images used with permission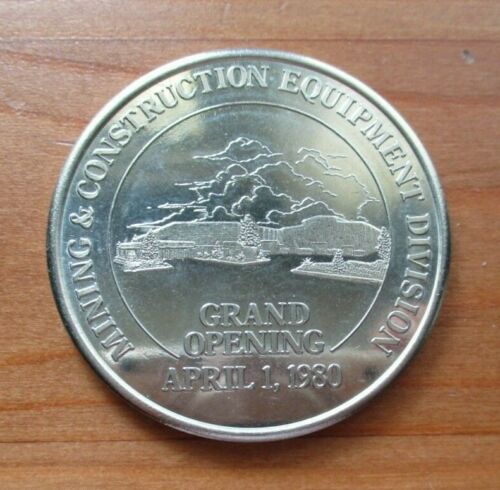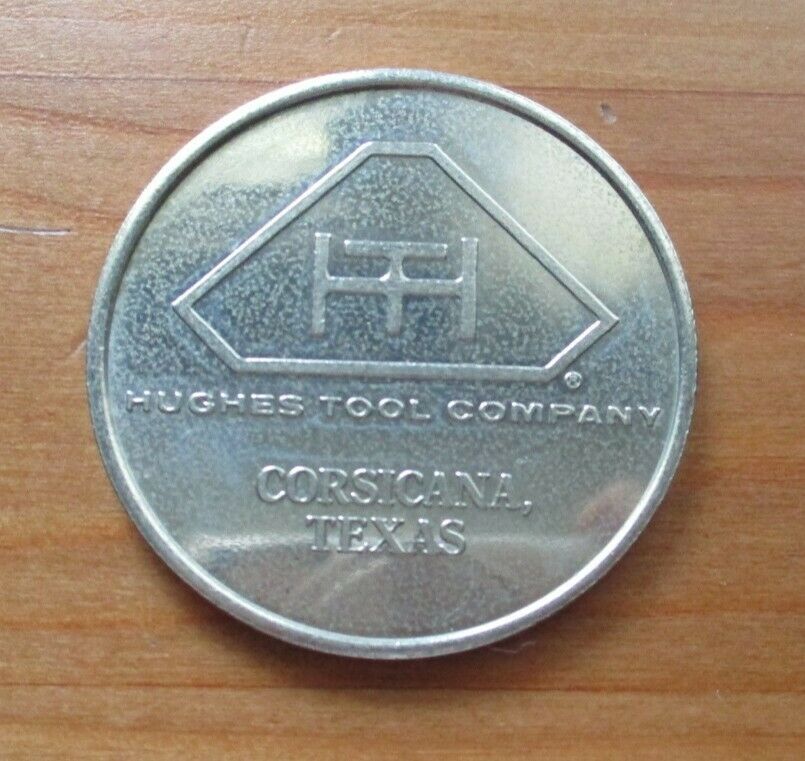 Hughes Tool Company
Grand Opening - Mining & Construction Equipment Division - April 1, 1980