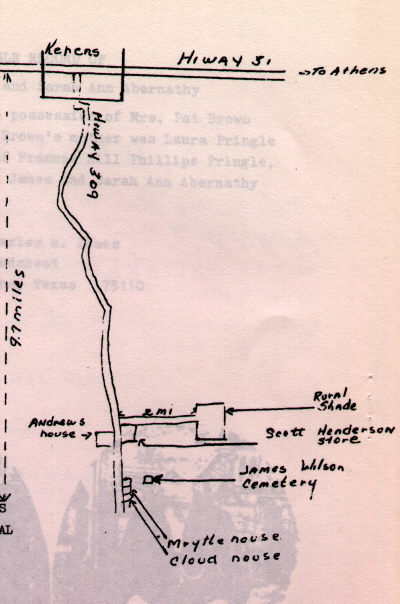 James Wilson Cemetery
Location: Rural Shade Community, Navarro County Texas.
Submitted by: James Neal Gallemore
This Cemetery, about three miles east south east of the community of Rural Shade was used during the years of 1850 to 1946. There were about 40 or 45 markers in the cemetery when it was destroyed.
James Wilson, for whom the cemetery is named, was born in 1801 in South Carolina and died just prior to the Civil War. He is buried in the Cemetery. His wife Sarah, who was born also in South Carolina, died at Rural Shade sometime prior to the conclusion of the Civil War and is believd to be buried in the James Wilson Cemetery also. this couple is great-great grandparents to Mr. Gallemore, submitter of this article.
John Gallemore, great-grandfather of Mr. Gallemore, also is buried in the Cemetery. He was born in 1821 in Twiggs County, Georgia and died in 1867 at Rural Shade. The John Gallemore farm joined the James Wilson land on the North. His wife, Mary Elizabeth Craswell was buried in Athens. John Gallemore (b 1821) also owned about 1,000 across (sic) the Trinity River from Rural Shade.
Notes: